The results of the Octa Research survey held before cases surged to a new record high also show that only 38% of Filipinos view controlling the spread of COVID-19 as an urgent national issue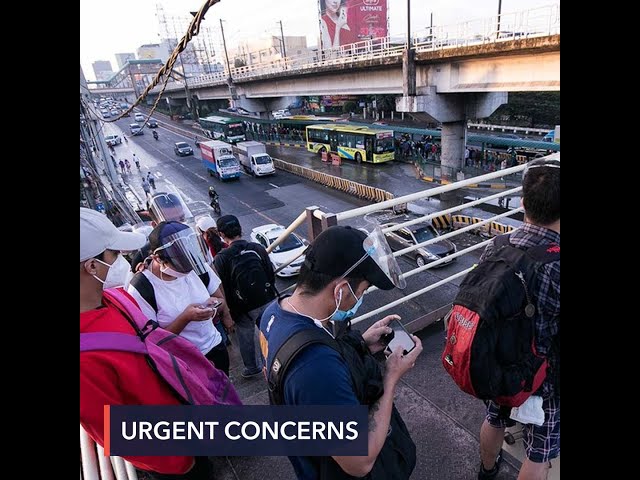 A year since the coronavirus pandemic hit the Philippines, staying healthy and avoiding illness topped the list of "urgent personal concerns" of Filipinos, according to a survey of the Octa Research Group.
Asked to pick their 3 most urgent concerns provided by Octa in its Tugon ng Masa National Survey, a total of 65% of the adult Filipinos listed "to stay health and avoid illness" as their top choice.
This is also the most urgent concern for respondents living in the National Capital Region at 68%, and Balance Luzon at 69%.
Staying healthy is also the highest concern of Filipinos across all socio-economic classes, with 77% of those from class ABC listing it as their top concern, 64% of those from belonging to class D, and 62% of respondents from class E.
Having a "secure and well-playing job or source of income" was listed as the second most urgent concern of Filipinos at 56%. This is also top concern of those surveyed from the Visayas at 61%.
Completing the top 3 most urgent concerns of Filipinos is "to avoid being a victim of any serious crime," with a total of 47% of respondents picking this among the survey choices.
The same survey, however, also showed that Filipinos are least concerned with education, housing, food security, and finances.
Less than half of 45% of those surveyed consider finishing their education or being able to provide education for their children as a top concern, while only 37% consider having enough food to eat every day as an urgent concern.
Owning a house and lot scored even lower at 26%. Filipinos are least concerned with accumulating savings with only 23% of survey respondents identifying it among their most urgent concerns.
Though Filipinos surveyed by Octa said staying healthy is their most urgent concern, only 38% of them believe President Rodrigo Duterte's administration should consider controlling the spread of COVID-19 as a national issue that the government must address.
Asked in the same survey to identify the 3 most important issues they believe Duterte government should address, the concern that come out on top was increasing the wages or salaries of workers at 47%.
Coming in second was giving access to affordable food like rice, vegetables, and meat at 39%. Quelling the spread of COVID-19 cases emerged as the 3rd most urgent national concern that Filipinos believe the government should address.
The Octa Research Group conducted the survey from January 26 to February 1 through face-to-face interviews of 1,200 Filipinos aged 18 and above. Octa said its survey utilized a sampling design that allows for a 95% confidence level and a 3% margin of error.
Why this matters
The Octa Research Group conducted the survey roughly a month before COVID-19 cases began surging to new record-highs in the country.
Some political analysts also believe the Duterte government's mismanagement of the COVID-19 pandemic will be one of the defining issues of the next presidential elections in May 2022.
Despite imposing one of the strictest lockdowns in the world, the Philippines is now back to tallying over 7,000 new cases of COVID-19 per day. On Thursday, March 25, the country logged a record-high 8,773 new COVID-19 cases, with total confirmed cases of over 693,000.
This has prompted the government to impose stricter quarantine measures within the "bubble" of COVID-19 hotspots Metro Manila, Rizal, Bulacan, Cavite, and Laguna.
The Duterte administration also faces widespread criticism over the pace of the COVID-19 vaccine rollout, which officially began on March 1 and remains limited to medical frontliners.
Nine mayors are now drawing flak for jumping the vaccine priority line amid the scarcity of COVID-19 vaccine supplies in the Philippines. – Rappler.com