From 16% three months earlier, Filipinos willing to get vaccinated against COVID-19 rise to 43%, says a Pulse Asia survey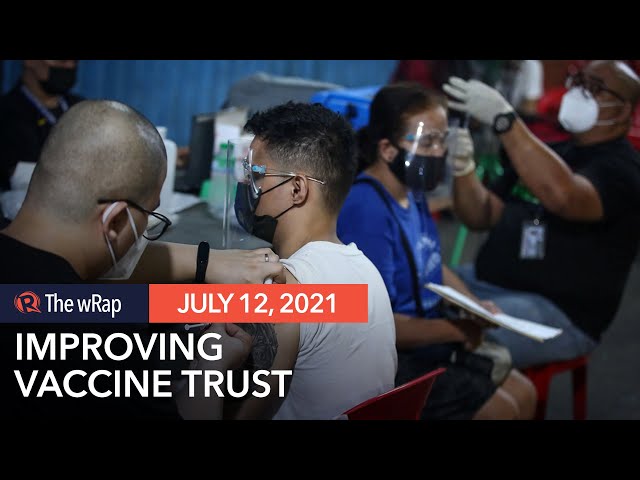 Over a year into the pandemic, more Filipinos are now willing to get vaccinated against COVID-19, according to a survey released by polling firm Pulse Asia on Monday, July 12.
The survey, conducted from June 7 to 16, said 43% of respondents would say "yes" to getting inoculated with a COVID-19 vaccine if the shot was available during the polling period.
This is a big jump from another Pulse Asia survey released in February 2021, when only 16% of Filipinos said they were willing to get vaccinated if a COVID-19 shot was available.
However, 36% of the respondents said they are not inclined to get COVID-19 jabs.
"The rest of Filipino adults are either not going to get a COVID-19 vaccine (36%), are unable to say whether or not they will get vaccinated (16%), or are already vaccinated (5%), either fully (2%) or partially (3%)," the Pulse Asia report said.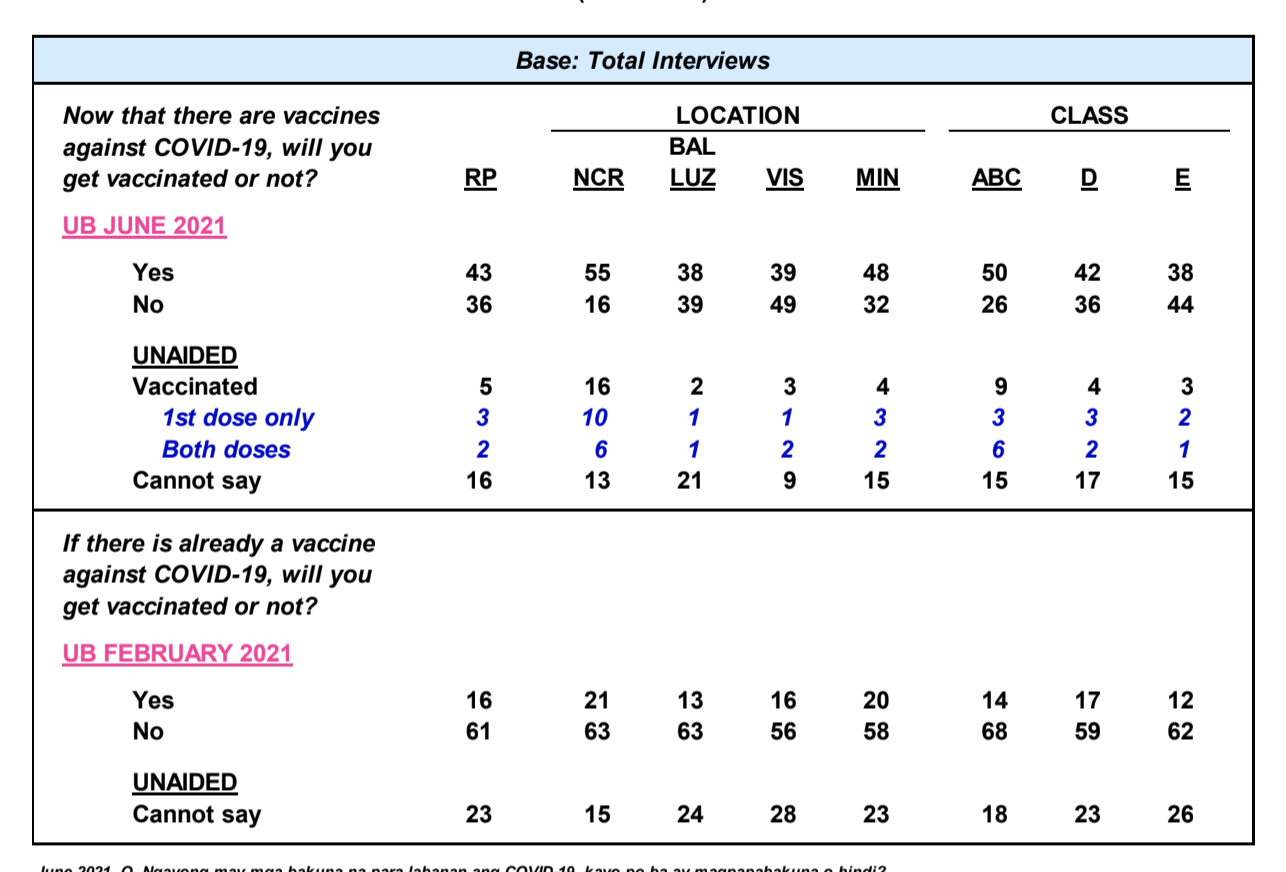 Pulse Asia conducted face-to-face interviews with 2,400 Filipinos aged 18 years old and above for its survey fieldwork. The survey has a 95% confidence level with a ±2% margin of error.
The survey was conducted just as the Philippines started inoculating its economic workers or the A4 priority group. (READ: Vaccination of economic frontline workers begins in the Philippines)
Safety
While the percentage of Filipinos willing to get vaccinated against COVID-19 significantly increased, safety concerns about the vaccine are the top reason why 36% of them didn't want to get the shots.
"Not sure of its safety" – 69%
"Vaccine might not be effective" – 12%
"A vaccine is not needed to combat COVID-19" – 11%
Concern about the safety of a vaccine was higher in virus epicenter Metro Manila (70%) and the rest of Luzon (76%) compared to the Visayas (64%) and Mindanao (59%).
Aside from this, 2% of survey respondents said they would not have themselves vaccinated as the vaccine "might not be free," while another 0.4% said they would not get vaccinated because it "might be costly or expensive."
COVID-19 vaccines are free and administered by the government.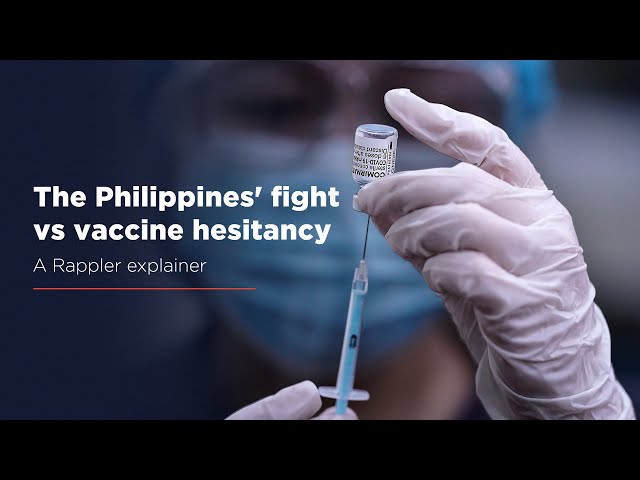 What would change their minds?
The survey also showed that 35% of the respondents who did not want to get vaccinated would change their minds if they see their "relatives, friends, or acquaintances who have been vaccinated are safe."
Nearly the same percentage or 33% of them said that they would be convinced to get vaccinated when their doctor or healthcare provider assures them about the safety of COVID-19 vaccines.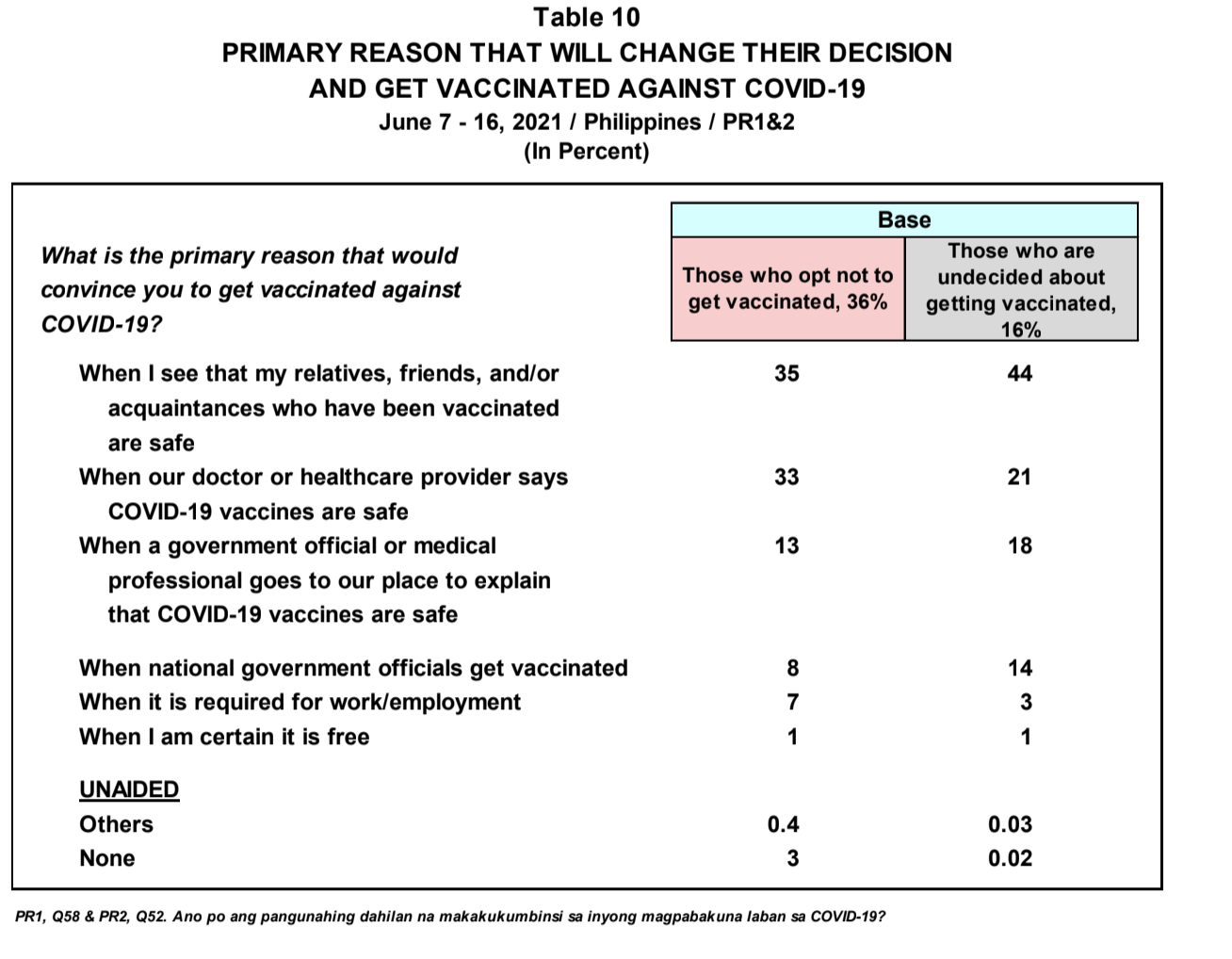 "As far as those who opt not to get a COVID-19 vaccine are concerned, big pluralities to near majorities in Metro Manila and Mindanao (48% and 42%, respectively) would change their mind and get vaccinated when they see that those they know who have been vaccinated are safe," the report noted.
Why this matters
The latest results of the survey could mean that more Filipinos now trust COVID-19 vaccines, as the country battles the virus for more than a year now. However, the report also highlighted the need for the government to ramp up its information drive on the safety and efficacy of vaccines.
It is also worth noting that individuals who are already vaccinated would have an important role in fighting vaccine hesitancy by communicating the effectiveness of the vaccines to their friends and relatives
On Sunday, July 11, San Juan – Metro Manila's least populous city – hit the milestone after the number of first-dose shots administered by the local government surpassed 96,610, or around 78% of its total population. – Rappler.com