This is AI generated summarization, which may have errors. For context, always refer to the full article.
(2nd UPDATE) The Social Weather Stations though finds 18% still unwilling and another 19% are uncertain about getting a shot, posing a challenge for government plans to vaccinate 90% of the population
A recent public survey showed that six out of ten of adult Filipinos said they were willing to get vaccinated against COVID-19, showing a marked increase in vaccine willingness in the Philippines.
A non-commissioned survey from the Social Weather Stations (SWS) – conducted from September 27 to 30, 2021 and released on Friday, November 5, – found that 64% or a big majority of adult Filipinos said they would either "surely" or "probably" get vaccinated if they "have a chance to be given a free vaccine that can prevent COVID-19 which has been approved by the Food and Drug Administration."
The latest figure is 9 points higher than the 55% of adult Filipinos who expressed the willingness to get vaccinated in June 2021. It's also twice as high as the 32% of Filipinos who said they would get a COVID-19 shot in May 2021, the first time the SWS surveyed the issue.
But despite growing willingness to get vaccinated, the SWS found that 19% were still uncertain about getting a shot, while 18% said they were unwilling. Among the 18% who were unwilling, 14% said they would "surely not" get a shot, while 4% "probably" would not to get vaccinated.
The SWS' latest findings come as the Philippines enters its eighth month of rolling out COVID-19 vaccines to the public. Since then, about 26% of the country's total population has been fully vaccinated.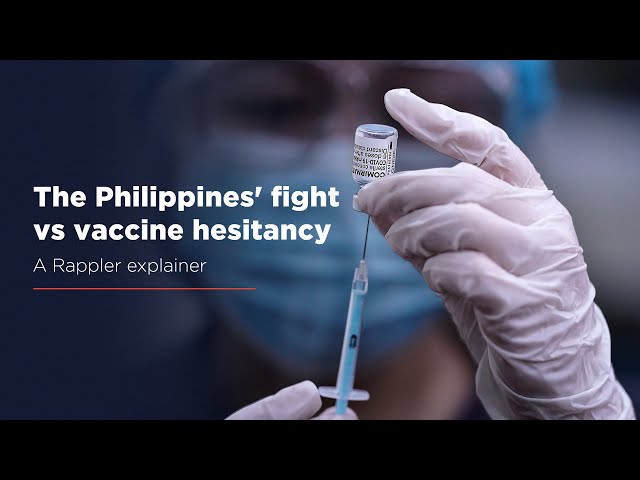 Where to look
The survey likewise found that among the 64% who said they would get vaccinated, 25% were already fully vaccinated, while another 10% received their first dose. Of the remaining, 23% said they would "surely" get vaccinated and 6% said they "probably" would.
Compared to June 2021, willingness to get vaccinated rose in all parts of the country. The highest increase was observed in Metro Manila and Balance Luzon, where there was an 11 point climb in willingness, followed by Visayas (up 8 points) and Mindanao (up 6 points.)
The same was true for willingness according to level of educational attainment. The SWS said that vaccine willingness rose among college graduates (up by 12 points), junior high school graduates (up by 9 points), elementary graduates (up by 10 points), and non-elementary graduates (up by 10 points).
However, "overall unwillingness to get vaccinated was highest among non-elementary graduates, remaining at one-third of those respondents," SWS added.
The survey was done using face-to-face interviews of 1,500 adults nationwide: 300 each in  Metro Manila, the Visayas, and Mindanao; and 600 in Balance Luzon. The sampling error margins were ±2.5% for national percentages, ±6% for Metro Manila, the Visayas, and Mindanao, and ±4% for Balance Luzon.
Estimates
The SWS also found that 35% of adult Filipinos already received at least one dose of the vaccine. This translates to 25 million Filipinos. 
Out of this number, 25% or 17.7 million Filipinos are fully vaccinated while 10% or 7.3 million already got their first dose.
Metro Manila, where the vaccination program was first rolled out in March 2021, registered the highest number of adults vaccinated with at least one dose, with 71%.
Balance Luzon followed with 36%, while Mindanao and the Visayas posted 25% and 21%, respectively.
Data from the Department of Health shows that as of Saturday, November 6, at least 63,733,775 vaccine doses have been administered – 34,402,150 for first dose, and 29,331,626 for second dose and single-dose vaccines.
Why it matters
The Philippines has set out to vaccinate at least 80% to 90% of the country's 110 million population as part of a strategy to protect its overstretched health system and reopen the economy which has seen its worst dip since World War II.
While the number of Filipinos willing to get vaccines has increased in the months since March 2021 – the start of the country's vaccine drive – at least a fifth of the population is still reluctant or unwilling to get vaccinated, posing a challenge to government's goal of obtaining high vaccine coverage.
Health authorities and officials who were closely involved with the vaccine rollout have acknowledged that vaccine hesitancy is still an issue many local officials are confronted with after hearing of anecdotes from communities.
Department of Health Undersecretary Myrna Cabotaje said that health officials have sought to address this through communication campaigns that start with persuasive messaging, sharing nudges for vaccination, and informing the public of the benefits of getting vaccinated.
With vaccinations now open to the general adult population and minors aged 12 to 17, government is considering using mandates that provide incentives for getting vaccinated and disincentives for the unjabbed. This included access to places like restaurants and gyms, as well as regular testing for those unwilling to get a shot.
In periods when cases are low in commuties, Cabotaje told reporters that local health workers conduct visits to communities for personal conversations with residents.
In just two month's time, the government is targeting to increase the number of fully vaccinated individuals to 50% of the population by December 2021. It later wants to see 70% vaccinated by the May 2022 polls, and 90% in early 2022. – Rappler.com