(2nd UPDATE) The fire is extinguished at 5:41 am, according to Manila Fire District 1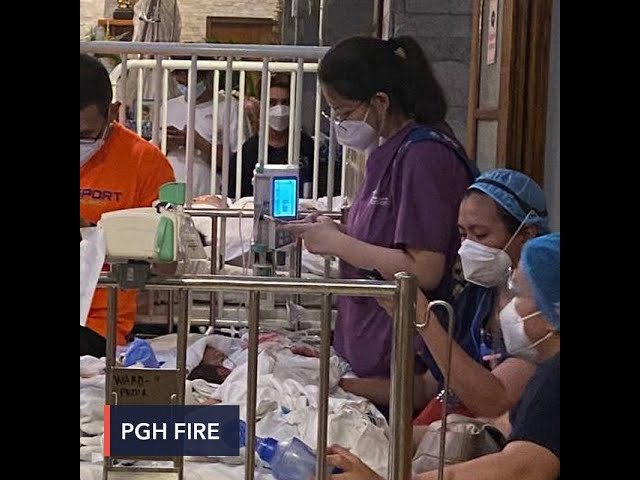 Government-run Philippine General Hospital (PGH) was hit by fire early Sunday morning, May 16, as the country's healthcare system grappled with the coronavirus pandemic.
Rappler reporter Camille Elemia was in PGH attending to her father when the fire started shortly before 1 am at the third floor of the building.
The first alarm was raised at 12:41 am, and a second alarm at 12:58 am. It was then declared under control at 2:46 am, and was extinguished at 5:41 am, according to Manila Fire District 1. There were no casualties.
According to PGH spokesperson Dr. Jonas del Rosario in a DZBB interview, the fire started at the Operating Room Sterilization Area on the third floor of PGH's central block building, where paying patients were admitted. It did not spread to other areas. The cause of the fire is still under investigation.
Elemia said there were intubated patients who couldn't be immediately brought out or were on the upper floors.
In a tweet, Senator Richard Gordon said that the Philippine Red Cross had dispatched two fire trucks and six ambulances to help put out the fire and provide first aid.
Aftermath
Since the fire had been extinguished, Del Rosario said that patients from the hospital's central block, which is not yet ready to be occupied, were relocated to other areas of the hospital, while other patients were returned to their original areas.
Other hospitals in Manila are also accommodating PGH patients. Dr. Grace Padilla, director of Sta. Ana Hospital, said they have taken in 12 patients from the PGH NICU. Ospital ng Maynila Director Dr. Karl Laqui said two patients were transferred to their hospital for appendectomy.
PGH has since released a call for donations, both in-kind and cash:
If you want to help Philippine General Hospital, here are the ways to donate directly. Thank you for your support and prayers. 👉🏼 pic.twitter.com/xTG0CkQSzk

— Ron Baticulon (@ronibats) May 16, 2021
Earlier in May – weeks after the strictest lockdown in Metro Manila and adjacent provinces – over 90% of PGH's COVID-19 beds remained occupied. – with reports from Camille Elemia, Ralf Rivas, and Dwight de Leon/Rappler.com