Local disaster risk reduction management officials say aside from the Davao Region, Bukidnon also experienced a heavy downpour the whole day
Floodwaters in some areas in Davao City ebbed by midday on Wednesday, November 10, but rescue and search operations have continued in areas where waters swamped houses and stranded residents.
The Davao City Disaster Risk Reduction and Management Office (DRRMO) staff and personnel scoured affected areas to assist trapped residents, including animals. They also delivered food packs.
The inundation affected Jade Valley in Buhangin, Don Julian Village in Maa, and Pag-asa in Bankerohan. 
Residents were advised to do preemptive evacuation late Tuesday evening as the Davao River swelled to a critical level.  
In its weather update as of of 4 pm on Wednesday, the local disaster risk reduction management office said localized thunderstorms and the easterlies were affecting Davao region.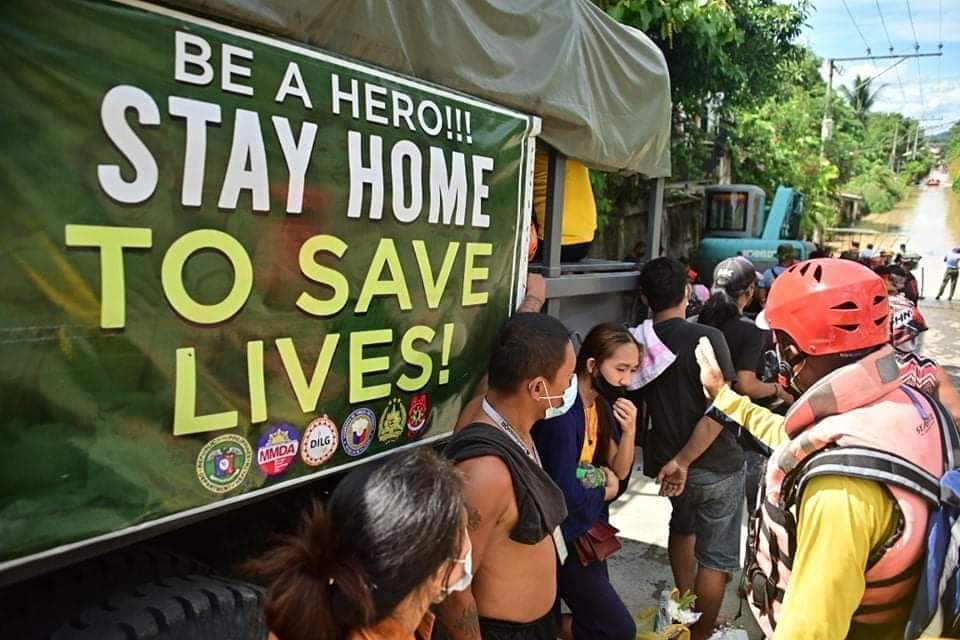 Bukidnon also experienced a heavy downpour the whole day of Tuesday.
"This is the effect of climate change. Once there is heavy rain in the mountains and then the high tide comes, this is expected. Our drainage system is now okay because the water subsides quickly when the rain stops unlike before when it would take days before the flood subsided," said Mars Alce Decin, a Davao resident.
Mags Z. Maglana, a long-time development and local governance worker, called it one of the worst flooding in the city in recent times because areas known to be flood-free were not spared. 
Maglana, who is running for congresswoman in Davao's 1st District, said this year's Davao flooding episodes, including the October 25 flooding, was the fifth. 
She said the recurrence could be blamed from the fact that only 18% of the city's forest cover is left; the gaps in planning and policies have reduced green spaces in Davao and prevented water from effectively absorbed; the unchecked quarrying; problematic management of solid waste; drainage system; and other infrastructure initiatives that could have been strengthened by better studies, extreme weather events and even the tides.  
The flooding situation obviously needs comprehensive, integrated, historical, scientific, and evidence-based studies that will yield options that will work for and serve people," she said. 
Maglana said the waters rampaging in Davao during flood must have come from Bukidnon.
"We have a climate crisis. Legislators can really collaborate to make sure environmental challenges are addressed," Maglana told Rappler. 
She said disasters of this nature were beyond the capacity of a single local government to resolve, and even the well-resourced and well-connected Davao City government needs to work with the national government and nearby local governments. 
"This is when we citizens, so used to managing crises on our own, need good government and good governance. Because we may act chillax with one or two bouts with baha. But we certainly should not get used to it as if it were but normal— not when people's homes and properties are washed away; not when our family's lives and health are at stake; not when businesses cannot operate and people cannot go to work and earn for the day. Not when we can choose differently and better," she said. – Rappler.com
Grace Cantal-Albasin is a Mindanao-based journalist and awardee of Aries Rufo Journalism Fellowship