'Patay na nga sila, nalubog pa sila,' says one visitor of the Dagupan City Roman Catholic Cemetery
Aside from faded paint and an overgrowth of various plants in the tombs of their loved ones, some Dagupeños have way bigger problems this Undas: visiting their deceased relatives resting in peace in shin- to knee-deep floodwaters inside the Dagupan City Roman Catholic Cemetery.
Severe Tropical Storm Maring brought heavy rains to Northern Luzon. Areas upstream have been flooded and, after a few hours, waters have receded. However, due to its geographical location as a catch basin, Dagupan City is on the receiving end of floodwaters from the mountainous region of Cordillera – its last destination before it flows out to the Lingayen Gulf.
While flooding in other areas have receded, Dagupan City is yet to be flooded.
Rudy Soriano, who has been taking care of the centuries-old cemetery for decades alongside his father Romulo, said that while flooding in the cemetery is common, it's only recently when floodwaters have not quickly subsided.
Soriano said around 1,000 tombs located from the middle to the back parts of the cemetery were affected by the flooding.
"'Yong isang kanto, higit isang daan ang nakahimlay doon. Kaya kung susumahin, lalampas sa isang libo ang apektado ng baha," said Soriano.
(In one alley, more than a hundred were laid to rest there. If we compute, more than a thousand were affected by the floodwaters.)
Aside from flooded sectors, mud from areas where floodwaters had recently subsided also made it difficult for visitors and other grave cleaners to push through.
Just behind the Chapel of the Resurrection, located in the middle part of the cemetery, floodwaters have begun to settle. As graves go farther from the chapel, floodwaters go deeper, reaching knee-deep levels.
"Kawawa naman 'yong mga nakalibing dito. (I feel bad for those who are buried here)," said Juancho, a visitor. "Patay na nga sila, nalubog pa sila. (They're already dead, but they were still flooded.)"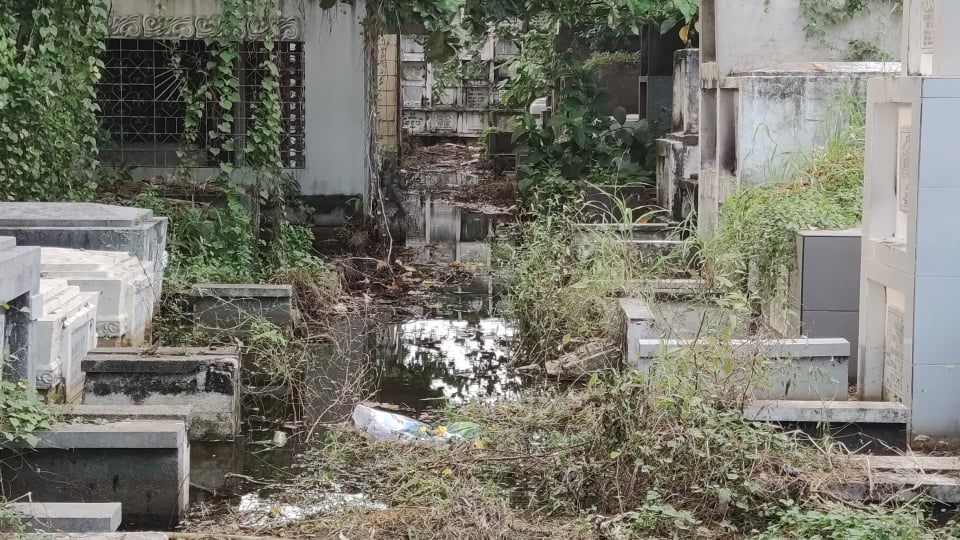 "Talagang malulunod sila. Nakahiga eh. (They would really drown. They are lying down)," he jokingly added.
Despite his funny demeanor, disappointment could be seen in Juancho's eyes as he expressed his dismay for not being able to visit his dead family members located at the back part of the cemetery. His boots proved insufficient in braving the knee-deep waters.
The Soriano father-son tandem agreed on why floodwaters continue to persist in the cemetery.
"Walang daraanan 'yung tubig. (There is no way to drain the waters)," they said.
The construction of the New Chinese Cemetery, located just behind, left the older graveyard in shambles.
Lacking a proper drainage system, the dilapidated cemetery depends on thinning its floodwaters by free-flowing it to a vacant lot where the New Chinese Cemetery would eventually be built.
With the Chinese Cemetery built on an elevated level, floodwaters have nowhere to go.
This is aside from the elevated Careenan Street in front of the antique cemetery gates. It has no drainage system connecting to the street.
The younger Soriano said these floodwaters would persist for months.
"Patutuyuin na lang 'yung tubig. Pasisingawin. (We will just wait for the waters to dry out. Let it evaporate)," he said.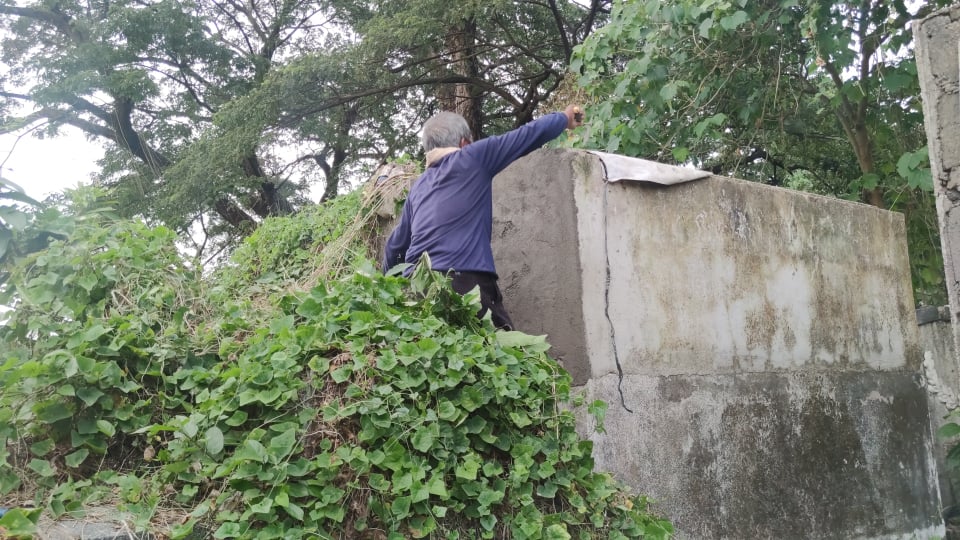 Modern problems require modern solutions
Visitors, in desperate attempts to visit their deceased loved ones settling in murky waters, went through extreme measures to ensure they get the job done.
One family, said Soriano, decided to construct an elevated walkway to their family grave.
"Sinagot na nila 'yon. Gastos nila. Nag-semento doon ng daan para makadalaw sila nang tuyo. (They paid for it. They spent. They had the walkway cemented so they can walk on a dry path)," he said.
Others would climb stacks of tombs called "apartments" just to get to the grave and clean it. Others, however, would not risk going there at all.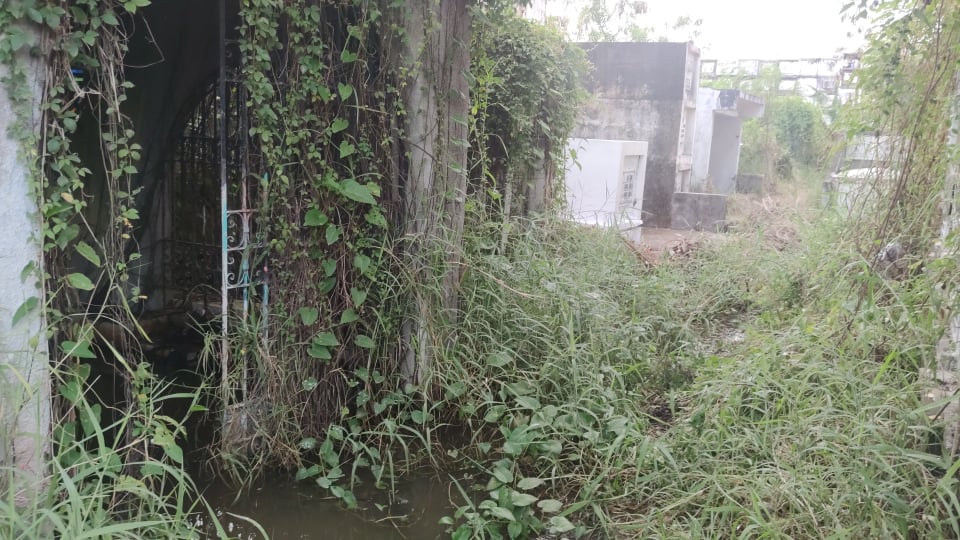 Repairs?
The Dagupan City government is not capable of making repairs to the said cemetery. The Roman Catholic Cemetery is owned and managed by the Archdiocese of Lingayen-Dagupan.
Classified as privately owned, it is illegal for the city government to use public funds to make improvements and repairs.
This leaves the responsibility for maintenance and developments to the Archdiocese.
"So far, wala pang projects. Siguro kasi pandemic. (So far, there are no projects. Maybe because there is a pandemic)," said Soriano.
Citizens will have no other choice but to keep the faith and endure the situation. – Rappler.com
Ahikam Pasion is a Luzon-based journalist and an awardee of the Aries Rufo Journalism Fellowship.