This is AI generated summarization, which may have errors. For context, always refer to the full article.
'He is gone. But his spirit, his advocacy, lives on,' says retired Supreme Court associate justice Antonio Carpio
MANILA, Philippines – It was a final procession fit for a patriot.
The remains of Albert del Rosario, the former secretary of foreign affairs, was taken out of the Sanctuario de San Antonio Church in Makati City, to his final resting place for a private burial at around 11:30 am on Tuesday, April 25 .
The orchestra played the patriotic "Battle Hymn of the Republic" as his body was taken from the altar to a hearse.
Del Rosario, who was 83 when he died, was known for his fierce dedication to Philippine sovereignty. He and several other personalities brought the country's claims over the West Philippine Sea to the Hague-based Permanent Court of Arbitration, winning a landmark victory for the country in 2016.
He was on his way to San Francisco, California when he died of a heart attack on the flight.
His daughter Inge del Rosario thanked his friends and colleagues for sharing their stories and expressing their condolences to the family in the two days of his wake and during the funeral on Tuesday.
"You inspired him easily. And you considered him among the smartest people in the room. He was of service to the end. Thank you to the professional men and women of the DFA [Department of Foreign Affairs]," she said.
She said in a separate statement over the weekend that Del Rosario, a devout Catholic, was on his way to pray at a private devotion for the Our Lady of Miraculous Medal in California when he died.
"He was a devotee of the rosary and sought to pray for better health as he believed he continued to have a mission for our country," she said.
Del Rosario's remains were returned to the country on Saturday, April 22. He was brought back by his wife Margaret Gretchen and his sister Joanne. His children, grandchildren, and other siblings received his body at the airport.
"Even after he left the DFA because of health reasons, he lived out a work ethic that was unrelenting and an inspiration to us, his family," Inge added.
After the funeral, retired Supreme Court associate justice Antonio Carpio shared that his final conversation with Del Rosario was about advancing Philippine interests in the West Philippine Sea.
"Well, he is gone. But his spirit, his advocacy, lives on. We will carry on, and soldier on, and defend the West Philippine Sea, and our maritime zones, the best that we can," Carpio said.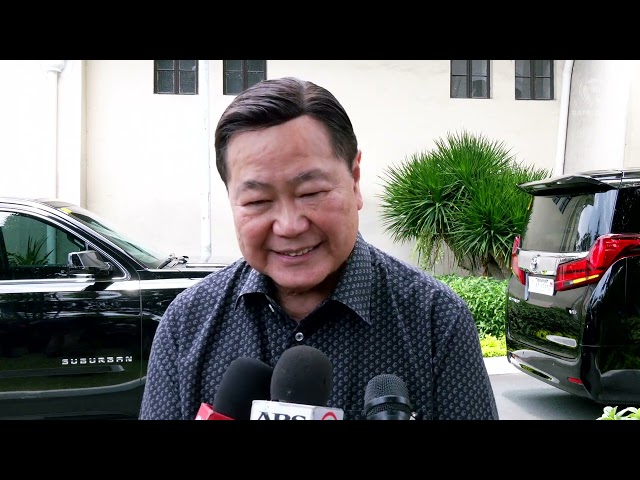 Carpio worked with Del Rosario in taking the Philippines' case to the arbitral tribunal, as well as being co-convenors who helped organize the 1Sambayan opposition slate in the 2022 elections.
Other prominent personalities who came to pay their last respects to the foreign secretary include former Ombudsman Conchita Carpio Morales, former senator Frank Drilon, Japanese Ambassador to the Philippines Koshikawa Kazuhiko, former Philippine Ambassador to the United States Jose Cuisia, and former energy secretary Rene Almendras.
Almendras, who took over as secretary of foreign affairs after Del Rosario stepped down in March 2016, said that "history would remember him greatly."
Almendras, like many others who paid tribute to the late secretary, said Filipinos should remember his late colleague for his dedication in advocating for the welfare of millions of overseas Filipino workers.
Former senator Dick Gordon said late Monday night, April 24, after attending del Rosario's wake, that Del Rosario's life serves as an example of how Filipinos should stand up for what is right, regardless of how the odds may seem against you.
"Take a stand," Gordon told the media on the sidelines of Del Rosario's wake.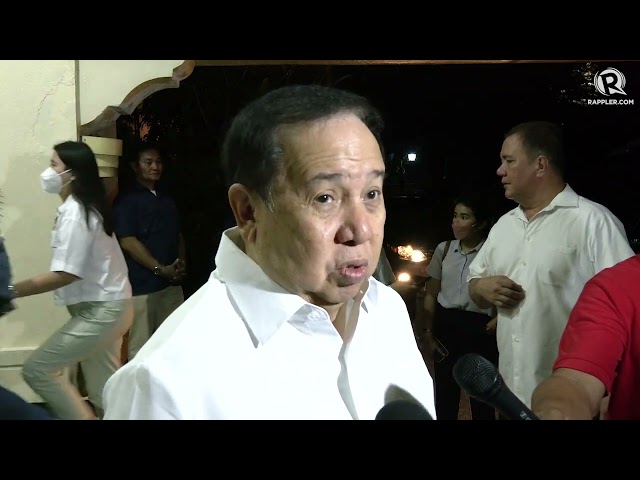 "No matter how big the enemy is, or how big the adversary is, manindigan tayo. 'Wag tayo matakot. Kung 'di tayo manindigan, 'di natin makukuha minimithi natin na karapat dapat sa ating bayan (Stand firm and don't be afraid. If we don't stand firm, we won't be able to obtain what our country deserves.)," Gordon added. – Rappler.com