This is AI generated summarization, which may have errors. For context, always refer to the full article.
'Tama na 'yung pagbibintang sa mga tao. They are doing everything they can,' says Dr Antonio Dans, as health professionals push for safety measures
With the Philippines once again facing a surge in coronavirus cases, leading health experts called on the government and business leaders to implement measures that would ensure the safety of Filipinos, instead of blaming the public for supposedly disregarding protocols.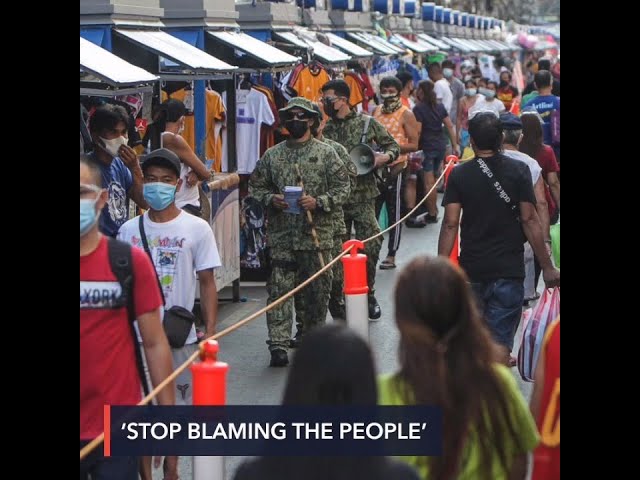 The Healthcare Professionals Alliance Against COVID-19 (HPAAC) – the largest coalition of health groups in the country – issued the plea in a press conference on Tuesday, March 16, saying the spike in cases shows the failure to sustain safe environments.
Dr Antonio Dans, an internal medicine specialist and epidemiologist, pointed out that there is not much else Filipinos can do to keep safe if areas like malls, workplaces, and public transport are not adjusted to prevent the spread of the virus.
"Humihingi kami ng tulong. Tama na 'yung pagbibintang sa mga tao. They are doing everything they can," he said.
(We're asking for your help. Enough with blaming people. They are doing everything they can.)
Dans added in Filipino, "Help the people comply because they are tired trying to comply and they are forced to – we all see that they are forced to line up in crowded spaces, ride in crowded spaces, left with no choice but to work in crowded places…. We need to open up opportunities for them to protect themselves."
Malacañang, the Department of Health (DOH), and other medical consultants of the national government's coronavirus task force earlier cited possible complacency among Filipinos as one of the factors which may be contributing to the rise in cases.
A recent Octa Research survey, however, showed that 9 out of 10 Filipinos comply with mask-wearing and frequent handwashing. The survey was conducted January 26 to February 1, weeks before the current surge.
What health workers suggest
HPAAC listed several measures both local government units (LGUs) and businesses could take to ensure Filipinos' safety.
Dr Aileen Espina, a public health and family medicine specialist, described their suggestions as low-hanging fruits that are both doable in the short run and could help stem the spread of infections.
The HPAAC's Apat Dapat reminders are:
A – Air circulation (outdoor activities are much safer than those indoor)
P – Physical distancing (at least one-meter distance reduces the risk of transmission up to 80%)
A – Always wear a face mask and face shield
T – Thirty-minute interactions or less
HPAAC stressed at least 3 of these 4 measures should be met to ensure safety.
For LGUs, the experts recommend the following:
Coordinate contact tracing across areas (Espina cited the example of Pasig City, Mandaluyong City, and Antipolo City, whose contact tracing measures are connected)
Accelerate pop-up bike lanes
Create open spaces for business and leisure activities
Discourage dining in enclosed spaces, encourage takeout instead
For business and industry, these are HPAAC's suggestions:
Allow work-from-home arrangements
Stagger work hours
Improve ventilation in the workplace
Intensify Apat Dapat protocols
The group said ensuring safer transportation, in particular, is important as workers who are already risking exposure to the virus in their workplaces are left more vulnerable with unsafe commuting options.
Trains and buses should be decongested, they added, through the use of special shuttles for workers.
'Things have not changed'
Espina said the next few days would be "critical" in stemming the surge in cases and preventing another lockdown. (READ: How the Philippines can recover from the coronavirus pandemic)
"The factors behind the surge are multifaceted. We can't discount it might be related to the new variants, but it could also be because we have not really changed our environment, our behaviors, and our way of life. We have not instituted well the different layers of prevention that have been proven to be effective in controlling the spread of this virus," she said.
Since the last peak in cases seen in July to August 2020, Espina said it is apparent that officials have failed to sustain safe communities and workplaces.
"We have to be honest. Things have not really changed much since we called for a timeout in August and we have to be humble enough to admit that we all have failed in so many aspects in terms of our preventive measures," she said.
The HPAAC's call comes a year since the Duterte government implemented a lockdown in Metro Manila, the center of the country's outbreak. It has also been about 8 months since the group called for a lockdown in August 2020 after a surge in cases overwhelmed the healthcare system.
Compared to the peak in cases seen in July to August 2020, experts studying the pandemic said infections now appear to be spreading faster. On Monday, March 15, the DOH logged 5,404 COVID-19 cases – the Philippines' 4th highest single-day tally since the pandemic began. – Rappler.com