The top 5 regions to be given the biggest number of doses in the coming months include Calabarzon, Central Luzon, Western Visayas, Central Visayas, and Bicol
Philippine vaccine czar Carlito Galvez Jr. told the Senate on Wednesday, August 25, that regions which have waited months to receive more coronavirus vaccine doses could expect bigger allocations for the rest of the year.
Galvez's statement comes at the heels of rising complaints from the provinces that there was inequitable distribution of vaccine shots in recent months.
"The majority of the volume in millions will be equitably distributed to the different areas. With this allocation we are assuring that all provinces and all the regions will be given their share," Galvez said.
Facing lawmakers at the Senate blue ribbon committee, Galvez explained that focus was given to Metro Manila and select areas experiencing COVID-19 surges.  
He said this was part of the government's "focus and expand" strategy, where vaccine doses were first given to places going through a high burden of infections. 
In previous congressional hearings, this translated to 55% of vaccine deliveries given to Metro Manila and at least eight to 10 other cities, while the remaining 45% of supplies were divided among 17 other regions. 
On the ground, it also meant expanding vaccination to cover more priority groups in 'NCR Plus 10' areas, including economic frontliners and indigent populations, while most of the country received vaccines mainly for health workers, the elderly, and people with comorbidities.
Senate Majority Leader Juan Miguel Zubiri told Galvez that while it was understandable that the capital region – the epicenter of the Philippines' local epidemic – had been given priority, other local governments who have had to contend with the same challenges posed by the virus have reached the point of claiming "vaccine inequality." 
"A number of our LGU (local government unit) colleagues and friends have been asking, 'Sana all di ba?' (If only we could all have that, right?) Much of the vaccines given to the Philippines (have been for) NCR and a number of areas, so if only it were for all," Zubiri said in a mix of English and Filipino.
Galvez said at least 114 million doses could arrive in the country in the fourth quarter, 25 million of which may be delivered as soon as September. Citing projected vaccine allocation per region for the rest of the year, the top five regions to be given the biggest number of doses would no longer include the National Capital Region, and would instead cover the following:
Calabarzon
Central Luzon
Western Visayas
Central Visayas
Bicol
Aside from receiving the largest number of doses, the five regions are also count as the top five areas with the largest portion of unvaccinated individuals as of August 24.
Projected vaccine allocations for other regions may be found below: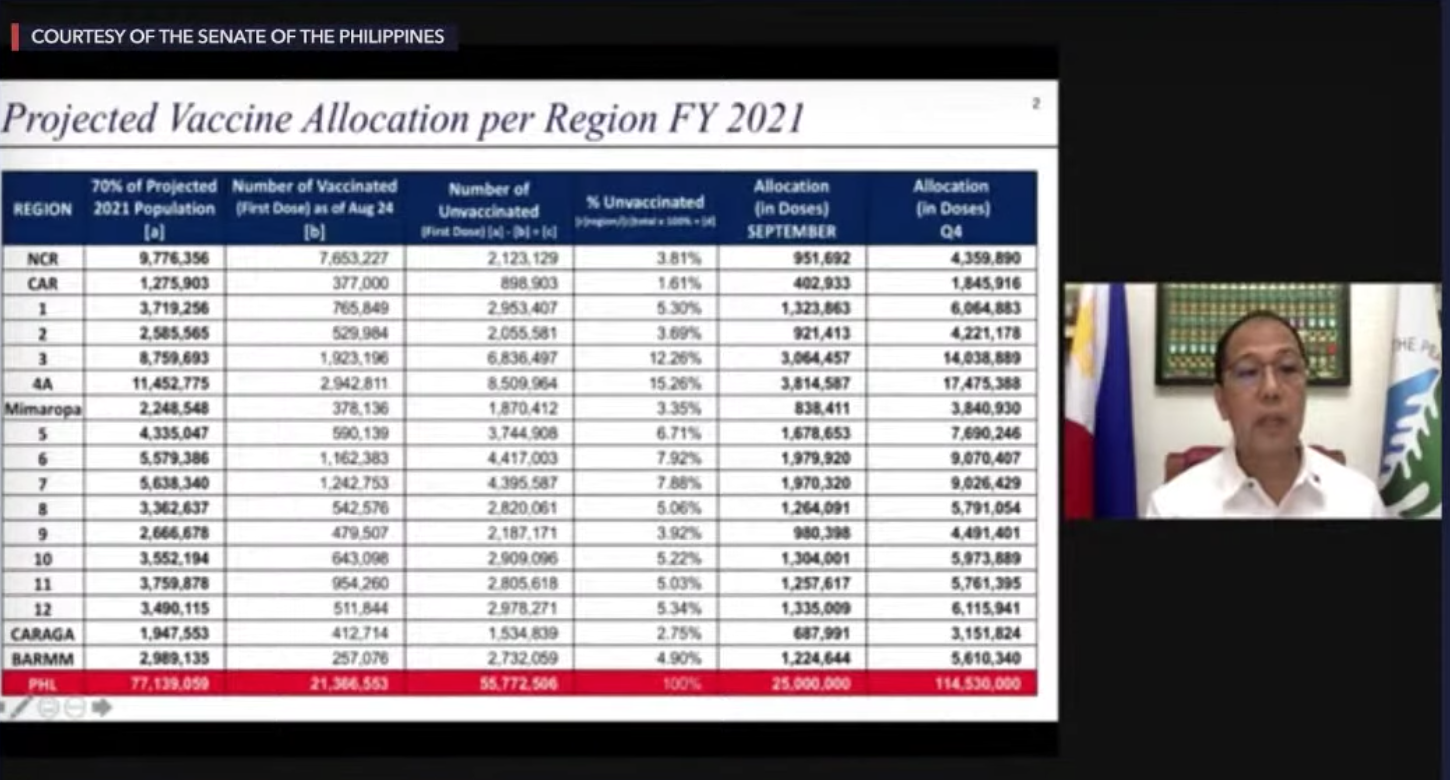 Much needed relief
Projected allocations showing increased supply for regions outside Metro Manila signaled possible relief for local officials in these areas which have had to contend with increases in COVID-19 cases over recent months. It also comes as experts have stressed the need for widespread vaccination as soon as possible to prevent the emergence of more dangerous COVID-19 variants.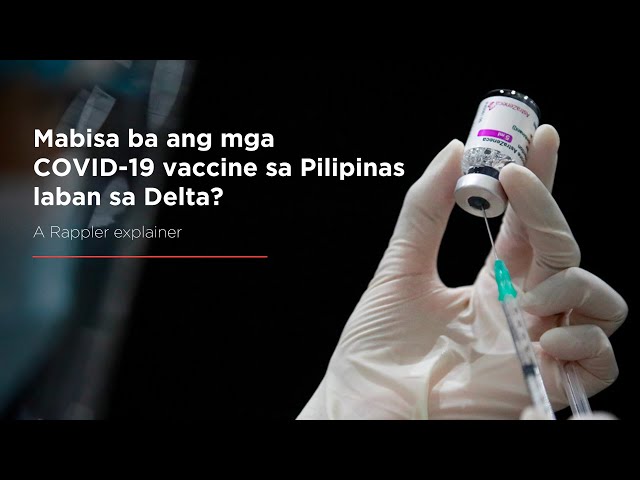 Health officials have repeatedly pushed for local governments across the country to implement strategies such as uniform quarantine measures, active case finding, granular lockdowns, heightened contact tracing, and increased vaccination to mitigate the impact of rising cases.
But while response measures were similar across regions, officials outside Metro Manila repeatedly pointed out that vaccination, which had offered the biggest relief against COVID-19, should be ramped up for the rest of the country. 
Galvez, along with National Task Force for COVID-19 Deputy Chief Implementer Vince Dizon acknowledged this, saying that government would now shift to the second half of its "focus and expand" strategy, where bulk of doses will be given to regions that have waited months to receive them.
Among the vaccines that are expected to arrive in the country include bulk of the 40 million Pfizer doses, which comprised the Philippines' largest vaccine purchase. COVID-19 vaccines from Sinovac, the Gamaleya Research Institute, Moderna, AstraZeneca, and the COVAX global vaccine sharing facility are also be expected. (SCHEDULE: Philippines COVID-19 vaccine deliveries)
So far, data from the World Health Organization showed that the Philippines has received vaccines for about 31% of its eligible population of individuals 18 years old and above.
The Philippines may be among the last countries in Southeast Asia to reach herd immunity against COVID-19, after a lack of vaccine supplies and operational snags hamper the rollout of shots in the populous country. As of August 22, about 12% of the population has been fully vaccinated. – Rappler.com