(3rd UPDATE) Senators are crafting measures to protect consumers from fake and potentially harmful goods sold online
A coffee mix promising an immunity boost, and a keto-friendly protein shake appeared innocent enough on the pages of online stores Lazada and Shopee, respectively, but it turned out, these have been flagged by the Food and Drug Administration (FDA) as possibly harmful, as the products were unregistered.
Senator Sherwin Gatchalian screen-shot and shared the pages during a virtual Senate committee hearing on online transactions on Thursday, September 3, attended by officers from Lazada and Shopee.
"Siguro (Perhaps) we can forgive 'yung mga (those) pirated software, pirated movies and videos, but something that we consume is very dangerous, and this is being sold on online platforms," Gatchalian said.
A product called Paragis Cafe Latte Mix and other consumable items with the same brand claiming to be health boosters were on sale on Lazada at the time of the hearing.
Meanwhile, Wheyl Co JUST Whey Protein Powder for Keto/Low-Carb Diet was on sale on Shopee. Its page said 1,200 units of the product had already been sold.
Both products were named in separate Food Advisories on the FDA website as unregistered items, Gatchalian found.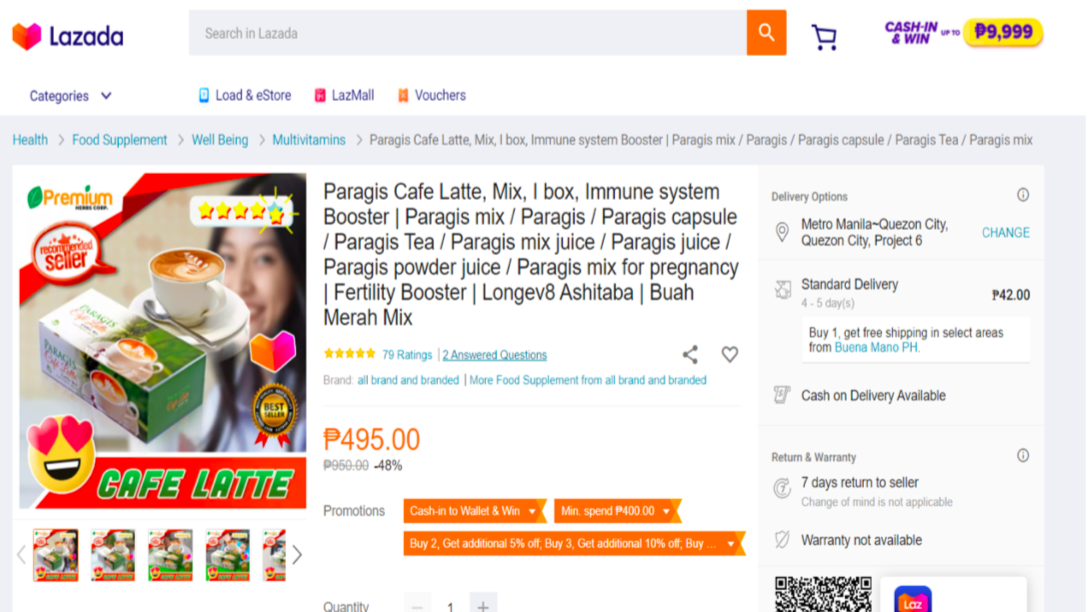 "The FDA verified through post-marketing surveillance that the above-mentioned food products are not authorized, and the Certificates of Product Registration have not been issued," the FDA notice stated.
"Since these unregistered food products have not gone though the evaluation process of the FDA, the agency cannot assure their quality and safety. The consumption of such violative products may pose health risks to consumers," the notice went on.
Gatchalian asked Lazada and Shopee to explain – especially since they had just presented the Senate panel with the measures they take to protect their customers.
"What are they doing to stop this? Obviously, the answer is they're doing something but as we speak right now…it's still happening," Gatchalian said.
"The platforms are not doing enough to stop this kind of unscrupulous activity," the lawmaker added.
'Practical difficulty'
Lazada CEO Raymond Alimurung acknowledged "that is occurring."
"I would like to reiterate that the presence of a violation will not necessarily correlate to us not doing enough or not doing our responsibility," said Alimurung, a doctor by profession.
For pharmaceuticals and supplements, Lazada uses artificial intelligence to weed out dubious sellers from their roster, based on names and images of "hundreds and thousands" of products, Alimurung said. Only "whitelisted" or approved sellers can sign up on the platform.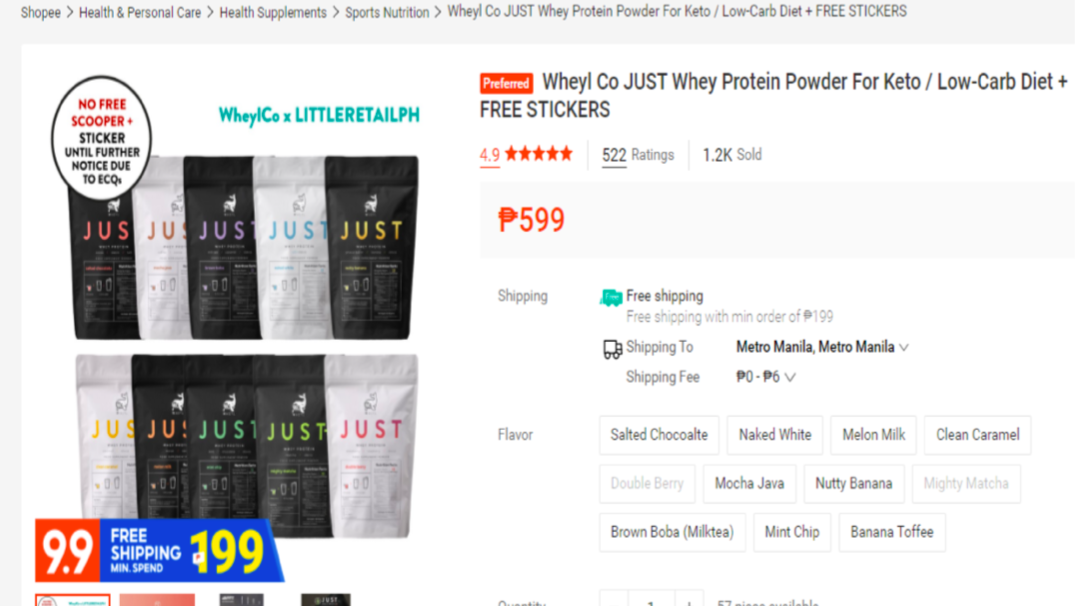 "There is still a chance that some of these are going to get through, and what we do is we respond to complaints and notices by regulators and add it to what we're doing," he added.
Alimurung noted the "practical difficulty" of scouring 50 million products' names and images. To avoid problems like this, the company "will probably need to go in a direction where no small seller can list on our platform, or the entire food and pharmaceuticals category will be deactivated."
"I understand the concern. We take it seriously and we're doing a lot. But we would like to brainstorm with your body and the authors of the bill on how we would do it, because there is a practicality aspect that I think we need to jointly figure out," Alimurung told the Senate panel.
Earlier in the hearing, Shopee public affairs officer Jaimmie Hans Segovia said the company has "a procedure for taking down counterfeit items" as a way to protect intellectual property rights. She was not given a turn to speak about the FDA-flagged supplements sold on the platform.
'A very valid concern'
Senate Bill no. 1591, filed by Gatchalian, seeks to protect consumers as more online enterprises open because of the COVID-19 pandemic.
Trade Secretary Ramon Lopez told the panel that more than 75,000 online businesses have registered with the Department of Trade and Industry since the pandemic took hold in March, followed by stay-at-home policies from the government. (READ: How the pandemic is crushing company earnings)
Regulating these new businesses, many based in their owners' homes, has been tricky for the government. How does it police – and tax – these nascent enterprises without strangling them?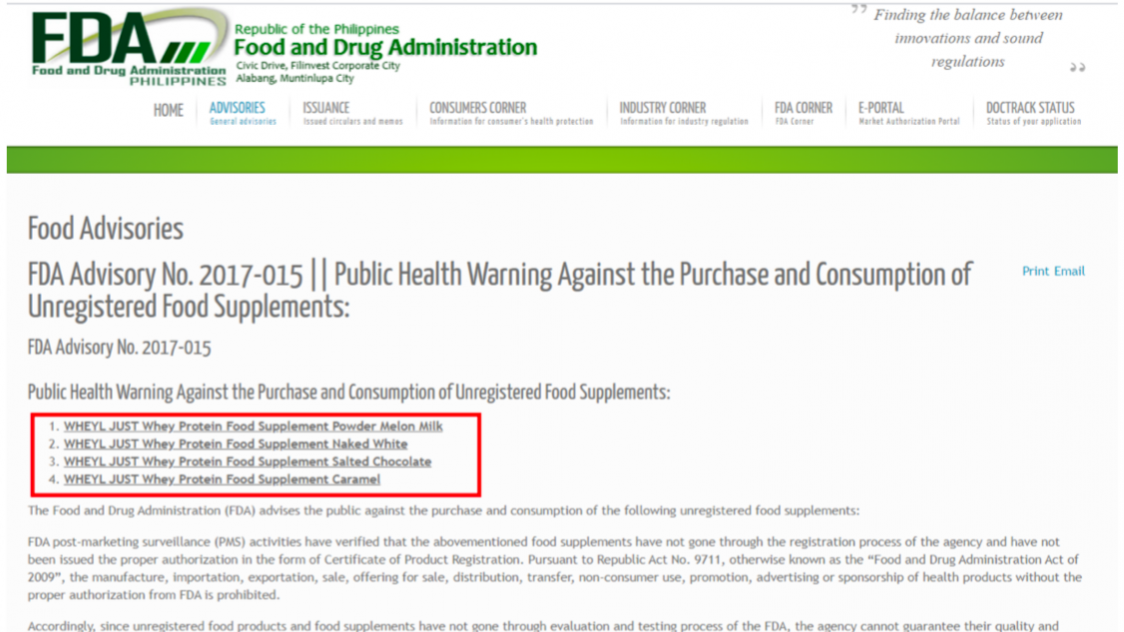 During the hearing, the Optical Media Board presented the "pandemic level" of proliferation of counterfeit movies, software, and unregistered electronic devices on sale on platforms like Lazada and Shopee.
Gatchalian said new laws should set a proper "regulatory environment" without discouraging small business owners, many of whom were displaced from their former jobs, or unable to find one.
Senator Pia Cayetano pointed out that fake and uncertified products are not limited to online stores. She said many counterfeit items are sold even in reputable malls – including supplements.
Cayetano said she once joined a raid in a mall when she was practicing intellectual property law. Her client was out to round up fake Lacoste products.
"Hindi tayo mamamatay kung may Lacoste na mabentang fake (We wouldn't die if fake Lacoste is sold). I don't think you'll get a skin disease if you wear a fake shirt. But when it comes to food, or pharmaceuticals, or supplements, there could really be health concerns," she said.
However, "they happen online and offline."
"It's a very valid concern and we need to find solutions, but I think we will go in the wrong direction if we're simply saying that we should immediately close our doors to online platforms," Cayetano said.
"Let's address that problem holistically," she added.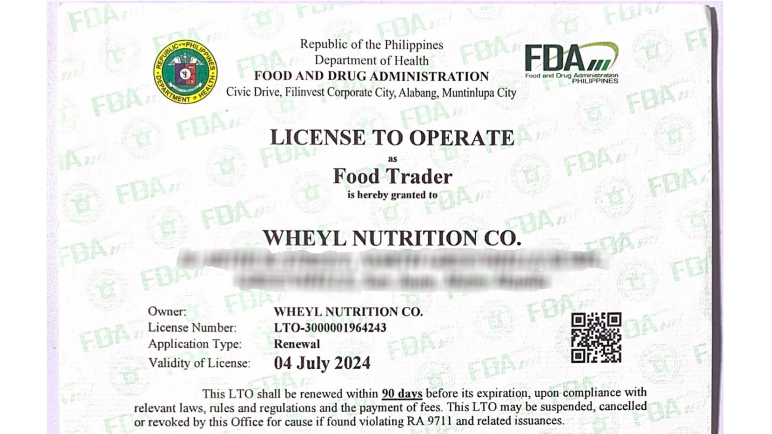 Wheyl responds: We're registered now
Wheyl Nutrition Company, the distributor of JUST Whey Protein Powder, reached out to Rappler and said the FDA has lifted the warning on the product, which comes in several variants.
Wheyl co-founder Jason Reyes showed Rappler certificates from the FDA showing the product line has been registered with the agency since 2018.
The protein shakes were indeed unregistered in 2017, Reyes said. Wheyl received a warning from the FDA at the time even with their application pending with the agency, he added. – Rappler.com