(UPDATED) These urban hubs that have seen a recent spike in COVID-19 cases will stay under GCQ until the end of 2020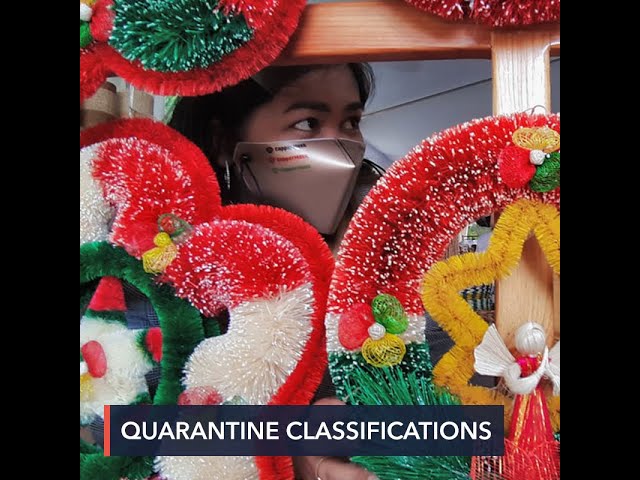 Metro Manila, Davao City, and 6 other areas will spend the Christmas holidays under general community quarantine (GCQ), Philippine President Rodrigo Duterte decided on Monday, November 30.
In his meeting with coronavirus task force officials, he approved a task force recommendation to place the following cities and provinces under GCQ for the entire month of December:
Metro Manila
Batangas
Iloilo City
Tacloban City
Lanao del Sur
Iligan
Davao City
Davao del Norte
During the televised speech, Duterte only announced the first 7 areas. Presidential Spokesperson Harry Roque added Davao del Norte to the list after the speech was aired.
The rest of the country will be under modified general community quarantine, the loosest quarantine classification in the country.
The decision for the two urban hubs comes as no surprise. Davao City had been reverted to GCQ on November 20 after a sharp uptick in new COVID-19 cases. Metro Manila has been under GCQ since June 1, save for a a two-week period under a stricter quarantine classification in August.
Metro Manila mayors have told the national government they prefer to stay under GCQ until the end of 2020.
A GCQ classification for Metro Manila and Davao City was consistent with the recommendations of the Octa Research team, a group of experts affiliated with the University of the Philippines and University of Santo Tomas, among others.
Holiday surge
The new classifications for December come as the government noted an uptick in coronavirus cases over the last few weeks in areas like Metro Manila, Davao City, Quezon, Laguna, Rizal, Cavite, and other places.
Earlier on Monday, Health Secretary Francisco Duque III partly attributed this increase to holiday-related activities.
"Itong pagsalubong ng Kapaskuhan at nasa GCQ tayo, iyong mga tao ay muling lumaki ang bilang ng lumalabas at nakikihalubilo, minsan nakakalimutan ang pagsunod sa minimum health standards of wearing face shields, face masks, physical distancing, use of alcohol, and frequent application of disinfectant sa mga gamit," he said in a Laging Handa press briefing.
(As we head for the Christmas season under GCQ, more people are going out and socializing, sometimes forgetting to follow minimum health standards like wearing face shields, face masks, physical distancing, use of alcohol, and frequent application of disinfectant on objects.)
He advised Filipinos to celebrate Christmas at home, only with their immediate families. As the time of Simbang Gabi (Midnight Mass) nears, he said people should just attend mass virtually. – Rappler.com