This is AI generated summarization, which may have errors. For context, always refer to the full article.
DSWD Secretary Rex Gatchalian says Gentle Hands Inc. was warned three times to correct alleged violations before the cease and desist order was served
MANILA, Philippines – Department of Social Welfare and Development chief Rex Gatchalian denied the closure of Gentle Hands Inc. (GHI) orphanage in Quezon City was too sudden, in an interview on the ABS-CBN News Channel (ANC) on Monday, May 29.
Gatchalian said Gentle Hands had already been warned at least three times about the violations weeks prior to the issuance of the cease and desist order.
"First of all, it was not abrupt. As early as August, we were already telling them to correct, as early as August 2022. Then another letter in February 2023, right about when I took the helm, and then another one on March 14. Meaning there were numerous letters reminding them to correct these things Gatchalian told ANC.
"If there were other ways to do it, number one, we kept on warning them. Number two, when I went there, the imminent danger was there. Do we wait for something bad to happen?" Gatchalian told ANC.
"Again, the principle we are invoking here is, they are saying we didn't give due process, quite the contrary. Three warnings were given. I personally saw the imminent danger and as the parent of the nation, the government has the power to protect those who cannot protect themselves. It is our responsibility," the DSWD chief added.
Following the operation, Charity Heppner-Graff, Gentle Hands Inc. executive director, said that they had never had an "untoward incident" in their close to 20 years of operations.
"We have been licensed since 2004. We have never had an untoward incident, accident, anything. We've never been asked any of these things. We've never been told that our stairs are too steep. We've never been told that there's no proper storage room for unused items," Heppner-Graff said.
The 123 children who lived in Jason's House, Gentle Hands' facility in Quezon City, were pulled out on Tuesday following the DSWD's issuance of a cease and desist order (CDO) against the orphanage due to alleged living standards violations. The order was issued the day before – Monday, May 22.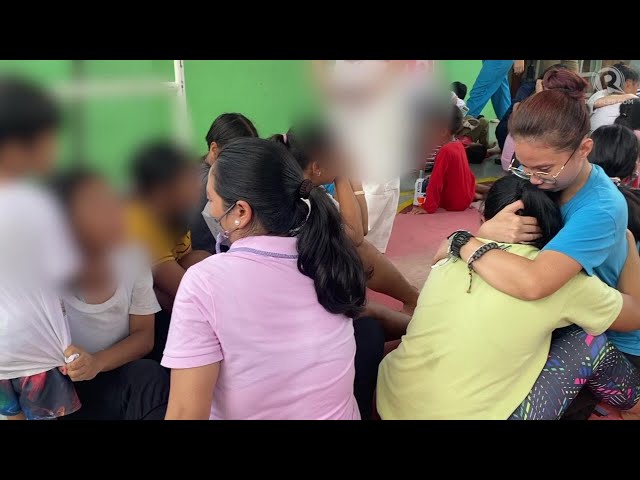 The facility was built for around 80 children.
The DSWD flagged the orphanage for four main violations:
Violation of fire code due to obstructed fire exits
Absence of social workers during a surprise visit; five house parents supervising 123 kids
Overcrowded living conditions
Use of triple decker beds are not allowed
Gentle Hands said that it is willing to comply with everything the DSWD requires. The children could be sent back if the cease and desist order is lifted, the orphanage's counsel said, provided that their license is not revoked during the DSWD's investigation.
Meanwhile, aside from the DSWD's investigation, Senator Risa Hontiveros also called for an inquiry in aid of legislation.
In Hontiveros' resolution, it said that many of the children "also have specific needs, including some who require medical attention and psycho-social counseling."
"Whereas, while the safety and adequacy of living standards are important concerns, it is also important to determine whether or not the correct processes were followed in the removal of the children from a child care facility subject to a CDO, and whether or not these processes are informed by the best interests of the child doctrine," the resolution read.
Assistant Secretary Romel Lopez, DSWD spokesperson, told Rappler in a phone interview that Gatchalian and the social welfare department would "happily comply and cooperate" with the inquiry.

"As far as Secretary Gatchalian is concerned, he will attend to it personally, so he can settle all the issues," Lopez said. – Rappler.com