This is AI generated summarization, which may have errors. For context, always refer to the full article.
NIA chief Ricardo Visaya says the release of water from Magat Dam was not the major cause of flooding and cites illegal logging and illegal quarrying in Cagayan
Who's to blame for the massive flooding in Cagayan and Isabela that submerged homes and displaced thousands of residents?
On Tuesday, November 24, none of the government agencies present during the first day of the House investigation into the flooding in Cagayan Valley took responsibility for the tragedy.
This became apparent during the line of questioning of Bagong Henerasyon Representative Bernadette Herrera, who noted gaps in communication among the agencies at the height of Typhoon Ulysses (Vamco). (READ: 3 issues that need to be addressed in Cagayan flooding)
"Kasi parang nagtuturan, nagtuturuan. 'Hindi namin responsibility (Because it's like all of you are pointing fingers at each other. "It's not our responsibility),'" said Herrera, who then asked which agency takes responsibility for ensuring that the country's master plan for mitigating disasters is actually being followed.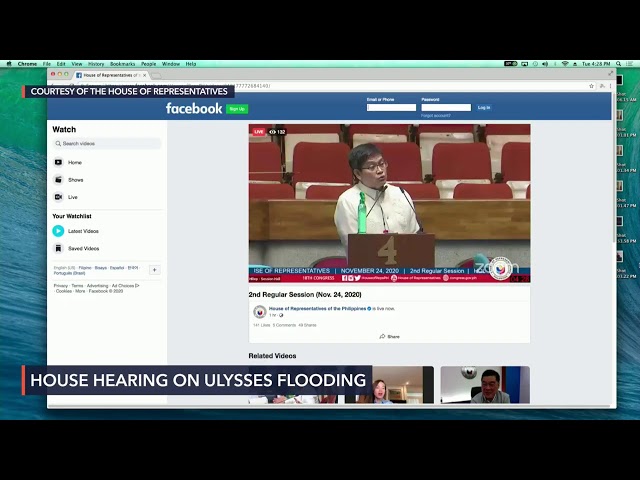 National Disaster Risk Reduction and Management Council (NDRRMC) Executive Director Ricardo Jalad said that no such body is in charge. Government departments instead take over responsibilities specific to their expertise.
He also said that no particular agency oversees the situation in the Cagayan River. 
"Lately your honors, the NDRRMC tackled the issue on river basin management all over the country and there was a resolution that we should strengthen the river basin management in the country, not only in the Cagayan River," said Jalad.
"But who will take action on this? It's still the different agencies that are mandated with respecitve actions. For example, flood control, it's DPWH (Department of Public Works and Highways). For protection of the environment, of course DENR (Department of Environment and National Resources)," he added.
This was not enough for Herrera, who said that national agencies should be more "proactive in our actions," especially in the face of a destructive typhoon like Ulysses.
She said this was why it is even more crucial for Congress to pass the bill that would create the Department of Disaster Resilience. The House passed the measure but remains pending at the Senate.
Jalad disagreed, arguing that it would be impossible to duplicate the expertise of all government agencies and to lump all of them under just one body. 
"But Mr. Chair, we subscribe to the inter-agency and whole-of-government approach because if we utilize the expertise of all of government, malakas ho tayo (we become strong)," Jalad said. 
"It's all about mainstreaming disaster risk reduction and management, making use of the expertise generated by all the whole government machinery. I don't think we can duplicate all the expertse of the government agencies in one department," he added.
President Rodrigo Duterte's government was heavily criticized for allegedly being caught flat-footed by Typhoon Ulysses, which killed at least 73 people and displaced around 277,000 as of November 19.
Magat Dam 'not major cause' of flood
In the same hearing, National Irrigation Administration (NIA) chief Ricardo Visaya explained that the discharge of water from Magat Dam was "not really the major cause" of the flooding in Cagayan.
Visayas pointed to illegal logging, mining, and quarrying activities in Cagayan province. Cagayan Governor Manuel Mamba had said as much on November 14, when floodwaters affected 90% of the population of Tuguegarao City, and other parts of his province. (READ: Massive flooding a 'summation of our wrongs to the environment' – Cagayan governor)
"It's very clear that the contribution of Magat Dam to the flooding in Cagayan was not really the major cause," Visaya said in a mix of English and Filipino.
"But we have to look into the other factors that could have contributed to the flooding in Cagayan. If the anti-illegal logging activities are being implemented properly, as well as those against illegal mining and illegal quarrying, maybe we can prevent the flooding in Cagayan River," he added.
Visaya said the NIA's protocol for releasing dam water was crafted way back in 2006. He said a task force was formed last week to study how to update it. 
Magat Dam is under scrutiny for the massive flooding Cagayan and Isabela, because as Ulysses and the tail-end of a cold front brought heavy rains over Cagayan Valley, on November 12 and 13 – 7 of the dam's gates were opened, releasing water equivalent to 18 meters high.
Experts said that according to the Magat Dam protocol, there should be a drawdown of 2 to 3 days before the expected landfall.
But Visaya said they followed the proper guidelines and gave sufficient information to local government units to prepare.
Later on in the hearing, Marikina City 2nd District Representative Stella Quimbo asked NIA who was the final decision-maker in releasing water from Magat Dam.
Visaya said it is a "collaborative decision" between the NIA and state weather bureau Philippine Atmospheric, Geophysical, and Astronomical Services Administration (PAGASA). But the Magat Dam operator ultimately signed the formal issuance on the water release.
Experts and local officials agreed that several factors caused the flooding in Cagayan Valley. Aside from Magat Dam opening its floodgates, the region had to endure successive tropical cyclones before Typhoon Ulysses. (READ: What went wrong during Typhoon Ulysses?)
This led to the over saturation of soil in nearby mountain ranges, which were unable to absorb as much rainfall as they could have. The water then directly flowed to the reservoir. – Rappler.com