Malacañang earlier said only establishments deemed not to cause 'super-spreader' events will be allowed to open during MECQ
The national government has allowed limited indoor dine-in in restaurants and the reopening of barbershops, beauty salons, and nail salons in "NCR Plus" and other areas under modified enhanced community quarantine (MECQ) starting May 1.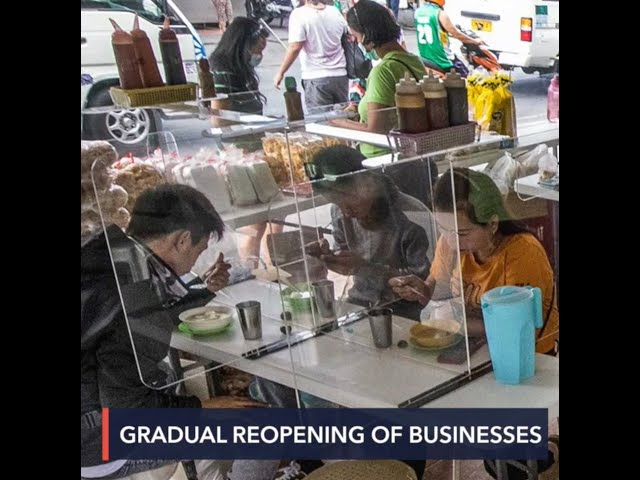 This was announced by Presidential Spokesperson Harry Roque on Thursday, April 29, following a meeting of the national pandemic task force.
Here are the allowed seating or venue capacities for these businesses:
Restaurants – 10% capacity for indoor dine-in (apart from outdoor dine-in)
Beauty salons, barbershops, nail salons – 30% capacity, only services where customers and staff wear masks at all times are allowed
Earlier on Thursday, Roque said the types of businesses that would be allowed to open during MECQ were those deemed unlikely to cause super-spreader events.
"Consistent with science, the businesses and establishments to be allowed to open should not be super-spreaders," said Roque.
Option to go beyond capacity limits
However, the establishments above have a chance of going beyond the capacity limits.
They can do so "provided that they comply with Joint Memorandum Circular No. 21-01 (s.2021) or the Safety Seal Certification Program," said Roque.
Read the joint memo circular here.
According to the document, to get this Safety Seal Certification, establishments have to make sure they have all the usual permits such as business permits and Department of Trade and Industry (DTI) or Securities and Exchange Commission registration. They should also download the government's official contact tracing app, StaySafe.
They should then contact the government entity in charge of issuing their Safety Seal stickers. For restaurants, this is the city or municipal government. For barbershops and salons, it's the DTI.
The agency is then supposed to send an inspector to assess if the establishment is implementing all health and safety measures against COVID-19.
This includes contactless temperature checks at the entrance, good ventilation for indoor areas, proper disinfection, mask- and face shield-wearing, and having a safety officer, among other things.
If the establishment passes the assessment, the inspector is supposed to inform them how they will receive their Safety Seal sticker which must be displayed prominently.
Bid to keep economy afloat
Earlier on Thursday, Roque said the proposal to allow more businesses to reopen was a bid to soften the adverse economic impact of MECQ, the second strictest quarantine classification.
However, he refused to call it a "hybrid MECQ" despite this being the label used by the Metropolitan Manila Development Authority when they proposed it to the national government.
"The President doesn't want too many labels, but it was agreed upon that, to promote the total health of our countrymen, we must give them more jobs though we are under MECQ," said Roque in Filipino.
Metro Manila, Bulacan, Rizal, Laguna, and Cavite have been under ECQ then MECQ for 4 weeks.
This has led to a decrease in new daily cases yet hospitals' intensive care facilities remain at critical levels. The latest extension of the MECQ is meant to further ease the pressure on the healthcare system. – Rappler.com