'Sana huli na itong ECQ natin, at magtuloy-tuloy na sana ang sabay-sabay nating pagbangon,' Cabinet Secretary Karlo Nograles says
National and local government officials laid out strategies to take advantage of the two-week enhanced community quarantine in Metro Manila, in a bid to stop the spread of the highly infectious COVID-19 Delta variant.
In an online town hall meeting organized by GoNegosyo on Wednesday, August 4, the Metropolitan Manila Development Authority (MMDA) acknowledged the challenges in administering 250,000 doses daily during the ECQ period from August 6 to 20.
That goal stemmed from the four million COVID-19 vaccine doses set to be allocated to the National Capital Region (NCR) for the two-week ECQ period so that the region can raise its vaccination coverage to 45%, only 5% shy of the "population protection" target.
"It is a tall order for the mayors of Metro Manila, but we resolve to really do this. That's why we are calling for additional sites and personnel," said MMDA Chairman Benhur Abalos, coordinator of the 17 mayors in Metro Manila.
The Department of the Interior and Local Government (DILG) meanwhile reiterated efforts to tighten border control during the period. Interior Secretary Eduardo Año directed law enforcement units to impose "strict border controls" at ports of entry like airports and seaports.
"Our COVID-19 responders must also shorten detection-to-isolation measures to less than five days, [and] maximize the utilization of our isolation and quarantine facilities to prevent household transmission," he added.
As of Tuesday, August 3, the presence of the Delta variant has been confirmed in nine of 17 cities in Metro Manila. Two localities – Pateros and Malabon – have been identified by the Department of Health (DOH) as critical-risk areas due to their two-week COVID-19 growth rates and average daily attack rates.
Cabinet Secretary Karlo Nograles expressed hopes that the two-week ECQ period would be effective so that there would be no need for an extension.
"What we want to accomplish is ECQ, mass testing, genome sequencing, mass vaccination, ramp up our bed capacities, talk to the private hospitals, everybody has to do their part," Nograles said.
"Sana huli na itong ECQ natin, at magtuloy-tuloy na sana ang sabay-sabay nating pagbangon (May this be the last ECQ, so our efforts to recover from this pandemic together can be in full swing)," he added.
Critical weeks ahead
Health Undersecretary Maria Rosario Vergiere told reporters in a briefing on Tuesday, August 3, that the next few weeks will be crucial in mitigating "possibilities of severe increase in the number of cases."
With new coronavirus cases on the rise, health officials have set in motion a series of response measures to prepare local governments and health facilities for a surge in infections that may be fueled by the highly transmissible Delta variant. It focused on three aspects: community-level responses, hospital capacity, and continuous vaccination.
As local officials beef up containment measures, Vergeire said the Department of Health's One Hospital Command Center had been directed to stockpile essential COVID-19 medicines and supplies, including personal protective equipment good for the next month at least, testing reagents, and other medical supplies.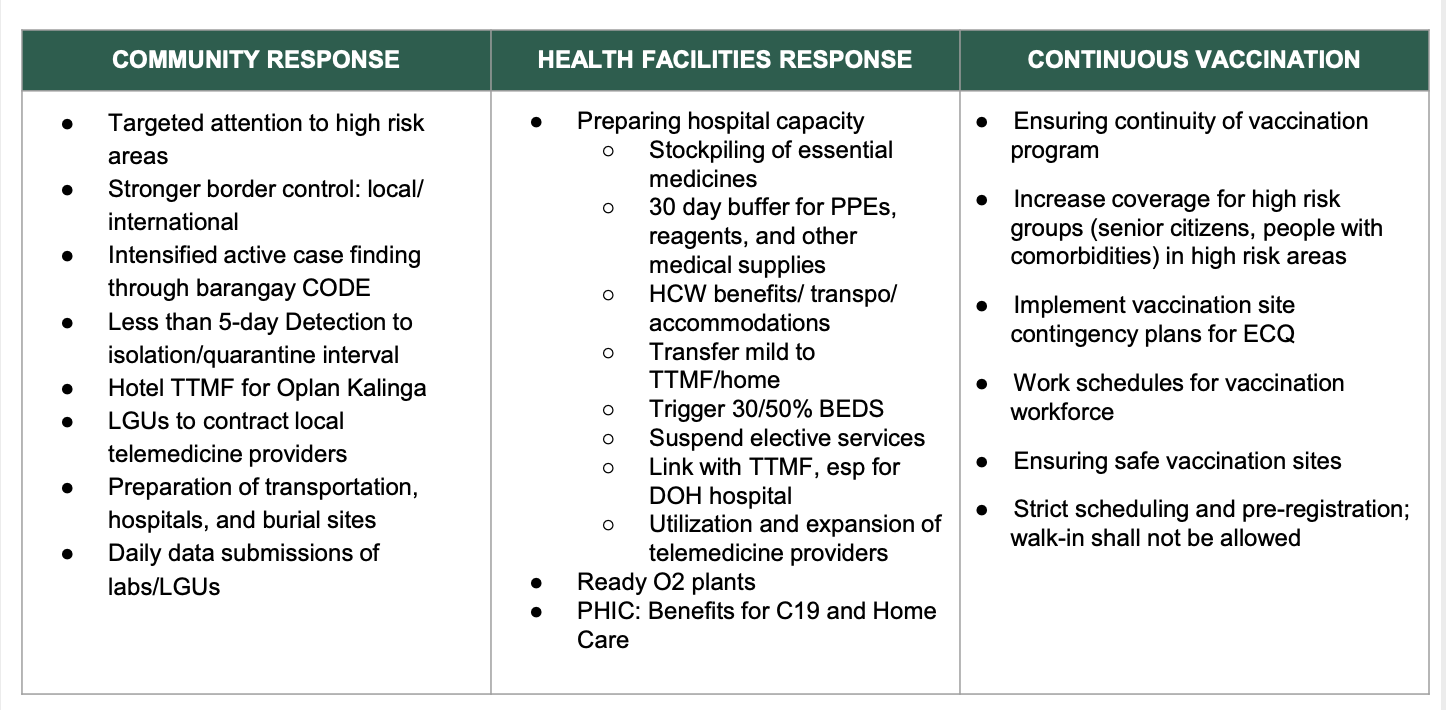 It was also tasked with the triaging of patients contacting the referral center and coordinating the transfer of mild COVID-19 patients to Temporary Treatment and Monitoring Facilities. Such steps have proven critical following the last surge seen in Metro Manila from late March to April 2021, after hundreds ended up on emergency department waitlists of packed hospitals.
After witnessing the deadly surge of cases in India earlier this year, Vergeire said the DOH had also ensured local oxygen plants were notified of the possible need to produce twice their monthly production to cope with the necessary treatment of patients.
The health department appealed to the public continue to keep their guard up against the virus and observe minimum health standards like wearing masks and practicing physical distancing to lower the risk of getting infected.
"Our numbers of indicators may differ, but trends say the same thing, cases are rising…. We need to act now, both as individuals and as a community," Vergeire said.
She added in Filipino, "Let us always remember, we are not defenseless, we have learned a lot, and we have the tools to fight this disease."
The ECQ in Metro Manila beginning August 6 is the fourth time the urban sprawl has grappled with hard lockdowns, bringing the country's economy to a near-standstill. The region was previously under ECQ in March and August 2020, and March 2021. – Rappler.com