Senator Grace Poe recalls the disqualification cases she faced when she ran but lost for president, saying these eventually helped clarify the status of foundlings like her
Senator Grace Poe took the time to thank her colleagues now that a bill recognizing foundlings like her as natural-born Filipinos is one step closer to being passed by the Senate.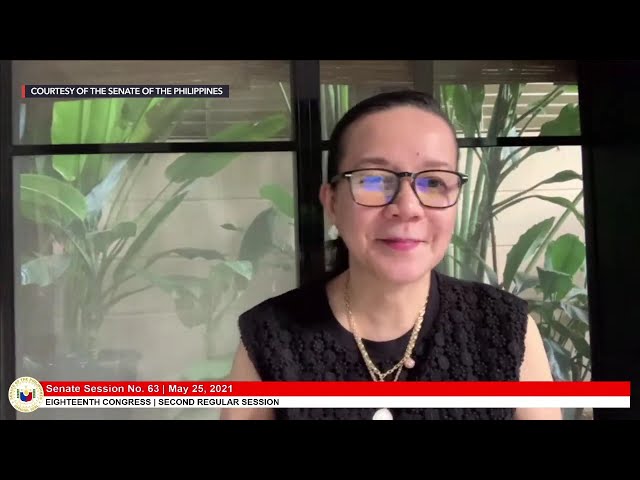 Recalling her struggles during her failed presidential bid in 2016, Poe manifested her gratitude on Tuesday, May 25, after Senator Risa Hontiveros – as chair of the committee on women, children, family relations, and gender equality – sponsored Senate Bill (SB) No. 2233 to kick off plenary debates on the measure.
"All of you had helped me continue this privilege of being able to serve in the Senate. If not for your vote, if one of you didn't vote to support this, I wouldn't be here today. So to all of you, from the bottom of my heart, thank you so much. I will never forget it," said Poe.
If passed into law, SB 2233 would mandate that foundlings found in the Philippines or the country's embassies, consulates, and territories abroad are considered natural-born Filipino citizens "regardless of the status or circumstances of birth."
The bill would recognize the foundling as a legitimate child of the finder from the time of his or her birth and would give foundlings the right to access all government services.
The bill draws from the landmark Supreme Court case that Poe had won in 2016, when the justices ruled she was qualified to run for president since she is a natural-born Filipino.
Though Poe ended up losing in 2016, she believes her candidacy became a crucial vehicle to help clarify the status of foundlings in the country.
"I think by having run for president, this issue on foundlings was discussed and as much as possible, there was clarity given to it with the Supreme Court decision, although it is important to clarify even more with a law," said Poe.
"And this is important not just to me but also to hundreds of foundlings who may still encounter some difficulties, not just running for public office but even serving as lawyers, doctors, teachers because they will have to be a natural-born Filipino citizen," said the senator.
Poe first thanked Hontiveros for co-filing the bill in the Senate.
She then went on to thank current and former colleagues who formed the Senate Electoral Tribunal that junked the disqualification case against her in 2015. This was just one among several cases filed by Poe's detractors, who had hinged on the claim that she is not a natural-born Filipino.
Poe expressed her gratitude to Senate President Vicente Sotto III, senators Cynthia Villar and Pia Cayetano, and former senators Loren Legarda and Bam Aquino.
SB 2233 still needs to go through its second and third readings to successfully hurdle the Senate. The House of Representatives already passed its own version in October 2020. – Rappler.com