Housing promises still have to be met, but new fish sanctuaries, tourist attractions boost recovery while disaster preparedness programs continue
"It's the end of the world," Guiuan Mayor Annaliza Gonzales-Kwan remembers staff of the Philippine Atmospheric, Geophysical, and Astronomical Services Administration (PAGASA) telling her eight years ago, when Super Typhoon Yolanda (Haiyan) slammed into this town at the southeasternmost tip of Samar Island.
Kwan had just ended her last term as mayor of the Eastern Samar town when Yolanda howled through the Visayas region on November 8, 2013. 
It first made landfall in Guiuan, around 4:40 am, and flattened the town with a combination of winds almost hitting 230 km/hour.
Kwan, who was again elected mayor in 2019, recalls the "monster-like" noise all around the island.
Almost every major structure in the town, including hospitals, gymnasiums, the baroque Catholic Church built in the 18th century, and the new PAG-ASA doppler radar, a donation by the Japan International Cooperation Agency (JICA), were destroyed or sustained major damage.
Yolanda devastated infrastructure systems, making it difficult for rescuers to reach affected communities.
Guiuan had to wait three days before help came their way. Kwan said she finally reached one of her husband's friends, who lent them a private plane for the transport of emergency supplies.
Eight years later, Guiuan had not only rebuilt itself but also ushered in a new beginning for its people, Kwan told Rappler on Saturday, November 6.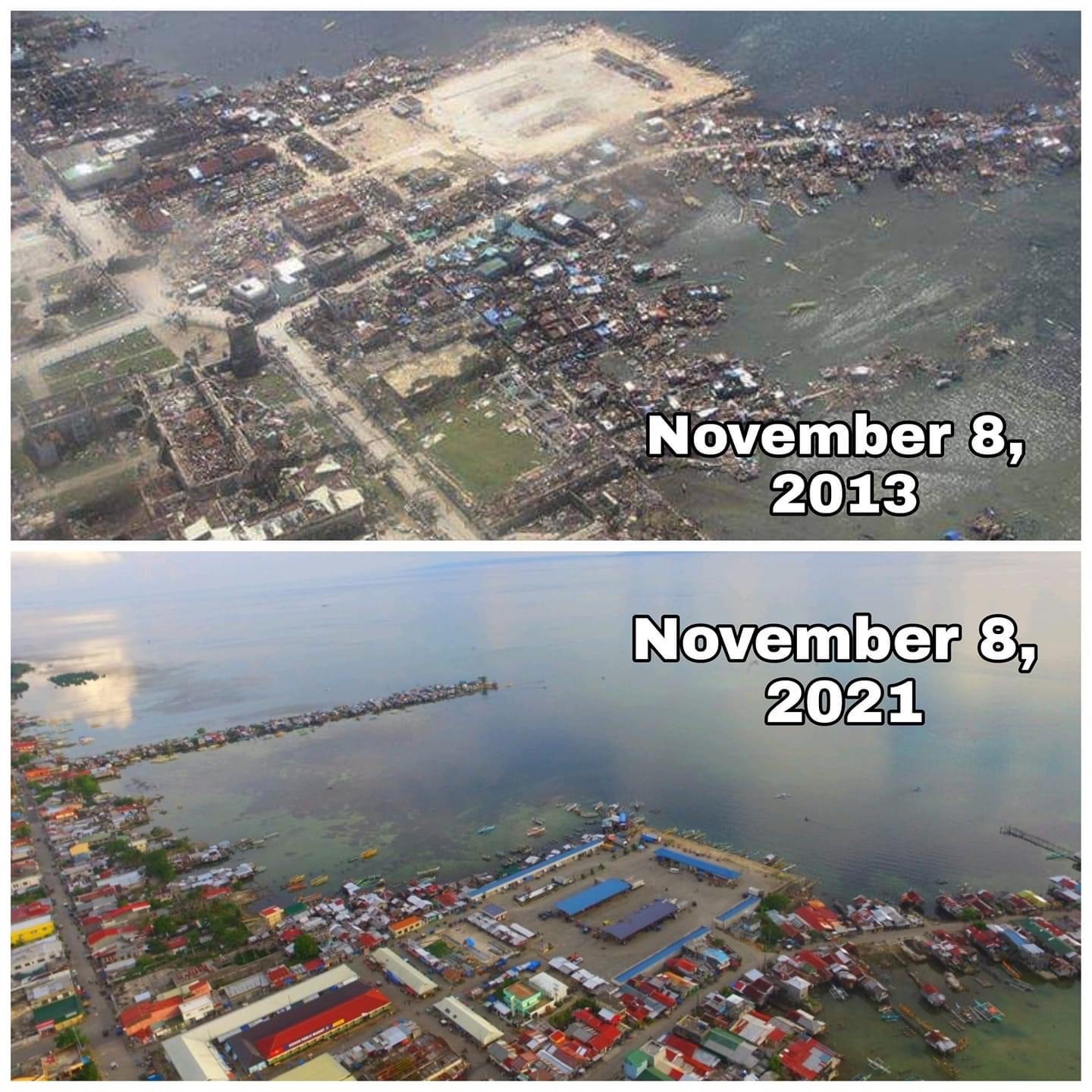 At the time of Yolanda, Guiuan was a  fifth-class municipality. Today, it is a second-class township. Yet the town also shows how bureaucracy can hamper recovery at the grassroots.
Only 326 of around 900 houses promised by the National Housing Authority (NHA) are occupied. Kwan said only 124 occupants have completed the requirements to qualify for the housing project.
While some residents have yet to complete the requirements needed for the land titles, Kwan said they decided to have them moved due to the different typhoons that have hit Guiuan in the past couple of months.
"There are still a lot of beneficiaries who have not demolished their houses in the No-Build Zone. The only reason why we allowed them to transfer was the typhoons that hit Guiuan," Kwan said.


Kwan said 194 homes will be turned over on Monday, November 8. Around 370 houses are still under construction.
Disaster preparedness
While nature can't be controlled, Kwan said disaster preparedness programs mitigated some of the damage.

The town with a 50,000-population lost 101 residents. But Kwan said only 9% of the houses in Guiuan were destroyed. 
Kwan also said most of these houses were situated near coastal areas and island barangays that refused to take part in the forced evacuation efforts of the local government. 
"We have 60 barangays. I call my barangay captains my 'generals.' They had all undergone a series of training," she recalled. 
"We had conducted a number of training, including climate change summit and disaster preparedness summit participated in by all sectors, including teachers and fishermen," she added. 
"Even if I continue working for tourism or work harder for the betterment of our town, if I don't do anything for disaster preparedness, then there's no point in doing it at all," she told Rappler in a mix of Waray and English. 

"Our barangays here are prepared. They have the evacuation centers, they know where to go, they know what to do because we've been conducting training even before Yolanda," she added. 

Kwan's brother, Christopher Sheen Gonzales, had just taken over her old post when Yolanda happened.

Kwan said this helped in the recovery efforts of Guiuan. 

"I was the one advising my brother. I said, 'We have to identify how many houses were destroyed, how many died etc.,'" she said. 
'Adoption'
Kwan said the systematic approach of allowing private organizations to "adopt" affected barangays allowed them to "recover fast." 

"Each time help will come in like ABS-CBN Foundation, for example, we let them adopt a certain barangay, decentralizing the donations. That's why it was so systematic and so organized. That's why we were able to recover fast," she said. 

"If you visit Guiuan now, you won't notice that a super typhoon devastated our town. We have recovered," she remarked. 

Despite the pain of Yolanda, Guiuananons saw a silver lining. Yolanda's fury had uncovered "secrets," like the Linao Cave, which is now a tourist attraction.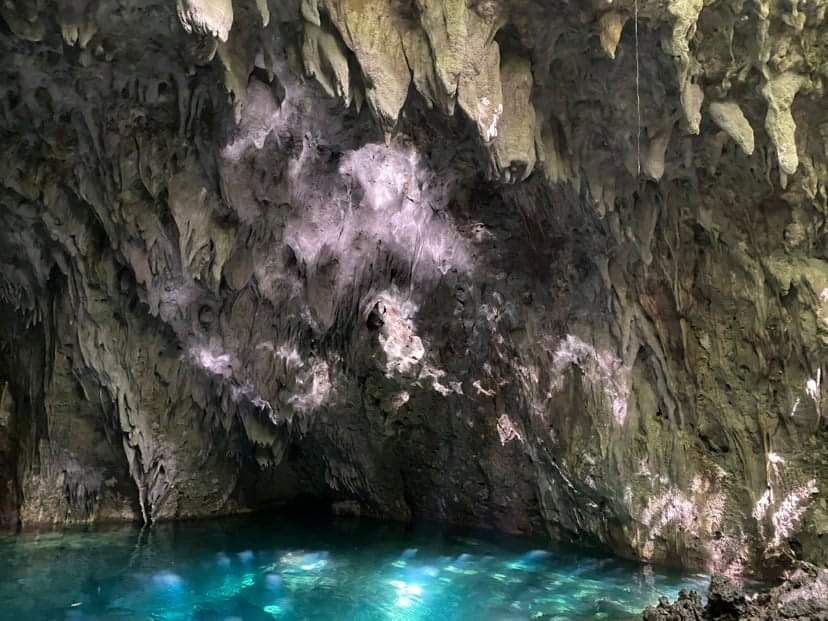 "Everything was uncovered. The greens and trees disappeared. That's why we were able to identify which ones could pass as tourist attractions," the mayor said.

Yolanda commemoration
To commemorate the eighth anniversary of Super Typhoon Yolanda, the local government of Guiuan prepared a three-day event, from November 6 to November 8.
"We started with programs for the coastal communities because they are the most vulnerable sectors of climate change. We provided programs for the fishing and tourism industry as well as programs that will help educate the youth about climate change," Kwan said. 

The three-day event kicked off last Saturday, November 6, with a whole day affair called "Dumyang" or an abundant catch of fish when translated to Waray. 

It is a community-based mapping project for the sustainable development of fisheries and coastal tourism in Guiuan in partnership with the University of Santo Tomas Graduate School Center for Conservation of Cultural Properties and Environment in the Tropics (USTGS CCCPET). 

Last Sunday, November 7, more than 1,000 members of the Pantawid Pamilyang Pilipino Program (4Ps) participated in a cleanup drive in coastal areas. 

On Monday, November 8, a local youth conference on climate change and environment dubbed "Rig-on" (which means resilient in Waray) was set to take place in Guiuan. 
The said event is in partnership with local and international non-governmental organizations who have helped Guiuan in its recovery efforts. 

Kwan said she felt elated after finding out that several individuals, mostly youth, expressed their interest to join the conference.
An exhibit of the various memorabilia items from the unfortunate day of November 8 will also be put on display at the Guiuan Municipal Hall. 

Meanwhile, a candle lighting ceremony will be held at night to honor those who died. 
"There will be candle lighting for the Guiuananons who have lost their lives during the onslaught of Super Typhoon Yolanda," Kwan said. 
Recovery efforts 
On November 8, the local government unit of Guiuan will have a ribbon-cutting ceremony for the water pumping station situated at Barangay Cogon. 

"They made a pump house at our evacuation center which is situated in a highly-elevated area. Since water supply there is scarce, I requested the Guiuan Water District to drill in Barangay Cogon," Kwan said.
Kwan said Guiuan is trying to build more evacuation centers in barangays across different parts of town.
"We are still working on building more evacuation centers because not all barangays have evacuation centers, especially now that typhoons are becoming more frequent," she said. 
As part of Guiuan's recovery efforts, the construction of more fish sanctuaries is also currently in the works.
"We also give training to fishermen so they will no longer conduct illegal ways of fishing. Plus, we have built around eight to nine fish sanctuaries because people now come to buy fish," she said.
The local government of Guiuan has also donated a 1,000-sqm lot where a Technical Education and Skills Development Authority (TESDA) livelihood training facility will soon rise.
On achieving full recovery, Kwan said: "I should say we have fully recovered since we are now qualified to become a first-class municipality." – Rappler.com
Lance Lim is a Visayas-based journalist and an awardee of the Aries Rufo Journalism Fellowship