Record death rates and case clusters show no sign of flattening, says the head of Negros' largest COVID-19 hospital
Hospital systems are crashing in Negros Occidental's main city, the head of the province's largest COVID-19 hospital warned on Friday, September 17.
The city has hit a new record for deaths, according to its Emergency Operations Center (EOC). As new COVID-19 cases rise in this city, so do the numbers of medical personnel sidelined by infections or exposure, including those in non-COVID-19 wards.
The EOC told Rappler on Friday, September 17, that 61 COVID-19 patients died from September 1-16. Of these, 54 were unvaccinated, four partially vaccinated, and three fully vaccinated.
City administrator Em Ang said the figure for the first half of the month has already equaled the total number of deaths in the June 2021 surge.
Deaths in the city this month are also expected to surpass the 76 posted in September 2020, the highest in 18 months of the pandemic.
Bacolod recorded 30 deaths in April, 50 in May, 61 in June, 48 in July, and 57 in August.
Negros Occcidental also reported a record 26 deaths on September 15 and 10 more on September 16. The provincial management incident team said total deaths for the first half of the month hit 104.  
'One death an hour'
"One day this week, we had one death per hour, that's eight in an eight-hour shift," Dr. Julius Drilon, head of the Corazon Locsin Montelibano Memorial Hospital (CLMMRH) told Rappler in a phone interview.
The EOC database shows CLMMRH, often called the hospital of last resort in the province, with 24 deaths since September 1, the highest among the city's hospitals/
The Bacolod Queen of Mercy Hospital had 9, The Doctors' Hospital, 7; the Bacolod Adventist Medical Center, 7; Riverside Medical Center, 5; Metro Bacolod Medical Center, 3; South Bacolod General Hospital, 3; and the Teresita L. Jalandoni Provincial Hospital (TLJP) a provincial hospital, 1. There were two home deaths. 
Most of the city's patients are residents, according to Ang.
Drilon said hospital systems start to buckle when moderate to critical cases make up 5% of all admissions.
For Bacolod City, he said, this percentage is now at 63%, based on figures from the Department of Health Western Visayas office (DOH R6).
"The Delta variant has skewed all our metrics. Instead of mild and asymptomatic cases (with co-morbidities), we have more moderate, severe and critical cases."
The latest DOH Region 6 data on hospital admissions showed moderate to critical cases swamping the less serious ones.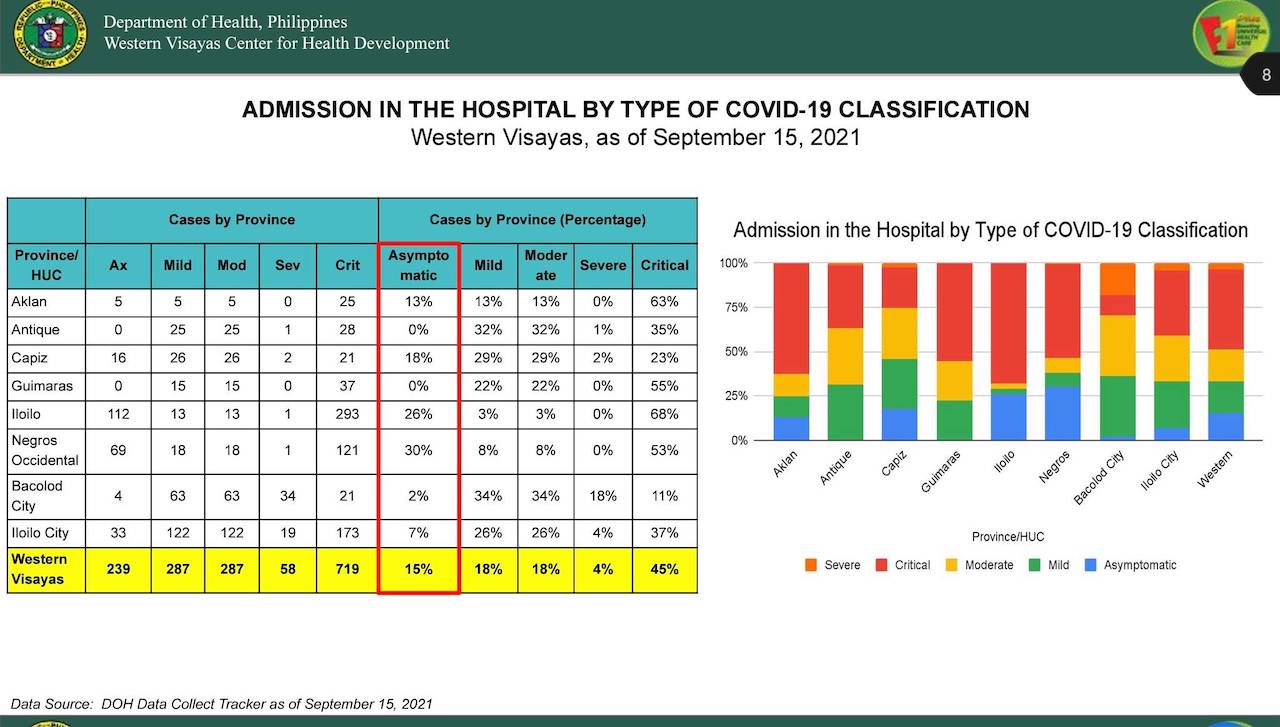 In Bacolod, only 2% were asymptomatic and 34% with mild symptoms. Iloilo province had the most number of moderate to critical cases, at 71%.
"That table shows that cases in hospitals progress very swiftly, from asymptomatic to severe and critical," Drilon stressed.
The new figures remain consistent with CLMMRH's findings from July to mid-August cases: the unvaccinated who came in as moderate cases swiftly progressing to severe and then critical state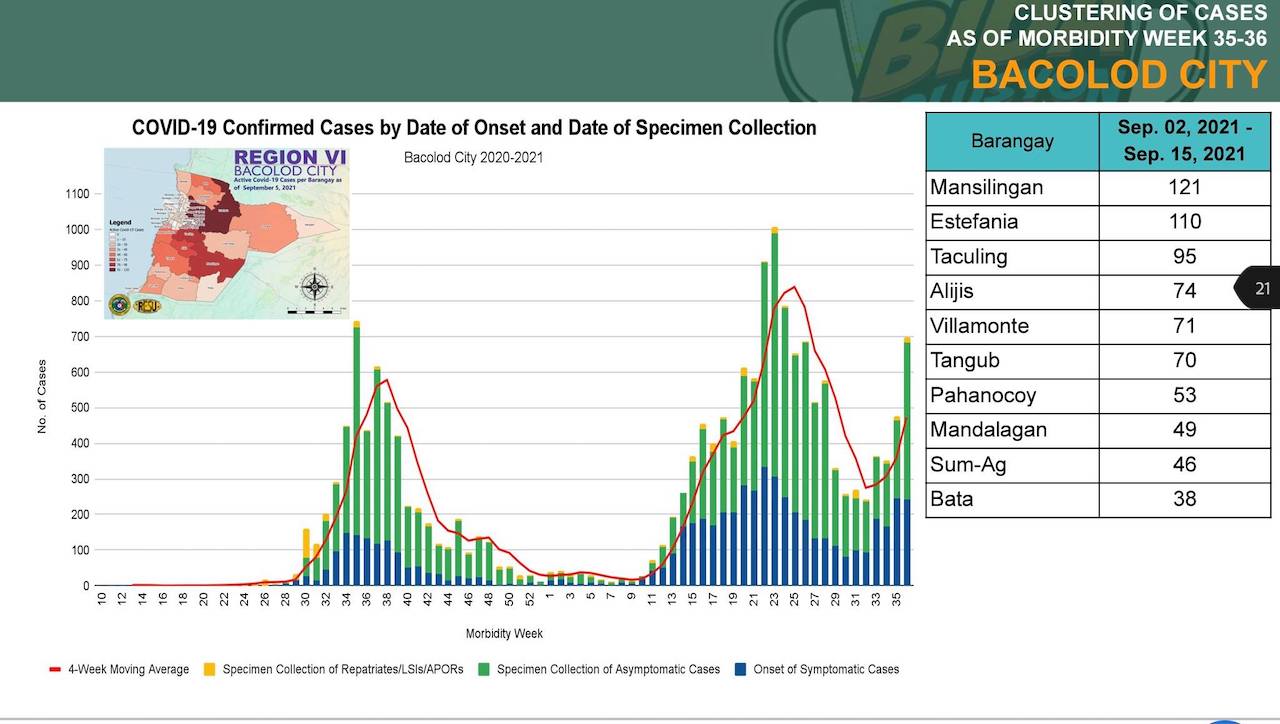 "You don't expect this to flatten," Drilon said. The hospital's statisticians and analysts forecast a worse 36th week for the city, based on numbers of the last two weeks, he added.
He urged the city government to ramp up testing and hire more contact tracers.
"Our positivity rate is very high, among the highest in the country," he pointed out.
More than one in three, or 37% of people testing for the virus have been found infected, the city's epidemiology and surveillance unit's September 12 report showed.
The city government has rolled out an antigen testing policy to catch as many close contacts of COVID-19 positive individuals.
Ang said it was a way of making up for the limits of a national DOH policy focusing RT-PCR tests on symptomatic persons.
'Collapse'
Seven of four Bacolod hospitals have stopped admitting COVID-19 cases. The provincial government also said two large district hospitals could no longer accommodate COVID-19 patients.
Hospitals have issued notices, asking city and province residents to use the One Hospital Command System to save patients.
Provincial Administrator and IATF-Negros Occidental action officer Rayfrando Diaz, on September 16, said the province would be using quarantine facilities as field hospitals to accommodate the rush of cases.
He also issued a "No referral, no admission" policy on September 16 to avoid walk-ins and overcrowding at hospital triage and emergency rooms. 
The memo, addressed to the Hospital Operations Department, Provincial Health Office, and all chiefs of hospitals, stressed the need to  "help protect the frontliners."
All patient referrals must pass through the province's One Hospital Command System (OHCS), the memo said. All patients must contact the local Disaster Risk Reduction and Management Office (DRRMO), city/municipal health offices, or 911 prior to hospital admission, it added.
Drilon agreed with the move.  "We're not just talking beds when we speak of a crisis. Staffing is crucial," he said.
Medical personnel falling ill is a major factor in a health system's collapse, he warned.
"We're now getting private patients because the private hospitals can't handle the load," Drilon told Rappler, citing staff attrition caused by illness and over-fatigue.
Ang confirmed his claim, saying some hospitals have reported COVID-19 clusters. Diaz also said the province's isolation facility for government employees had many health staff. – Rappler.com