On the issue of search warrants that resulted in killings of activists, Justice Hernando says judges should not be blamed because implementation is beyond the judiciary
Supreme Court Associate Justice Ramon Paul Hernando said on Friday, March 12, that no one can accuse the High Court of being negligent, a statement made amid an increasing public pressure for them to take stronger actions on state abuses among others.
"In the Supreme Court we are not negligent. We are doing the best we can. In fact each one of us bring our workload home so we can come up with decisions. I don't think anyone can accuse us of being negligent in the work that we do in the Supreme Court," said Hernando during during the Judicial and Bar Council (JBC) interviews on Friday for the post of chief justice.
It was not an answer to any question, but a closing statement that Hernando chose to make when his interview was over. The interviews were streamed online and aired over state-run channel PTV 4.
Earlier in his interview, Hernando said judges should not be blamed for search warrants gone wrong.
"If he really issued it on the basis of what our rules required, I think the judge should not be blamed for that. It's a different thing when it comes to the implementation of the search warrant," said Hernando.
Hernando was asked by JBC member retired justice Jose Mendoza if there was a need to review the rules on search warrants, amid accusations that some courts have turned into warrant factories against activists.
Search warrants by Manila judges had resulted in the deaths of 9 activists in the Calabarzon region.
"I think that every rule needs to be reviewed every now and the… but with respect to the process itself your honor, there is nothing wrong there, as long as the judge has really been convinced by the quantum evidence needed to issue the search warrant," said Hernando.
His fellow chief justice applicant Alexander Gesmundo said during his own interview that judges must be thorough in examining the application for search warrant, and that a judge must not just rely on affidavits of witnesses.
Human rights lawyers have proposals for the courts to address the problem: review the rule that allows Manila and Quezon City judges to issue warrants outside their jurisdictions, put body cameras on policemen executing a search, and automatically examining the implementation when it results in a death.
Unlawful searches in the war on drugs
JBC member retired justice Noel Tijam asked, "for academic discussion," what constitutional rights would he look into when examining the bloody war on drugs.
"One would be unlawful searches and seizures, your honor. In many of drug cases that have come to Supreme Court for review, a number of those cases have involved searches and seizures of drugs," said Hernando.
Hernando concurred in a recent 11-3 ruling that declared as illegal a police's search of a moving vehicle for a person allegedly carrying marijuana.
The Supreme Court in that ruling said anonymous tips are not valid causes for search, and said they would "not allow the Constitution to be added to the mounting body count in the State's war on illegal drugs."
Tijam also asked Hernando if he would have qualms about ruling against President Rodrigo Duterte, the one who appointed him to the Supreme Court in 2018, and the one who will appoint the next chief justice.
"I have no such qualms whatsover. My fealty is to the Constitution and not to the appointing authority," said Hernando.
Hernando has not voted against Duterte in any of the interest cases decided by the Supreme Court so far.
Hernando's most noted ponencias were the decisions that fined water firms for not putting up sewage lines, in violation of the Clean Water Act; and which allowed incarcerated OFW Mary Jane Veloso to be able to testify via deposition from her jail cell in Indonesia.
Former chief government corporate counsel Rudolf Jurado filed an opposition against Hernando, but the JBC merely asked him details about it.
In the opposition, Hernando was accused of violating ethics when the justice did not inhibit in a ruling that reprimanded Jurado.
The reprimand roots from administrative complaint filed against Jurado by current chief government corporate counsel Elpidio Vega. Jurado claimed the complaint was a harassment suit by Vega because when he was the head of the office, he prohibited Vega and Hernando's wife, lawyer Cherry Chiara Hernando, of receiving honoraria.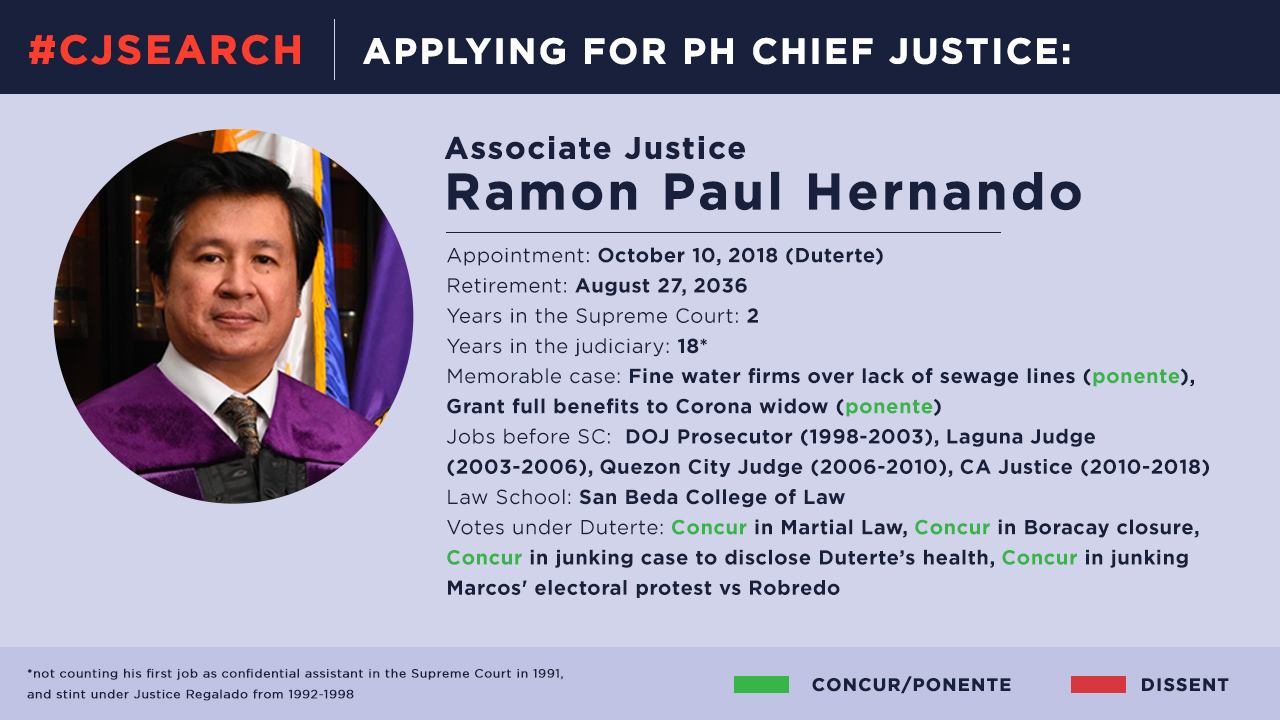 – Rappler.com