'The only thing I can conclude is that sa gitna ng pandemya, you were offering supplies and prices grossly disadvantageous sa gobyerno natin,' says Senator Risa Hontiveros
Pharmally Pharmaceutical Corporation, the firm at the center of the Senate's probe into the government's purchase of pandemic items, appeared to have sold items like goggles, face shields, and infrared thermometers to the Department of Transportation (DOTr) at an average of 62% to 68% higher than the company's own price catalogue. 
Senator Risa Hontiveros raised these findings during the Senate blue ribbon committee's 12th hearing into alleged corruption in the administration's pandemic response on Tuesday, October 19, citing two contracts signed between Pharmally and DOTr-attached agency, the Philippine National Railways, in April and May 2020.
"Parang baligtad. We would hope that suppliers would give government a discount, lalo na panahon ng pandemic at hindi i-overprice ang gobyerno at mamayan," Hontiveros said.
(It seems lopsided. We would hope that suppliers would give government a discounted, especially during a pandemic and not overprice the government and the public.)
Flashing copies of contracts, Hontiveros said Pharmally entered into a deal with DOTr-PNR in April 16, 2020 and May 5, 2020, both of which were confirmed by Pharmally corporate secretary Mohit Dargani.
Under the April 2020 contract, Pharmally sold the government infrared thermometers priced at P3,200 per unit, goggles at P212.50 per unit, and face shields at P179.50 per unit. Hontiveros then showed a copy of Pharmally's price catalogue shared last year, where prices were markedly lower than what was provided to government.
On Pharmally's price catalogue the items were priced at P1999 to P2000 for thermometers, P149 to P159 for golggles, and P95 to P109 for face shields. The price range represented discounted and regular prices.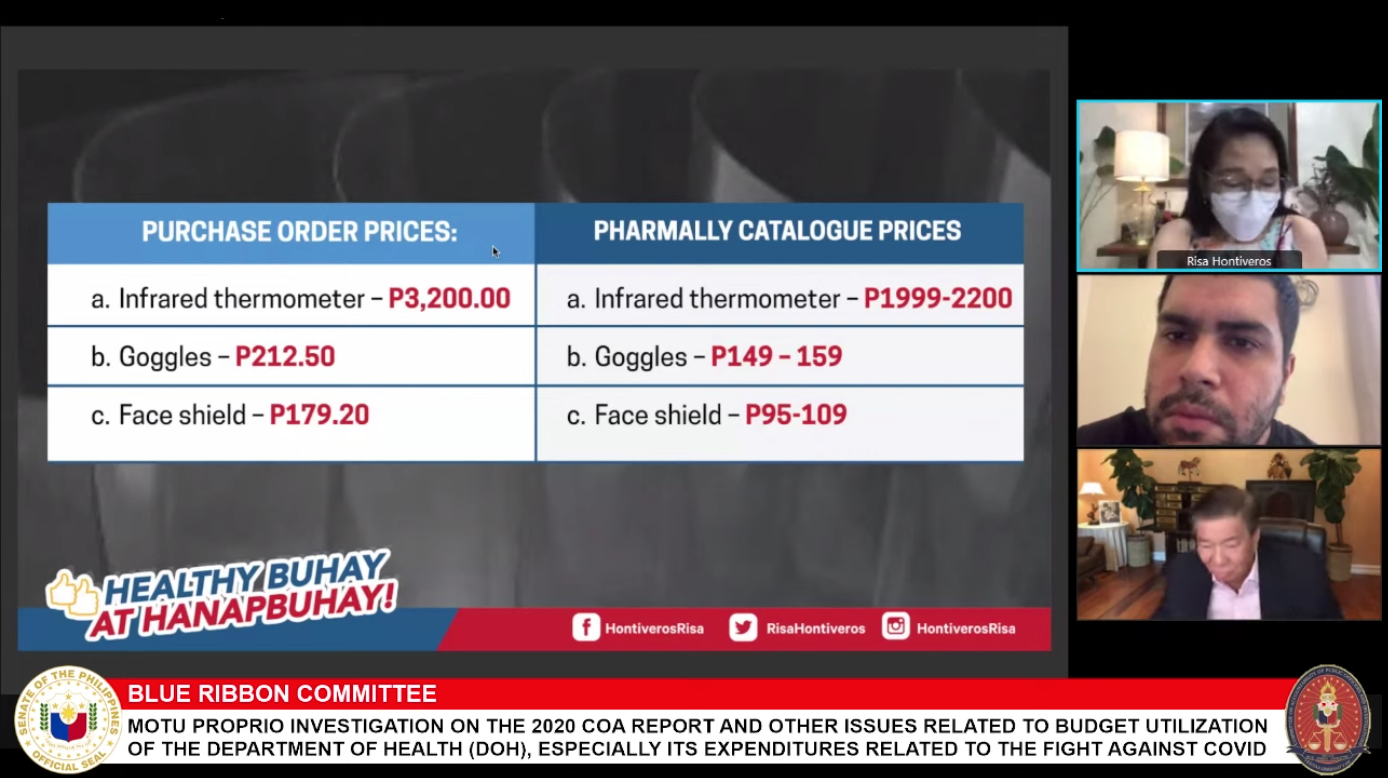 Comparing prices, Hontiveros said this meant that the items sold to the DOTr-PNR were "overpriced" by an average of 62% to 68%.
"Tama po ba Mr Dargani, mas mura pa sa price list nyo mismo kaysa yung presyo na binigay nyo sa gobyerno (Is it correct that these items are cheaper in your price list compared to the prices you gave to the government)?" Hontiveros raised.
For each item, she added that thermometers were priced about 62% to 69% higher, goggles at 70% to 75% higher, and face shields at 53% to 61% higher.
'Not coordinated'
Dargani argued that the Pharmally's price catalogue came out sometime between May to June last year, when supplies were more "stable." However, Hontiveros pointed out that items included in its price catalogue were purchased by PNR also in May 2020.
"The only thing I can conclude is that sa gitna ng pandemya (in the middle of the pandemic), you were offering supplies and prices grossly disadvantageous sa gobyerno natin (to our government)," she said. 
Dargani refuted this, saying that prices offered to the government and those seen in its catalogue were "not coordinated" since its catalogue came out later in May.
Hontiveros, however, disagreed with Dargani's claim that prices could fluctuate that quickly, citing Pharmally's own catalogue offering discounted prices which indicated the firm's "confidence" in the stability of supplies. She also questioned why DOTr was not provided with a copy of Pharmally's price catalogue when it became available.
Aside from this, Hontiveros pointed out that for items like goggles, prices offered to the government were above price caps set by the Department of Health at the time.
No overpricing?
To Senate minority leader Franklin Drilon, findings presented by Hontiveros raised questions over whether there could in fact have been overpricing of pandemic items supplied by Pharmally to the government.
"We've been hearing that there is 'no overprice' – this is the very example of how Mr. Dargani and Pharmally overpriced their sales to the government," Drilon said.
Committee chairman Senator Richard Gordon likewise lamented how Pharmally's contract with the DOTr was only one case of selling items to government at exorbitant costs.
He cited face masks sold by Pharmally to PS-DBM at a high of P27 per piece in April 2020, after it was marked-up at least twice by its suppliers. This included TigerPhil marketing, which sold masks to Pharmally at P23 per piece; and Greentrends Trading Int'l, which sold masks to TigerPhil at about P18 per piece.
"No matter how many times these people say there was no overpricing, it will come out if the woodwork," Gordon said.
Drilon added, "We must not forget that the reason for being for PS-DBM is that they're supposed to purchase in bulk so that the government an avail of a lower price. Eh dito baligtad (Here, it is the reverse)."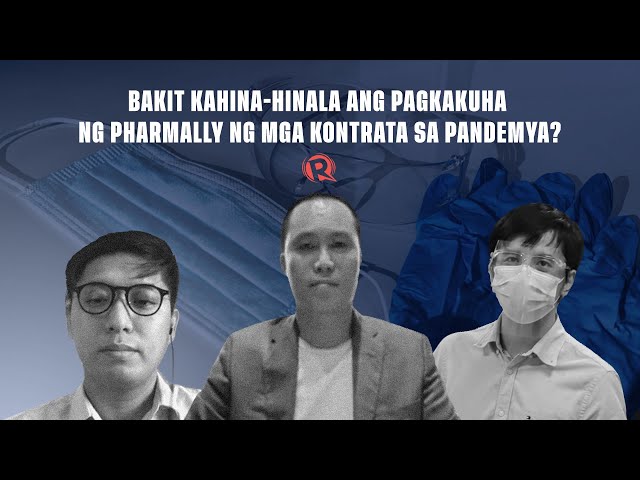 Gordon said on Tuesday that Pharmally's transaction with DOTr reinforced findings of the committee so far that supplies were stable enough to avoid buying huge amounts of pandemic items at high costs and that Pharmally appeared to have the leeway to charge government higher prices.
Aside from this, the senator underscored that it also pointed to how the government could have saved millions in public funds had it engaged in government-to-governmment agreements instead of purchasing from firms like Pharmally, which acted like a broker by charging high prices for its items and earning from mark-ups.
"I hope people realize it's a sinking ship they are defending," Gordon said.
Pharmally is the government's most favored pandemic supplier, getting P10 billion in deals so far. It was financed by Michael Yang, President Rodrigo Duterte's former economic adviser, to continue paying both its Philippines-based and China-based Chinese suppliers.
The PS-DBM's seeming preference for the firm came at the expense of shutting out local PPE producers who had difficulty accessing government pandemic deals and were forced to cut thousands of local jobs. – Rappler.com