(1st UPDATE) The House of Representatives unanimously approves the bill with 179 affirmative votes
The House of Representatives on Tuesday, September 21, approved on the third and final reading the bill, which seeks to institutionalize the abrogated University of the Philippines-Department of National Defense (DND) Accord.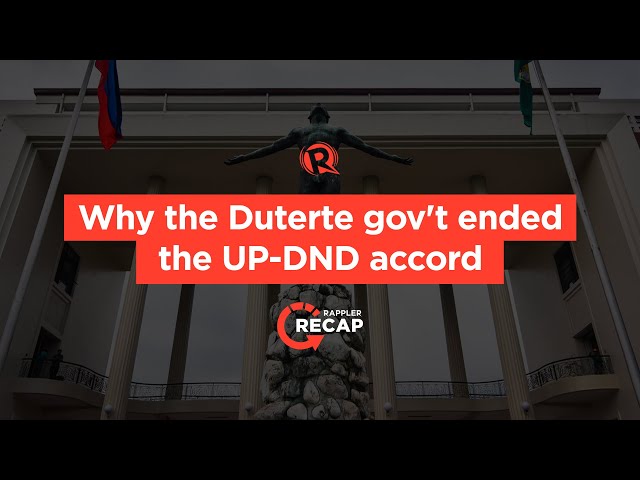 With 179 affirmative votes, House members unanimously approved House Bill No. 10171, which would institutionalize the accord by amending the Section 11 of the Republic Act No. 9500 or the UP Charter of 2008. 
Most of the provisions in the newly passed bill can be found in the original agreement. Once the bill is signed into law, the following would be enforced:
Prior notification of the Philippine National Police (PNP), Armed Forces of the Philippines (AFP), or any law enforcement agency to the UP administrators before conducting any operation inside UP campuses.
Ban the entry of PNP, AFP, and other law enforcement agencies from entering the campus except in cases of emergency or as per request by the law enforcers.
Prohibit subjecting any student, faculty member, or staff to custodial investigation without informing the UP administrators.
Law enforcers will be banned from interfering with any peaceful protest inside UP campuses.
Strengthening of the security, crime response and prevention, and firefighting capabilities of the UP.
In January, the administration of President Rodrigo Duterte unilaterally scrapped the accord due to allegations of in-campus communist recruitment. The accord was signed in June 1989 to protect UP students and faculty members from possible abuses from the military and the police.
Meanwhile, the Senate version of the bill is still pending at the committee level.
In order to be enacted into law, the bill also needs to be passed by the Senate. Then proceeds to the president, who would either sign or veto the bill.
In August, Defense Secretary Delfin Lorenzana said the accord would not be restored under the Duterte administration after "much scrutiny and study" of defense officials. According to Lorenzana, the accord only covers the Philippine Constabulary, and not the entire military and police.
However, the House version of the bill includes the military, police, and other law enforcement agencies. – Rappler.com
– Rappler.com