Proponents describe Bayanihan 3 as a lifeline for Filipinos who are suffering from unemployment and hunger during the pandemic
The House of Representatives passed on 3rd and final reading the P401-billion Bayanihan to Arise As One bill or the Bayanihan 3 relief bill on Tuesday, June 1.
Voting 238-0-1, the lower chamber approved House Bill No. 9411 on the plenary floor, occupied by only a few dozen lawmakers as the pandemic forced the conduct of "hybrid" sessions where a majority cast their votes online from their home districts.
Overwhelming support from legislators fueled the swift approval of the bill, with at least 293 lawmakers from different parties signing as co-authors.
Proponents have described the proposed law as a lifeline for Filipinos who are suffering from unemployment and hunger during the pandemic.
The bill was passed while still lacking a constitutional requirement – the certificate of availability of funds from the Bureau of Treasury, where the government declares it could fund a project. House leaders argued that the certificate could be acquired up to the moment before the President signs the bill into law.
The proposal has not moved forward in the Senate, where the counterpart measure has not even been tackled at the committee level. Senators argue that the government should first spend funds from Bayanihan 2.
Senate President Vicente "Tito" Sotto III is also wary about the multibillion-peso allotment for the pension funds of retired military and uniformed personnel.
What's in Bayanihan 3?
The proposed Bayanihan 3 is divided into three phases, with the following budget breakdown:
Phase 1 – P165.9 billion
Phase 2 – 186 billion
Phase 3 – P48.6 billion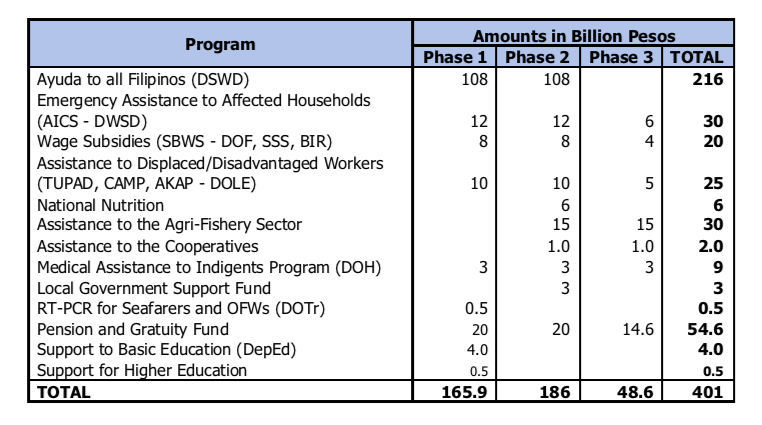 Lawmakers are confident that Phase 1 could be funded by the government, while the next two phases could be funded as the government finds more sources of revenue.
Phases 1 and 2 contain the most anticipated aid giveaway – a total of P208 million that amounts to P2,000 per Filipino divided into two P1,000-installments for each phase.
The bill also contains help for vulnerable sectors such as indigents, the unemployed, and the displaced.
Proponents prized the "layering" strategy of the bill, wherein those who need help the most would receive the most layers of aid. For example, an unemployed and displaced Filipino would get the P2,000 aid, and the allotted aid for both the unemployed and the displaced.
The bill also contains the P54.6-billion inserted pension funds for retired uniformed personnel, which was slashed from the 2021 budget in late 2020. – Rappler.com