This is AI generated summarization, which may have errors. For context, always refer to the full article.
What the Department of Health calls 'Oplan recoveries' stems from delays in validating cases and fully implementing World Health Organization guidelines
After the Department of Health (DOH) pushed back a daily update of coronavirus numbers on Thursday night, July 30, Filipinos were once again surprised after a record-breaking 38,075 recoveries were newly-reported in a single day, resulting in a steep rise in patients who beat the disease and cutting active cases by more than half overnight.
Public disbelief over what seemed to be figures that were too good to be true was swift, with the people questioning how this was possible and a sitting senator calling out the health department for supposedly "fooling Filipinos."
How did a sudden increase in recoveries happen?
The answer partly lies in validation backlogs that have plagued data upkeep for months and a coronavirus task force resolution that belatedly adopted criteria for discharging patients established worldwide as early as May.
Determining recoveries
Earlier in the day, the Inter-Agency Task Force (IATF) in its 60th resolution approved the DOH's recommendation for a "time-based reckoning of recoveries" of mild and asymptomatic cases.
This means that going forward, mild and asymptomatic cases will be counted as recoveries after they complete 14-day isolations from the time they first start showing symptoms of COVID-19 or their samples are collected for testing.
See a portion on recoveries in IATF resolution 60 released on Thursday: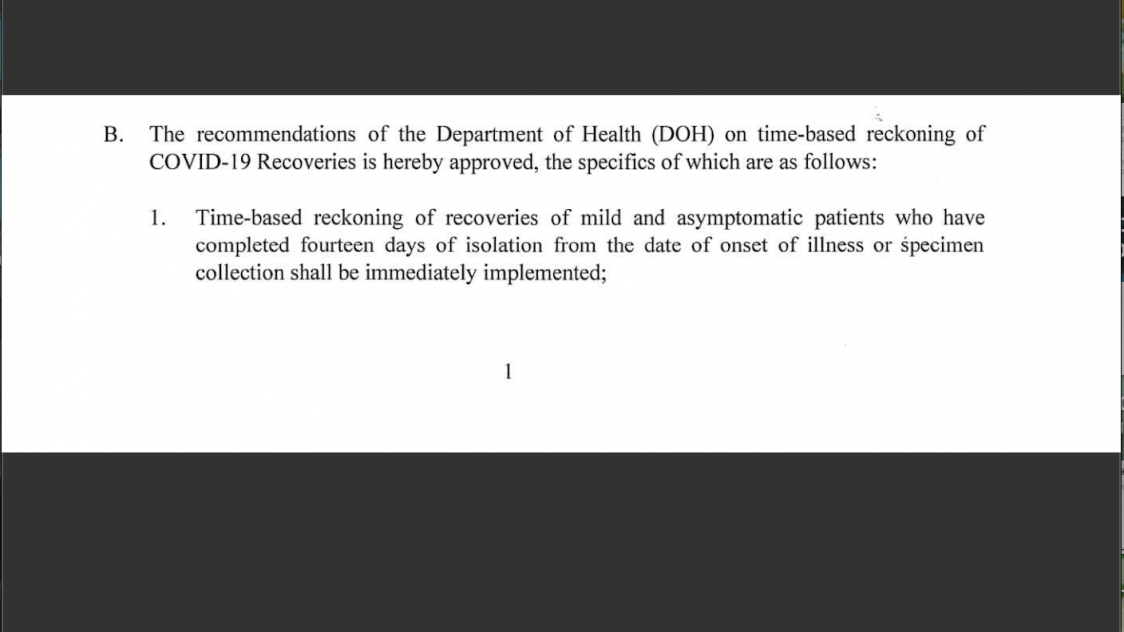 The practice makes use of what the World Health Organization (WHO) and United States Centers for Disease Control and Prevention (CDC) call a "symptoms-based strategy" for releasing COVID-19 patients from isolation.
By its name, the criteria – which has been recommended by the WHO since May 27 – involves clinical observation of a patient's symptoms to assess if they can be discharged from isolation, rather than testing again to confirm if they are negative for the virus.
The WHO explains it like this:
For symptomatic patients: 10 days after symptom onset, plus at least 3 additional days without symptoms (including without fever and without respiratory symptoms)
For asymptomatic cases: 10 days after positive test for SARS-CoV-2
According to the global health body, it was important to note that the clinical criteria which requires that patients do not show symptoms for at least 3 days should be followed before release from isolation.
In setting a 14-day isolation period to monitor patients, the DOH said current evidence showed that at the 10th day of illness, mild and asymptomatic patients had a low risk of transmitting the virus to others. This is the same recovery protocol also observed in the US, European CDC, and India.
Meanwhile, if symptoms progress, the DOH gave assurances that patients' status are updated. DOH Director Beverly Ho said this often happens before the 14th as the US CDC found day 10-12 to be a mark if symptoms worsened.
The information on patients' symptoms are also collected by hospitals and local government units, and are linked to PhilHealth payments as part of a surveillance approach, she said.
Why no repeat tests?
Relying on observation of patients' symptoms or lack thereof means they are no longer retested for COVID-19.
The WHO earlier said the change in discharging protocols was made to adjust to the realities in many countries where there are challenges in repeat testing patients to confirm they were negative.
"In consultations with global expert networks and Member States, WHO has received feedback that applying the initial recommendation of two negative RT-PCR tests at least 24 hours apart…has been extremely difficult, especially outside hospital settings," the international body said in May.
Some factors that contributed to this were limits on laboratory supplies, equipment, and personnel in areas with "intense transmission."
The CDC also noted that "a test-based strategy is no longer recommended [except in some cases] because, in the majority of cases, it results in prolonged isolation of patients who continue to shed detectable SARS-CoV-2 RNA but are no longer infectious."
In fact, the DOH adopted these same guidelines in writing as early as May 29.
See a portion of DOH Department Memorandum 2020-0258 on discharge criteria below: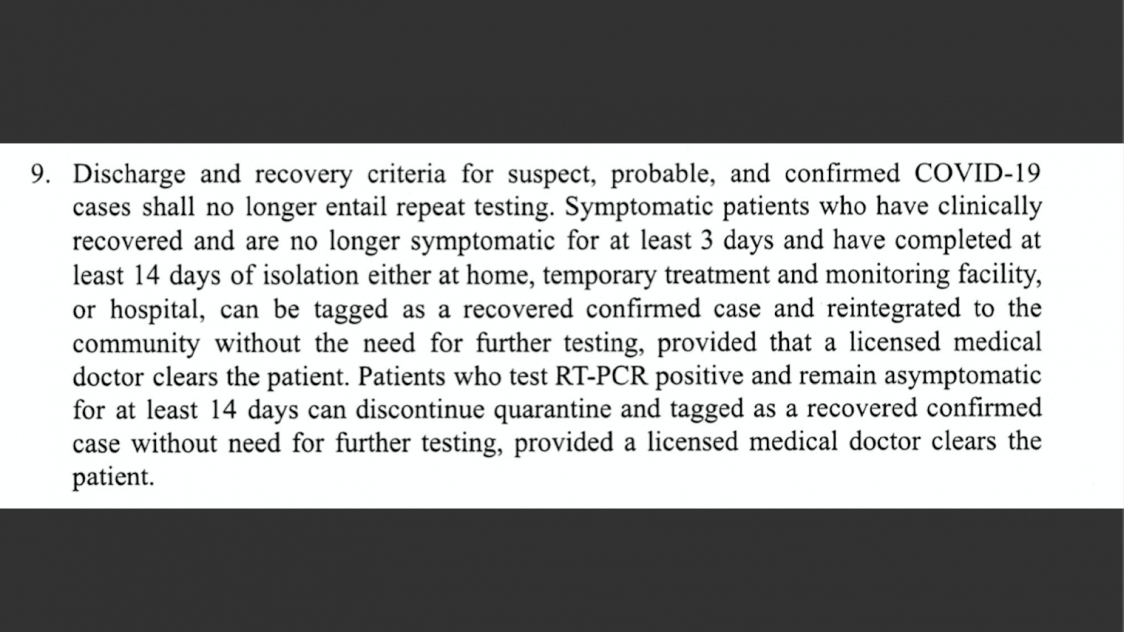 Despite this, Ho said the strategy was largely implemented "in practice," as there were gaps in tagging cases, while data was spread out and slow to collect from LGUs.
The DOH on Thursday said that the huge increase in recoveries came after its data team "implemented a 'mass recovery' adjustment" on July 15, where all mild and asymptomatic cases were "re-tagged" as recoveries if they passed discharging criteria and were endorsed by regional health offices.
This then resulted in 37,166 of 38,075 cases "re-tagged" under its "Oplan Recovery" program, with the 909 others coming from regular reporting from the department's epidemiology unit.
The DOH said to expect data on recovery reconciliations to be reported every 15 days.
What's the risk?
Like many developments in managing cases during the pandemic, the WHO said criteria crafted to discharge patients does not reduce the risk of transmitting the virus to zero.
They stressed strategies were formulated to balance the understanding of health risks and the "practicality" of requiring repeat testing, especially in places with high transmission of the disease and limited supply of test kits.
Meanwhile, public health experts caution against fixating on only certain case numbers. Experts have likewise repeatedly underscored the need for governments to continually adjust and adapt to new findings on the virus as well as the situation of outbreaks to properly manage the disease in their areas.
In the Philippines, the rising number of recoveries comes as the country listed nearly 4,000 newly-reported cases reported – its highest single-day increase since the pandemic started.
Mass recoveries or none, the continued surge in cases showed the virus was still spreading in communities and threatens critical care capacities already overwhelmed by the pandemic. (READ: What you can do to stay safe during the coronavirus pandemic) – Rappler.com