(1st UPDATE) The quarantine restrictions continue to reflect the rise in COVID-19 cases in Mindanao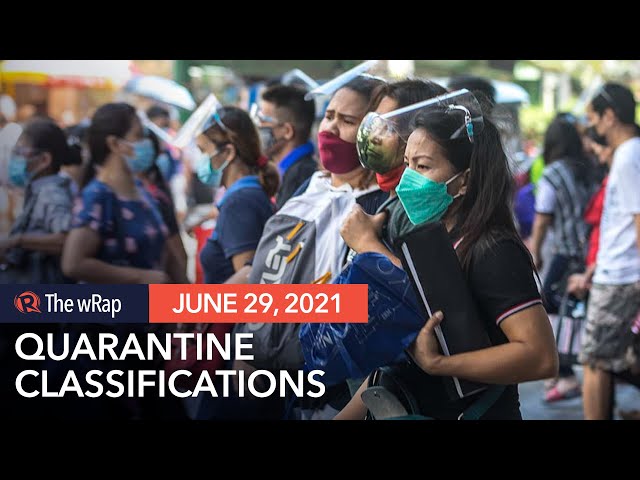 President Rodrigo Duterte has approved the recommendation of his coronavirus task force to extend the current general community quarantine (GCQ) in "NCR Plus" and the modified enhanced community quarantine (MECQ) in 21 areas until July 15.
Presidential Spokesperson Harry Roque confirmed to reporters on Tuesday morning, June 29, that the President approved the recommendation of the Inter-Agency Task Force on emerging Infectious Diseases (IATF) to maintain the quarantine classifications across several areas for another two weeks to help quell the spread of the coronavirus.
The IATF announced its quarantine recommendations for the month of July during Duterte's weekly public address on the government's COVID-19 response late Monday night, June 28.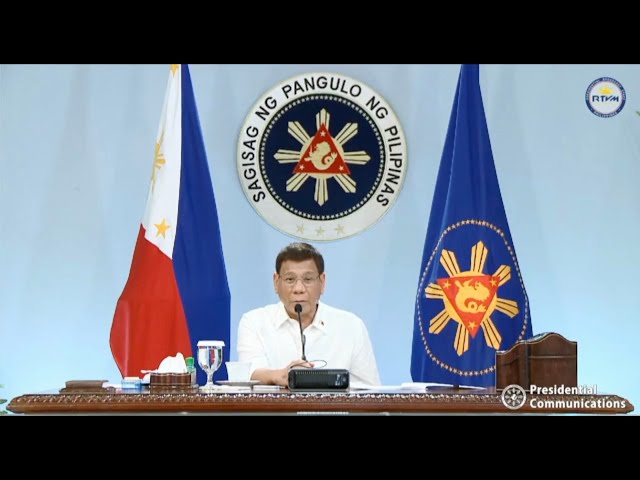 Metro Manila and Bulacan will stay under GCQ "with some restrictions" until July 15 along with the province Rizal, which is currently placed under GCQ "with heightened restrictions."
Laguna and Cavite, the remaining two areas part of the "NCR Plus" bubble, will remain under GCQ "with heightened restrictions" until July 15.
Duterte also agreed to place a total of 21 provinces and cities under modified enhanced community quarantine (MECQ), a stricter form of quarantine, until July 15.
Twelve of these areas were from Mindanao, reflecting the rising COVID-19 cases in the region as earlier reported by the Department of Health and experts with the Octa Research Group.
Another 26 areas will be under GCQ until July 31, while the rest of the country will stay under modified GCQ (MGCQ), the least strict form of quarantine in the Philippines.
The country has been on alert for the Delta variant, with local governments urged to maintain strict and uniform border controls to avoid the entry of the worrying variant into the country.
Delta, the COVID-19 variant first detected in India, has fueled concern across nations where a rise in cases has been seen in recent weeks. It was formerly called the Indian variant, and was later renamed by the WHO using the Greek alphabet, along with other variants, to prevent stigma.
The Philippine has already logged over 1.4 million cases of COVID-19 as of Monday, with 24,456 people dying due to the virus. Still, over 1.3 million people have recovered from COVID-19.
Below is the complete list of quarantine classifications from July 1 to 31:
MECQ until July 15:
Cagayan
Apayao
Bataan
Lucena City
Puerto Princesa
Naga City in Camarines Sur
Iloilo City
Iloilo province
Negros Oriental
Zamboanga del Sur
Zamboanga del Norte
Cagayan de Oro City
Davao City
Davao Oriental
Davao Occidental
Davao de Oro
Davao del Sur
Davao del Norte
Butuan City
Dinagat Islands
Surigao del Sur
GCQ "with some restrictions" until July 15:
GCQ "with heightened restrictions" until July 15:
GCQ from July 1 to 31:
Baguio City
Ifugao
Santiago City
Isabela
Nueva Vizcaya
Quirino
Batangas
Quezon
Guimaras
Aklan
Bacolod City
Negros Occidental
Antique
Capiz
Zamboanga Sibugay
Zamboanga City
Iligan City
General Santos City
Sultan Kudarat
Sarangani
Cotabato
South Cotabato
Agusan del Norte
Surigao del Norte
Agusan del Sur
Cotabato City
MGCQ from July to 31:
– Rappler.com