In separate letters, Bacolod City Mayor Evelio Leonardia and Iloilo City Mayor Jerry Treñas ask the IATF's reconsideration
Bacolod City Mayor Evelio Leonardia and Iloilo City Mayor Jerry Treñas both appealed to the COVID-19 task force s (IATF) to lower their current alert levels due to decreases in cases in their respective areas.
Leonardia made his appeal on October 29 immediately after the IATF recommended Bacolod City to be placed under Alert Level 4.
Under the new COVID-19 Alert Level System, Alert Level 4 refers to areas where case counts are high and/or increasing with hospital bed utilization and intensive care unit utilization rates are high.
He cited Department of Health-Western Visayas data as of October 28 which showed that the growth in COVID-19 cases has gone down to -39%, with a 13.24 attack rate per 100,000 people within a 2-week period.
COVID-related deaths, he said, also dropped by 55% from last month. The Bacolod City government said that their figures correlate to good management and treatment of COVID-19 cases.
"This decline in numbers is the result of our relentless effort in intensified implementation of the PDITR Strategy as well as our innovations and initiatives in ramping up our vaccination campaign," said Leonardia.
Also cited was Bacolod City's Health Care Utilization Rate as of October 28, which was at 69%.
Isolation facility accommodations have gone down by 19.66%, and ICU patients, in particular, are only at 55.56%.
He pointed out that only half of these patients are from the city, while the rest are from other parts of Negros Occidental.
"It is no surprise, therefore, that since cases are also high in the province, patients are being brought to Bacolod hospitals for treatment," he said.
On the eve of the new October 29 assigned alert status, however, the DOH Western Visayas regional office showed a -42% two-week growth rate for the province and a -39% for the city.
Bacolod's positivity rate (or the number of positive results for all tests) was at 23% compared to the province's 15%. The city's average daily attack rate, or the number of people getting sick for every 100,000 population, was also higher at 13.24 compared to only 4.34 for the province. The last two metrics come from local government's epidemiology and surveillance units and not hospitals that receive severe cases.
The DOH, which has a different alert classification than the IATF, has placed Negros Occidental under level 2 or low-risk category and Bacolod at moderate risk or level 3
Leonardia told the IATF that the city is continuously working to expand and capacitate treatment and monitoring facilities.
"We established a 64-bed Midway Referral Facility that serves as a step-up facility for patients waiting to be admitted in hospitals," he said.
He also expressed confidence that by ramping up the vaccination program, the city government expected cases to even decrease significantly in the proceeding weeks.
Based on DOH-Western Visayas data, Bacolod has the second highest percentage of fully vaccinated population in Western Visayas with 42.28%. About 12% of Bacolodnons were also partially vaccinated as of October 29.
"The percentage is even higher based on our real-time report, which is at 61% of our population having already received at least one dose," the Bacolod mayor said.
Bacolod City has 23,361 accumulated COVID cases and 21,660 or, 92.72%, have since recovered. November 2 showed that there are only 954 active cases left.
Iloilo City
Treñas struck a tone similar to Leonardia, and even suggested in his October 30 letter to the IATF and the NTF COVID-19 that Iloilo City's numbers suggest a de-escalation all the way down to Alert Level 1.
But the Iloilo City mayor explicitly stated that he wished to go down to Alert Level 2 only.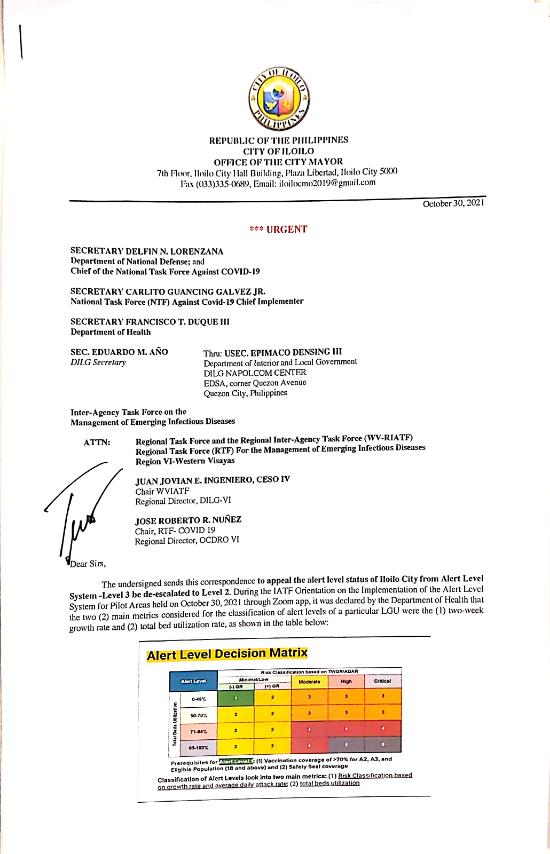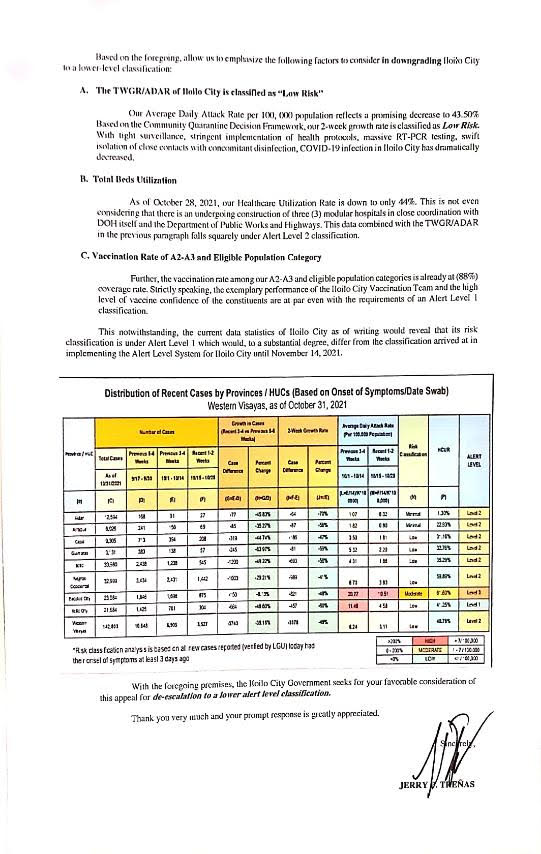 He referred to the DOH-Western Visayas' October 31 data, which showed that COVID cases have grown by -50%, and new cases are only expanding by 4.58 per 100,000 people.
The city's HCUR was also at its lowest in months, at 44% according to the data cited in Treñas' letter.
He also cited the city's COVID vaccination rate, stating that the DOH-Western Visayas has estimated the city's coverage at 88%.
"The exemplary performance of the Iloilo City Vaccination Team and the high level of vaccine confidence of the constituents are at par even with the requirements of an Alert Level 1 classification," Treñas said in his letter.
Despite the appeal, Treñas issued Executive Order No. 132, series of 2021 on Tuesday, November 2, to put Alert Level 3 into effect. – Rappler.com
Joseph B.A Marzan is a Visayas-based journalist from Iloilo City and an awardee of the Aries Rufo Journalism Fellowship.