'Panay short ang delivery, panay delayed, puro extension. Meron nang liquidated damages charged,' says Senator Imee Marcos
Pharmally Pharmaceutical Corporation, the supplier in the middle of procurement irregularities, has been consistently delayed in its deliveries so much so that damages have already been charged against it.
At the Senate blue ribbon panel hearing on pandemic deals, resigned Department of Budget and Management (DBM) undersecretary Lloyd Christopher Lao insisted that Pharmally is capable of supplying for the Philippine government because it was "able to deliver" the items in its awarded contracts.
But Senator Imee Marcos belied Lao's claim, citing an internal audit ordered by ex-DBM chief Wendel Avisado.
Marcos said the contract for 2,000 A*STAR Fortitude kits, each of which contained 200 test kits, were supposed to be delivered in 14 tranches. She said that only nine were delivered and of that number, seven were submitted to the audit team.
"They repeated, time and again, the unsatisfactory progress of deliveries and the constant request of Pharmally for an extension and yet it was always short," said Marcos.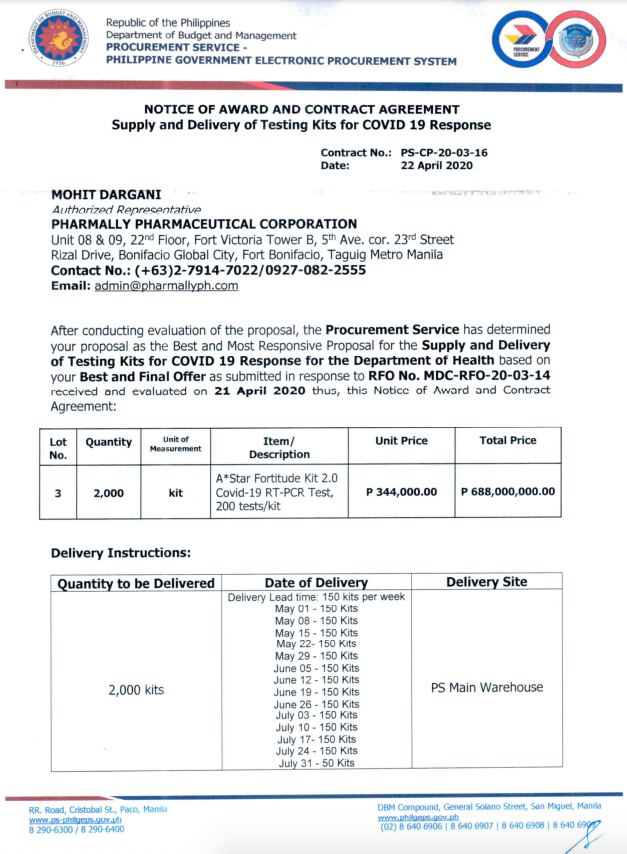 "There was further mention in many of the documents presented in this internal audit that liquidated damages were charged already because of the constant delays," she added.
Under the 5th edition of Philippine bidding documents, the government, as purchaser, can deduct an amount from the contract price called liquidated damages, if suppliers fail to deliver said goods within the period specified in the contract.
If the deduction reaches 10% of the contract price, the Philippine government may consider termination of the contract.
"Ito ba ang sinasabing supplier na kayang-kaya magdeliver? Eh panay short ang delivery, panay delayed, puro extension. Meron nang liquidated damages charged. Eh hindi naman siguro mapapatunay na talagang may kapasidad silang magdeliver kapag ganiyan," said Marcos.
(Is this the kind of supplier that can deliver? Its deliveries are always short, always delayed, and always extended. Liquidated damages were already charged. With this, we cannot say for sure that they have the capacity to deliver.)
In response, Lao shifted the blame away from him and attributed the delays to pandemic restrictions.
"I think that was the time when restrictions were made. It's not only Pharmally, with respect to Fortitude [kits], that delivered late. Deliveries for GeneXpert were also late as testing was very high in different countries," said Lao in a mix of English and Filipino.
Delayed deliveries 'advantageous' to government?
Lao also claimed that the delay in deliveries was actually advantageous to the government, saying that later on, the Philippine government was able to "bypass Pharmally" and buy the Fortitude test kits directly to A*Star's manufacturer.
"Because of that, [for the] subsequent procurement we already bypassed Pharmally and we bought directly to MiRXES PTE Limited. The procurement we have reached P1.9 billion and since they are a Singapore-based company, Singapore was not as restrictive before than when we were buying it [with Pharmally]," said Lao.
But Senator Richard Gordon, chairperson of the Senate blue ribbon panel, circled back on the date of procurement.
"Instead of awarding the contract to a bidder who offered a lower price, you still gave it to Pharmally at P366,000 per kit," said Gordon in Filipino.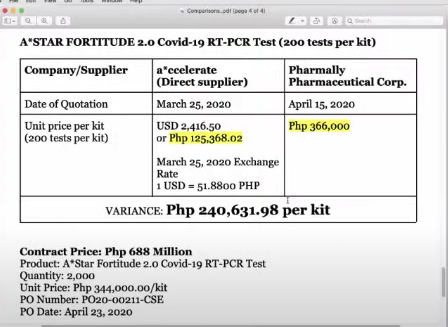 Lao insisted that the Philippine government was able to tap the manufacturer of A*STAR, MiRXES, by May 2020. MiRXES has the license to manufacture the Fortitude kit by A*STAR.
Gordon responded by saying that the Philippine Red Cross was able to talk to A*ccelerate as early as March.
"Ang totoo, 'di mo na nga binili sa Singapore, bumili ka pa sa Indonesia, Pharmally. Doon galing 'yung sinupply sa inyo kaya ang mahal-mahal," said Gordon.
(The truth is that, you did not buy the kits in Singapore, but you bought it in Indonesia through Pharmally. The supplies came from there that is why it was so expensive.)
Senators have been questioning Lao's involvement in the alleged procurement irregularities in the pandemic deals in 2020.
Lao awarded P8 billion worth of COVID-19 contracts to Pharmally, a small company whose profits leaped to P264.65 million from a loss of P25,500, at the height of the pandemic.
Lao previously admitted the "possibility" of negligence in the overpriced COVID-19 purchases but he kept changing his tune throughout the probe. – Rappler.com
Read the other stories from the September 21, 2021, Senate blue ribbon committee hearing: