Rule 4.9 says the crime of inciting to terrorism is committed if there is 'reasonable probability of success.' DOJ Undersecretary Sugay says there should be an overt terror act.
Can expressing dissent be interpreted as inciting to terrorism, punishable with 12 years of imprisonment? Even the Implementing Rules and Regulations (IRR) remains unclear on this.
In the newly-issued IRR, the crime of inciting to terrorism was the most expounded. It added what was supposed to be a clarifying element that criminal law expert and former Supreme Court spokesperson Ted Te still found to be an "undefined standard."
Rule 4.9 of the IRR says there is incitement to terrorism when there is a "reasonable probability" that the disputed speech will successfully incite others to commit terrorism.
That was not in the text of the law under Section 9, which just says: you are inciting to commit terrorism if you are "a person who, without taking any direct part in the commission of terrorism, shall incite others to the execution of any acts specified in Section 4."
"The IRR cannot insert a standard that is not provided by law, let alone an undefined standard," said Te.
"That is a standard that has not been used and is most likely based on national security or military jargon," said Te.
Justice Undersecretary Adrian Sugay said the element of "reasonable probability of success" was adopted from the 2012 Rabat Plan of Action of the United Nations Office of the High Commissioner on Human Rights (OHCHR) which includes "likelihood of harm" as a threshold for restricting freedom of speech.
Lower standard?
Edre Olalia, president of the National Union of Peoples' Lawyers (NUPL), said that the standard of reasonable probability is actually "a lower standard" than the generally accepted clear and present danger rule.
In Philippine jurisprudence, the government can only restrict freedom of speech if there is a proven clear and present danger.
"(It is) content-based restriction which is prohibited, (and it) adopted the lower standard of dangerous tendency rule than the clear and present danger rule," said Olalia.
Nevertheless, Olalia said the root problem will always be Section 4 or the "vague" definitions of terror, no matter how much the IRR tries to streamline the mechanisms.
"Anything that comes from a polluted source is also polluted, you cannot disinfect something that's already beyond repair. It will rise and fall with Section 4," said Olalia.
Note that the definitions of terror under Section 4 of the law have been criticized as being too vague as it uses words like "intent" which can be too subjective, according to petitioners.
The IRR segregated those definitions: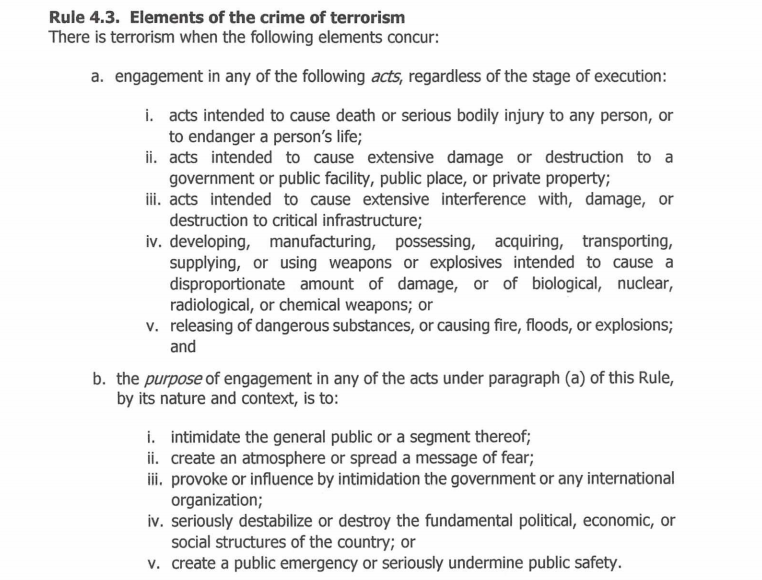 Inciting to commit terrorism is a new crime not found in the old terrorism act, and which flies in the face of freedom of speech, according to petitioners, because you only need to be shown to be "inciting" others to commit the vague terror acts.
The IRR says: "In determining the existence of reasonable probability that speeches, proclamations, writings, emblems, banners, or other representations would help ensure success in inciting the commission of terrorism, the following shall be considered: context, speaker, intent, content and form, extent of the speech and act, and causation."
Should there be an overt terror act?
The term "causation" was further defined in the IRR as: "direct causation between the speech or act and the incitement."
Should there be an overt terror act as defined by Section 4 that should have happened as a result of the incitement?
"Dapat, dapat basta yung malinaw lang (There should be, it must be clear)," said Sugay.
But in February this year, when the DOJ charged former senator Antonio Trillanes IV of conspiracy to commit sedition over the viral "Bikoy: Ang Totoong Narcolist videos," the prosecution said they need not prove that an overt act of sedition happened. (READ: Looking at 'inciting to sedition' in the time of Duterte)
In that resolution, the prosecution cleared Trillanes of sedition but charged him with conspiracy to commit sedition. The prosecution said: "There is nothing in the subject videos which calls or addresses the people to rise publicly and tumultuously against the present administration."
How can there be a conspiracy to commit sedition when there is no crime of sedition in the first place? Deputy State Prosecutor Olivia Laroza-Torrevillas told the media, "Conspiracy to commit sedition is a different crime. We are talking here of two different crimes."
Since inciting to commit terrorism is also a separate crime under the law, would the prosecution similarly find no need to prove the overt act of terror?
"There could be, I'm going to be very open about it but to me that's a very interesting theory.. I think it could be interpreted that way, but i will reserve giving any opinion," said Sugay.
"I think it's a legal issue that may need to be threshed out moving forward," Sugay added. – Rappler.com