Though he also wants to cooperate with China, Isko Moreno says he'd react differently from Duterte if Chinese ships harmed Filipino fishermen
Presidential aspirant Isko Moreno would be happy to pursue joint oil and gas exploration in the West Philippine Sea with China as long as it will be done through service contracts awarded by the Philippine government.
Moreno said this in a Rappler Talk Newsmaker interview on Tuesday, September 21.
"Why not? What is the difference entering into a contract with a German company developing our facility, this is just regular contracts that we can engage…. So if we can do it with other nations, then I think we can do it with China," he said.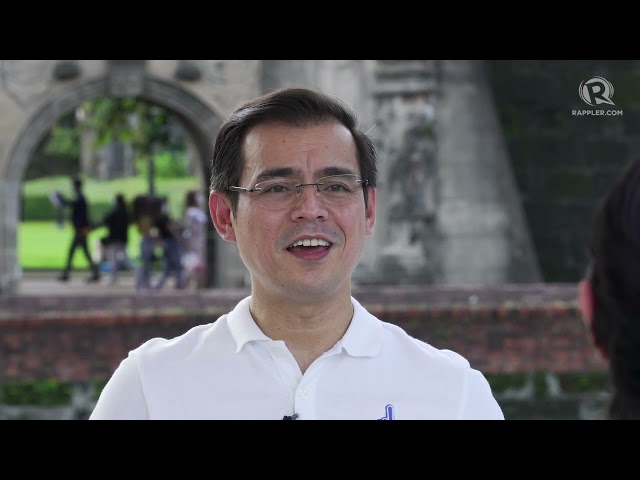 "At the end of the day, what matter most to me is the resources existing be utilized today as soon as possible…. Kung may langis, then mapapamura ko ang kuryente ng mga tao (If there is oil, I will bring down the cost of electricity for people)," added the Manila mayor.
Joint exploration through service contracts is constitutional, said no less than retired Supreme Court justice Antonio Carpio, a staunch defender of Philippine rights in the West Philippine Sea.
According to Carpio, foreign companies who do joint exploration after securing a service contract from the Philippine government will be operating under Philippine laws and recognizing the country's rights to resources.
The Duterte administration had planned to pursue joint exploration with China in this manner but signed agreements have yet to lead to actual exploration with Chinese companies.
Carpio told Rappler that he himself had briefed Moreno in 2020 about West Philippine Sea issues.
"He asked to be briefed on the West Philippine Sea about middle of last year. That was the first time I met him," said the retired magistrate who frequently gives lectures on the topic to anyone who asks for it.
Hague ruling and fishing rights
What about the 2016 arbitral ruling invalidating China's claim to the West Philippine Sea? Moreno said he would use the legal decision as a "bargaining"chip.
"The Hague ruling will stay, the Hague ruling will be our bargaining, legally, recognized by the world," said Moreno.
He said he "cannot blame" Chinese President Xi Jinping for insisting the West Philippine Sea is theirs.
"And I hope they will do the same to us, the same respect that we believe it's ours," said the 46-year-old presidential aspirant.
One way he hopes to use the Hague ruling is to get China to respect Filipino fishermens' rights to fish in the West Philippine Sea. Moreno said he would "appeal to their (China's) senses."
"Ano 'yung ipagdadamot nila doon? Eh atin din naman. Huwag lang sila maggambala ng mga mangisisdang Pilipino, that's a good start," said Moreno.
(What would you deny us there? When it's also ours. They should just avoid disturbing Filipino fishermen, that's a good start.)
In the case of Panatag (Scarborough) Shoal, the Hague ruling declared it as a common fishing ground for both Filipinos and Chinese.
But if an incident like the ramming of Philippine fishing boat Gem-Ver by a Chinese ship were to happen under his watch, Moreno said he would not hesitate to call China into account.
"It was the lives of those fishermen [that] were put into danger. If you do that to me in my face, the following morning, I'll call the ambassador to explain," said Moreno.
In contrast, Duterte's office, through then spokesman Salvador Panelo refused to summon the Chinese ambassador after the Gem-Ver incident. Duterte himself repeatedly downplayed the collision and called it a "small matter," even if experts had called it unprecedented in the history of the Philippine-China maritime row. (READ: Gem-Ver boat owner to Duterte gov't: Whose side are you on?) – Rappler.com