Joan Lumonday says Father Pops, who was killed in October 2011, 'made it possible for a Lumad like me from a far-flung area to make her dreams come true'
Fresh from his ordination as a priest in 1977, Italian priest Fausto "Pops" Tentorio left his country to do his work in Mindanao where he lived and embraced the communities he served until his gruesome murder.
Tentorio, fondly called Father Pops or Tatay Pops, was known for sleeping on floors, eating frogs and other native dishes, and respecting the culture, beliefs, and lifestyle of people in far-flung communities.
This was exactly how April Libo-on, now 36 years old, remembered the Italian priest who was shot to death by riding-in-tandem gunmen 10 years ago. She shared this, along with several others whose lives the late priest had touched, on the Facebook page of the Fr. Fausto "Pops" Tentorio Foundation to mark the 10th year of his murder.
Libo-on, a scholar in one of several educational programs that Father Pops established, now teaches at the Father Fausto Tentorio Memorial School Incorporated.
She said it was the Italian priest who officiated the rites during her wedding, and helped her get through kidney surgery.
On the day the priest was shot, Libo-on was among the first to run towards the crime scene and rushed Tentorio to the hospital where he was declared dead as a result of multiple gunshots to the head, chest, and torso.
"Tatay Pops was always there in the happiest and most difficult times of my life. It was traumatic to see the horrible death of someone so loved by the people," said Libo-on.
Tragic fate
The Italian began his mission in the Diocese of Zamboanga in 1978, then moved to Columbio in Sultan Kudarat in 1980, where he joined fellow Italian and Pontifical Institute for Foreign Missions missionary priest Tullio Favali.
Favali was murdered by the infamous Manero brothers and members of their paramilitary group in 1985.
After Favali's grisly murder, Tentorio was sent to Arakan Valley in Cotabato province where he served until he met the same tragic fate in October 2011.
Tentorio was the head of the Tribal Filipino Program of the Diocese of Kidapawan and was a staunch defender of the indigenous peoples' rights and the environment, the only reasons, his colleagues believed ,why anyone wanted him dead.
His fellow priests as well as Cotabato's tribal communities said that Tentorio works on educating indigenous peoples and environmental protection made him an enemy of powerful people and groups with interests in the land and mineral resources of the province.
Champion of education
Arakan's poor and indigenous people hailed Tentorio as a champion of education. Even after he died, more scholarship grants were awarded to children living in the margins of society.
Joan Lumonday, the 10th of 15 siblings in a Manobo family in Arakan, said she was among those whose lives were touched by Tentorio.
She said her parents could not afford to send them to school because of dire poverty.
Lumonday's father met Tentorio in 1991 while the priest and his team were researching in Arakan communities.
She said the Italian missionary found out that most of the adults there could not read, write, or count, and so he started an adult literacy program that benefitted her parents.
Lumonday's father subsequently became one of the teachers in the adult literacy program while her mother became a daycare teacher.
When she tagged along with her mother in the daycare center, Lumonday said, the priest noticed that she was barefoot, and so he gave her some money so she could buy a pair of slippers.
"That kindness was etched in my heart, and I begged my mother to always bring me to the daycare so that I could see Father Pops every day. He, his friends, and colleagues helped our family to put food on the table and enabled my siblings and me to attend school," said Lumonday.
Now, Lumonday said she plans to proceed to medical school.
She got a full scholarship in a program under the University of the Philippines-Manila School of Health Sciences in its Koronadal, South Cotabato campus.
"I am now a graduating midwifery student at the country's prestigious state university. After I get my license as a midwife, I will proceed to enroll in nursing. Once I've completed it, then, I will be on the final step of the ladder – the College of Medicine," Lumonday said.
She said she was grateful to have known Tentorio "who made it possible for a Lumad like me from a far-flung area to make her dreams come true."
'Proxy father'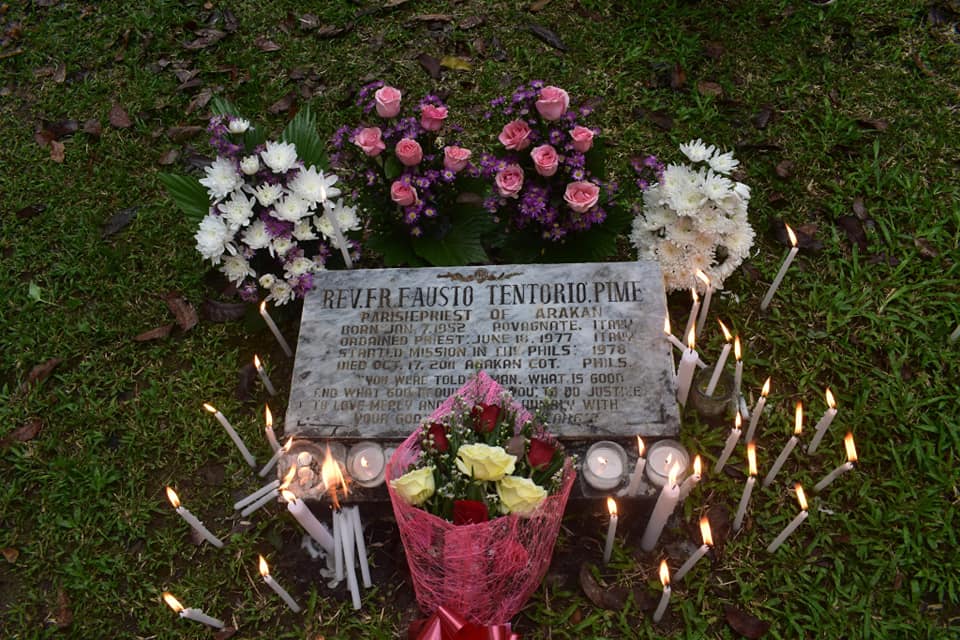 For 24-year-old April Grace Mirasol, the late Italian priest was her "proxy father."
She first met him when she was in third grade and still remembered what the priest told her in Ilonggo in their first encounter: "Kagamay-gamay sa imo nga tao, pero dako kaayo tingog mo (What a small girl you are, yet you have a roaring voice)."
"Right at that moment, I knew he had a kind soul. He pinned my medals from elementary to high school as my single-parent mom was too busy working," Mirasol said.
She now works in the internal audit staff of a bakery chain in Davao City and is reviewing for the licensure examination for public accountants.
Mirasol said she also planned to enroll in law school in 2022 because the murder of the priest had inspired her to become a lawyer.
Murder and conspiracy to commit murder cases were filed against two alleged gunmen and their accomplices in the Tentorio slay, and at least seven arrest warrantshd been issued by a regional court in 2019. Not a single suspect has been arrested as of this posting. – Rappler.com
Grace Cantal-Albasin is a Mindanao-based journalist and awardee of Aries Rufo Journalism Fellowship.