The single-dose Johnson & Johnson vaccine is seen to demonstrate an average 85% efficacy against severe COVID-19 and 100% efficacy against hospitalization and death
American firm Johnson & Johnson (Janssen Pharmaceutica) has filed an emergency use authorization application (EUA) for its single-dose coronavirus vaccine in the Philippines, the Department of Health (DOH) announced on Monday, April 5. 
Food and Drug Administration (FDA) Director General Eric Domingo confirmed this in a message to Rappler on Monday morning, saying the application was filed last March 31, and is now undergoing evaluation. 
J&J's application is the 7th to be submitted to the FDA, bringing it closer to allowing Filipinos access to its vaccine within the year. The FDA is expected to take at least 21 days to review the vaccine's trial data and other information to determine the quality, safety, and efficacy of the shot on the Philippine population.
J&J was recently granted emergency approval by the United States FDA last February 28, after the agency's analysis of the company's trial data found the shot to be safe and effective
Why this matters
The J&J vaccine, unlike most COVID-19 shots, is administered as a single dose and does not need to be stored in ultra low temperature conditions, making the logistics and distribution of the vaccine far simpler and more ideal for the Philippines' health system.
If approved, J&J's vaccine will also serve as another option for vaccines in the country, where supplies remain severely limited.
J&J had also been one of the few vaccine companies to pledge more than half of its doses for countries from the developing world with 500 million doses purchased by the COVAX global facility led by the World Health Organization. The Philippines is a participant in COVAX and has started to receive doses from the facility.
In terms of performance, J&J's vaccine demonstrated an average of 85% efficacy against severe COVID-19 and 100% efficacy against hospitalization and death across trial sites in the US, the UK, and South Africa. The vaccine was found to have an efficacy of about 66% against moderate to severe/critical COVID-19. 
The Philippines has ordered at least 5 million J&J vaccines in 2021, with initial delivery expected sometime in July or the 3rd quarter of the year. 
Aside from its application for an EUA, J&J is also currently carrying out Phase 3 trials in the Philippines.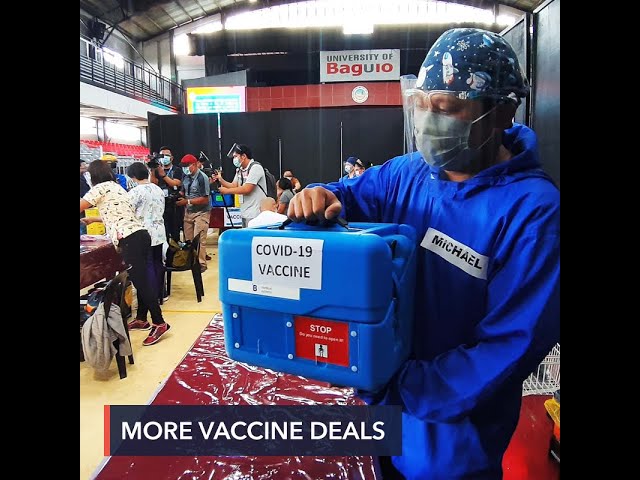 The Philippines earlier cleared the vaccines of Pfizer and BioNTech, AstraZeneca, Sinovac, and the Gamaleya Research Institute for emergency use in the country. – Rappler.com