Calida's 2020 earnings drop a bit from P16.9 million in 2019
For the 2nd straight year in a row, Solicitor General Jose Calida is the 2nd highest-paid government official for 2020, according to the Commission on Audit (COA).
Calida earned P15.66 million in 2020, with P11.5 million coming from his honoraria and allowances, COA's 2020 Reports on Salaries and Allowances (ROSA) showed.
Calida's 2020 earnings dropped a bit, from P16.9 million in 2019.
For 2020, Calida's basic salary was P3.1 million, meaning most of what he earned came from honoraria and allowances from the Office of the Solicitor General or OSG's client agencies.
No other solicitor general before Calida made it to the top 10 of the highest-paid list, much less become top 2.
Officials from the banking and financial sectors usually comprised the upper crust but in 2017, Calida was top 4, and in 2018, he was top 6.
Allowances for a solicitor general have been a long-running dispute with the COA. For state auditors, allowances must not exceed 50% of the basic salary.
But time and time again, solicitors general have argued that the OSG law, or Republic Act 9417, does not set a limit. Section 8 says "the legal staff of the Office of the Solicitor General are allowed to receive honoraria and allowances from client departments, agencies, and instrumentalities of the Government."
While this remains in dispute, status quo is preserved, allowing Calida to receive allowances worth P39.4 million for the last 4 years.
That OSG lawyers receive so much from client agencies raise the question of whether they can render an impartial legal opinion or contract review for these agencies. This is crucial because their opinion or review provides legal support to projects and transactions funded by the people's taxes.
Calida's other earnings come from his family-owned security firm Vigilant, which they sold in August 2019, following questions about the propriety of a high-ranking official like him bagging big contracts with government.
Rappler's earlier investigation showed that before the family divested, the company won 3 more government contracts worth P78 million.
For 2020, Bangko Sentral ng Pilipinas (BSP) chief Benjamin Diokno was the highest paid government official, earning P19.7 million. Diokno was previously top 3.
Most of the officials in the top 10 are either from the BSP or the United Coconut Planters Bank (UCPB), but Supreme Court Senior Associate Justice Estela Perlas Bernabe landed at number 5, the first such High Court justice to do so.
More justices also entered the top 20.
Supreme Court justices' earnings got an overall boost from their honoraria and allowances as members of the Presidential Electoral Tribunal (PET), courtesy of Bongbong Marcos' vice presidential electoral protest against Vice President Leni Robredo.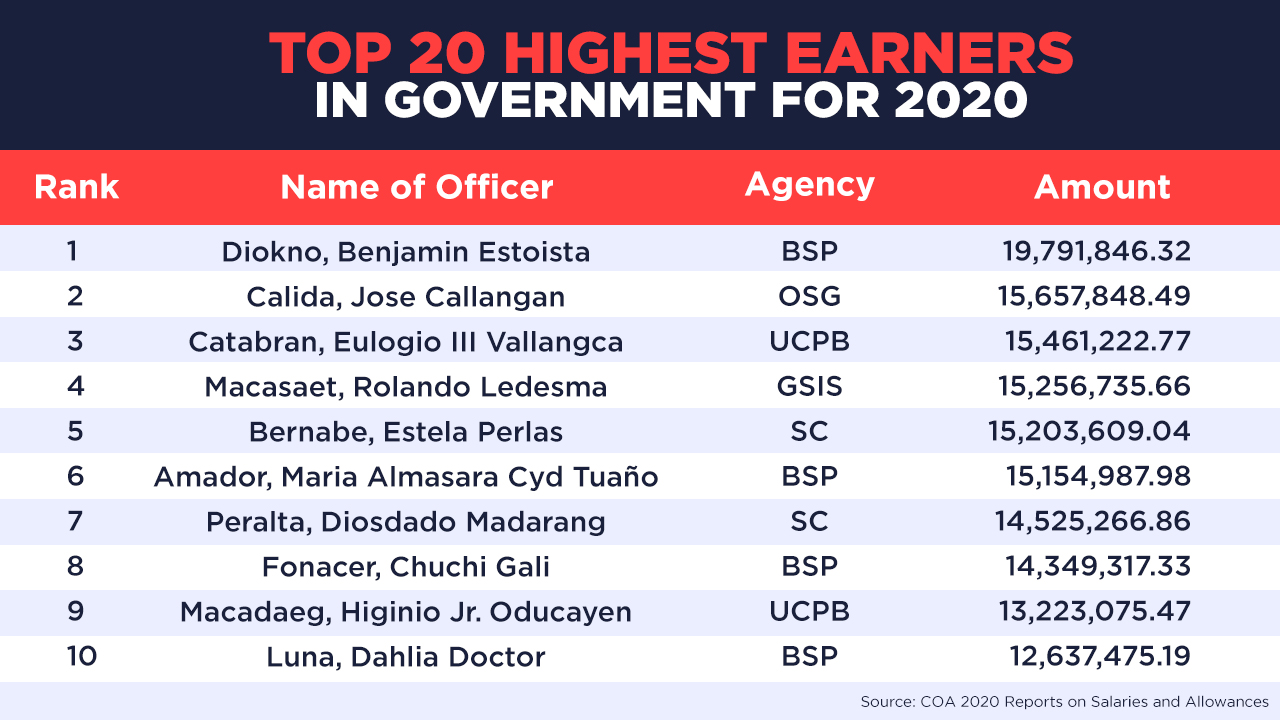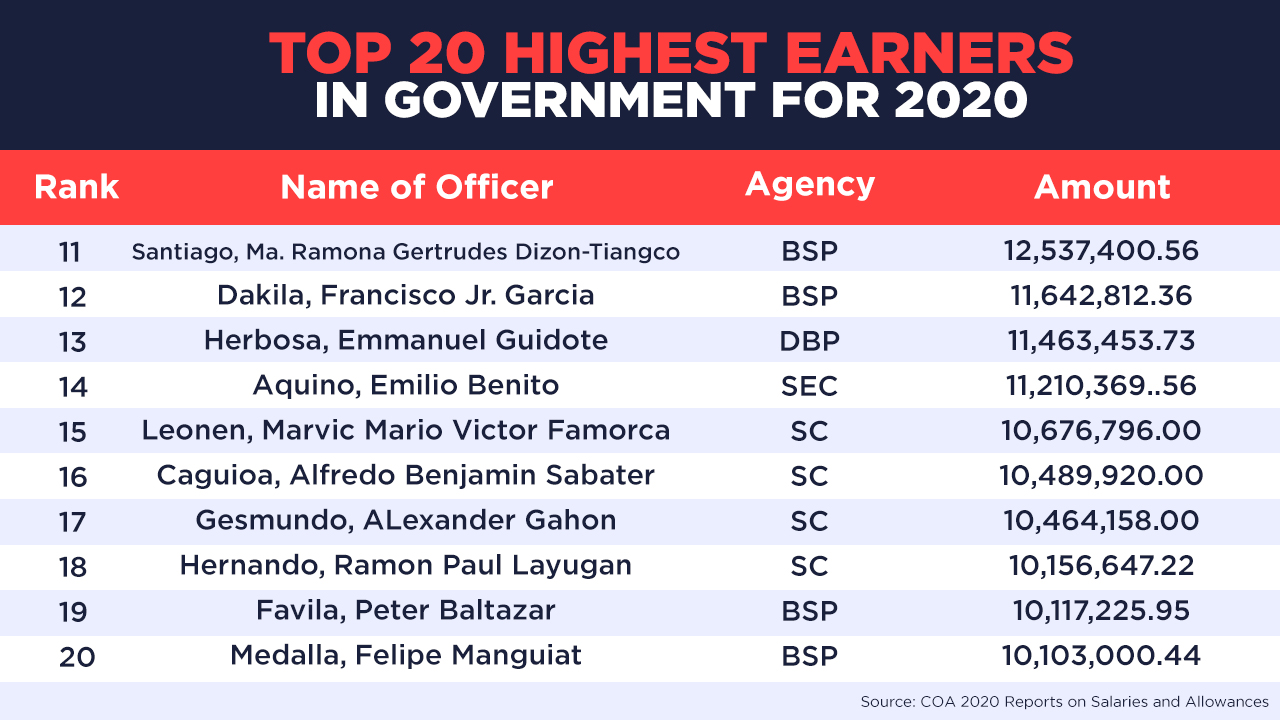 – Rappler.com