US Vice President Kamala Harris cites Corazon Aquino, the democracy icon who defeated dictator Ferdinand Marcos in 1986, as one of three role models for Filipino women
MANILA, Philippines – In the process of economic empowerment, women need freedom from fear and violence to be able to thrive, United States Vice President Kamala Harris said in a town hall discussion with women leaders and rights advocates on Monday, November 21.
The dialogue, held in the Sofitel Philippine Plaza in Pasay, was one of Harris' stops during her only full day in the capital region during her visit to the Philippines.
US ambassador to the Philippines MaryKay Carlson described Harris as a "fearless advocate and champion for women and girls," and that the US Vice President constantly prioritizes gender issues as she meets up with women in each country she visits.
Harris said that if a woman's economic status is lifted, her family, community, and all of society will benefit as well. This requires that women's human rights are upheld.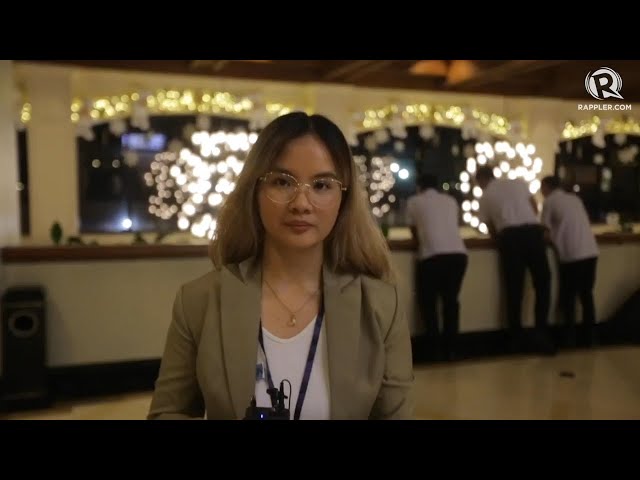 "Among the rights that I believe that people have is the right to be free from violence, to be free from fear – those things that will be an impediment to growth, to success, to having dreams, to having vision," said Harris.
"So when we connect these issues, there is the connection between what should be a human right to live, free from fear, to live in a safe situation that allows one to then thrive around things like having an idea of being innovative…. to be able to start something and grow it," she added.
Harris pointed out the correlation between violence and the economic status of women, and that there is data to show that when women's economic statuses are lifted, they are less likely to fear for their physical safety.
"The reality of it is that women will endure almost any abuse, if it means keeping a roof over the head of their children and being able to feed them. But if that choice doesn't have to be made, because she has an individual opportunity to achieve economic well-being, it is less likely she will be or remain in an environment or situation that otherwise causes her harm," she said.
The US Vice President said the status of democracies can be judged by the status of women in these societies.
'You are not alone'
Harris had a similar message to human rights defenders and emerging women leaders: "You are not alone."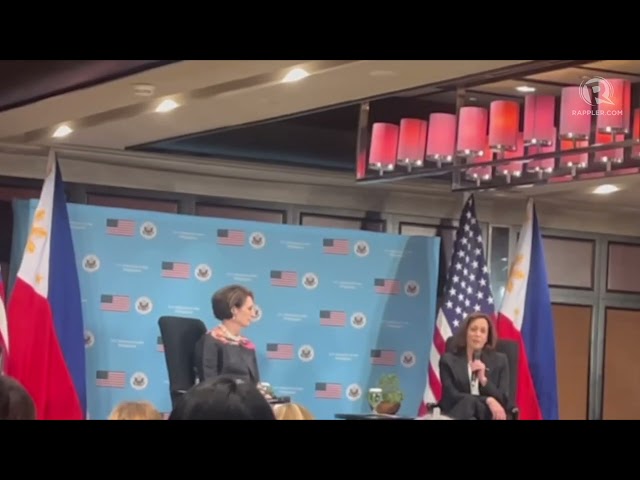 She asked participants to look around the packed room of like-minded individuals, who dream of empowering women, and remember them when they feel like they are alone in talking about or fighting for their advocacies.
"When you are in those situations, understand that while we applaud you for being in those situations, we have also charged you with the responsibility for being in those situations chin up, shoulders back, owning your voice, and speaking with the authority that you bring in to that room… What you are feeling is legitimate and important and must be heard and in that way it's bigger than you," said Harris.
She also reminded the audience to remember the women leaders who came before them by citing three Filipino icons: civic leader Josefa Escoda, feminist Concepcion Calderon, and democracy leader Corazon Aquino, who began to emerge as leaders while they were young adults.
Harris likened life to a relay race, and that the three women leaders had passed the baton to the current generation. She cited Coretta Scott King, an American civil leader and wife of Martin Luther King Jr., in saying that gains made by women are not permanent unless future generations are vigilant in keeping them up.
"Never think of what you are doing as fighting against something, you're fighting for something. Isn't that a noble pursuit? To fight for something that is motivated out of a belief and principles and faith and knowing that things could be improved, things could be better," said Harris.
Carmen Lopez, an audience member who is part of the national council of the Young Southeast Asian Leadership Initiative, said she appreciated Harris' advice to women leaders to never give up.
"It is very relevant in the case of the youth and especially women enterprises that we are supporting, for instance. It is the fight for, and not against anything, that she emphasized, and I think she has a firm grasp of what's happening on the ground," Lopez said in an interview with Rappler after the event.
"It allows us, women, emerging leaders to relate to what she is saying, and it is an opportunity to actually be motivated and inspired… I think it should reach more audiences along the way," Lopez added.
The US Vice President earlier on Monday met with Philippine President Ferdinand Marcos Jr. and Vice President Sara Duterte to discuss various matters such as security, education, poverty, and employment.
On Tuesday, November 22, Harris is set to visit Palawan, which is close to the Philippines' contested area with China in the West Philippine Sea. – Rappler.com