This is AI generated summarization, which may have errors. For context, always refer to the full article.
Poet-turned-rebel Kerima Tariman died during a clash between the insurgents and the military. Her father and her son talk about her on the day they claimed her remains.
Kerima Tariman's 18-year old son Eman prepared himself for the worst three years ago, when his mother told him she was "going away."
"I knew what that meant," Eman told Rappler in an interview. "I wasn't surprised. They had shown me the world. I understood their choice."
Like his grandfather, Pablo, who has watched over him since childhood, Eman tried to stay stoic and not think too much of the dangers Kerima faced when she decided to join the New People's Army.
The two men arrived in Bacolod City on August 23, hoping they could fly back to the capital the day after with the cremated remains of Kerima, 42.
Kerima died on Friday, August 20, during a clash between the New People's Army and the Philippine Army's 79th Infantry Battalion (IB) in Silay City, Negros Occidental.
The 79IB also lost Private First Class Christopher Alada during the encounter. A second rebel was also killed, only known as Pabling.
The process of getting permits from the barangay to the police to the Silay City health office took longer than expected. They finally brought Kerima's remains to a Bacolod City crematorium near dusk of August 24.
The incoming B.S. Math freshman at the University of the Philippines was solicitous of his grandfather, regularly checking the blood pressure of the hypertensive Pablo.
"I was preparing to comfort him. Instead, he comforted me, rubbing my shoulders as I bawled over Kerima's remains," Pablo said.
Eman, he added, must have inherited the strong intuition of his mother and grandfather.
"When I finally told him that Kerima was dead, Eman gave a small smile and said, 'I know'."
Eman requested not to be interviewed on camera and said his grandfather would have more things to say.
"I overheard all those calls. Umaga pa lang, bothered na sya," Eman said.
The young man chose to wait to be told, "because there was really nothing I could do about it."
'Her heart was somewhere else'
The last time Eman saw his mother was in 2019, a year after he met her at another area as she prepared to take up new duties that meant prolonged separation.
Friends, former classmates, and professors hail her as a brilliant poet who chose to practice her beliefs instead of limiting them to formal expression.
The military saw Kerima as a "terrorist."
"No matter who they are in their personal capacity, they are enemies of the state. They are notorious terrorists operating in northern Negros," said Major Cenon Pancito III, 3rd Infantry Division public affairs chief, in a statement on August 22. He said Kerima was tasked to re-establish the "dismantled" Northern Negros Front.
Kerima's comrades called her and Pabling as heroes of the revolution. Even those saddened when she turned back to a literary career understood that hard choice.
"Hers is a life not wasted, and neither is the revolution she fought for futile," said writer and columnist Katrina Stuart Santiago .
"Duterte's military frames her death as such. What it forgets is that while not all of us might make the decisions that Kerima had made, while not all of us have the courage or humility to do the same, we are of a generation that knows of the revolution's value, we know of why it is a valid option, we know of why it exists in the countryside, and across the world. We know that it is NOT terrorism, no matter how institutions frame it as such," Stuart Santiago wrote on August 22.
Pablo, who spent around a year visiting Kerima in 2000 and 2001, when she was arrested in Isabela, also during a clash between rebels and government troops, said he had tried to provide alternatives.
"Like any parent, of course, I had the illusion of an 8 to 5 job or something else rather than her becoming a full-time member of the underground," Kerima's father said.
During her first arrest, Kerima managed to divert her guard with a request and quickly called her sister to ask help from their father.
"She just had enough time to give the name of the camp where she was being held," said Pablo. "I didn't know where she was. If she hadn't called, I would have no idea."
The father, described by the daughter as someone who would bury his worries and sorrows in classical music, stayed true to his calling as he kept tabs on his detained child.
To cope with the situation and the nerves of going in and out of a military camp, Pablo decided to bring music to Isabela, inviting artist friends to provide outreach concerts.
He still laughs at a high military office's remark while father and daughter prepared to leave the detention center after paying her P70,000 bail.
"He said they had never seen so many cultural events in Isabela, until they captured her," Pablo recalled. "I didn't know what to say to that."
The former high school salutatorian and managing editor of the Philippine Collegian, the student publication of the University of the Philippines, tried out domesticity during her son's early years.
"I took her to concerts, to nice places, and asked her to write reviews," Pablo recalled. "When she had time, she joined me. She enjoyed it. But her heart was always somewhere else."
"I finally learned to respect her decision," he said. "Sometimes, when I see reports of corruption and abuse, I think she was right. Sometimes, like now, I am also a little angry with her. But I understand. And I still respect the choice she made."
'I haven't cried yet'
Five days after receiving news of Kerima's death, Eman is still to cry.
"Hindi pa ako naiiyak. Siempre malungkot ako. Saka na siguro." (I can't cry yet. Of course, I'm sad. Maybe, in time.)
Pablo said Eman has always been self-contained.
Asked if he had ever asked his parents, Kerima and Ericson Acosta, not to leave him, Eman gave a small smile.
"Hindi ko sila kinakausap, hindi ko sila ginugulo. Hinayaan ko na sila." (I didn't talk to them about that. I didn't pressure them. I let them be.)
"I just prepared myself," he added.
"Our family, we let each other be free. Walang (No) pressure," Eman explained.
"And I don't feel I have to live up to my parents' choices. Nobody has asked that of me."
Kerima grew up in a middle-class, artistic family. She even studied ballet as a child.
Pablo said his middle child was a "Barbie doll" toddler. But even then, he saw something in her that raised premonitions. They were at a beach, he said, when he looked into her eyes and knew that "something bad was going to happen to her."
When he saw her at the Manapla Funeral Parlor in Silay City, he remembered those memories. "My fear didn't start when she joined the movement," he said.
Kerima's older sister would have passionate arguments with her, Pablo said. "'Ano mapapala mo dyan?' (What do you get from that activity?)she would challenge. 'Mamamatay ka lang.' (You will only die)"
Yet during her younger sister's stint in detention, the older sibling volunteered to stay overnight, "to see how it felt to be imprisoned."
Pablo said there was new found respect after that experience even if they continued on divergent paths.
"We all have our paths," said the grieving father. "I may not have agreed with her choice. But I won't say it's the wrong choice."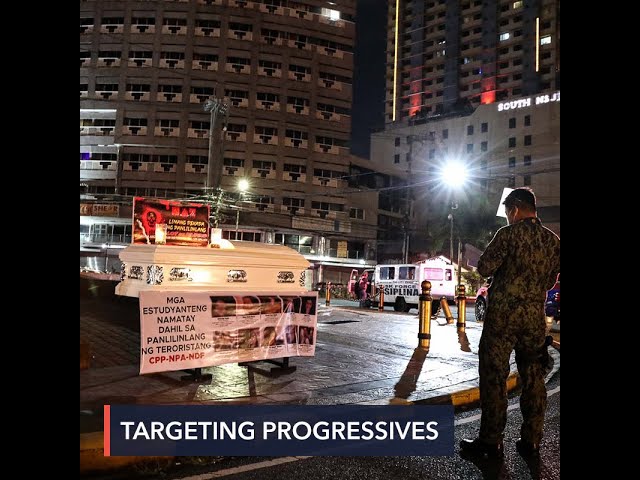 – Rappler.com