The activists and second-in-line organizers left behind by the likes of Manny Asuncion and Dandy Miguel say they are overwhelmed with hurt, anger, regrets, and fear in equal measure, but their work is not done
In a span of a month – between March and April 2021 – 11 activists were killed in Calabarzon, the region adjacent to the capital Metro Manila. Six of them died in the hands of the police. And among these leaders who have lost their loves, two of them left unforgettable marks to their companions.
The activists and second-in-line organizers they have left behind tell Rappler that they are overwhelmed with hurt, anger, regrets, and fear in equal measure.
But they do have hope as well – the hope that, if they will continue fighting for the rights of workers, these in time will be recognized by both government and employers.
The deaths of labor leaders Manny Asuncion and Dandy Miguel and the many others who died with and before them will then not be vain.
Passion beyond death
Manny Asuncion was among the six activists killed in the Bloody Sunday operations of the police on March 7 that also saw the arrest of 9 others.
Authorities said he fought back, but the circumstances of his death remain questionable. The cops had a search warrant for his home in the town of Rosario in Cavite, but the operation where he was killed was carried out in the city of Dasmariñas.
Asuncion, a known labor leader, was the spokesman and provincial coordinator of Bagong Alyansang Makabayan (BAYAN)-Cavite. He was in charge of all information related alleged to human rights violations in Cavite.
And after his death, one of his protegés, Jerry Caristia, took over his position to continue his cause.
Caristia, the new provincial coordinator of BAYAN-Cavite and member of the Justice for Manny Asuncion Network, said Asuncion touched the lives not just of activists but also of regular individuals. He was always on the side of the people to fight for their rights.
"Sobrang laki ng impluwensiya ni Ka Manny. Hindi lang kabataang estudyante, hindi lang unionist. Kasi lahat ng laban talaga – laban ng estudyante, laban ng manggagawa, laban ng magsasaka, laban ng maralita – nando'n siya eh," Caristia said.
(Ka Manny had a big influence on us, not just on students, not just on unionists. He fought for many causes – for students, workers, farmers, the poor people.)
They felt a roller coaster of emotions after he was killed: pain, hatred, regret. They were scared too.
"Nasaktan, nagalit, nanghinayang din at the same time kasi si Manny ay marami pa siyang puwedeng gawin. Marami pa siyang puwedeng ituro. Marami pa siyang puwedeng ipaglaban," Caristia said. "Talagang mabigat at nakakatakot dahil kasama na namin at malapit sa amin 'yung namatay."
(We feel pain, anger, regret at the same time because Manny had still so much he could do. He still had so much to teach us. He still had causes to fight for. It feels heavy and scary because the one killed was somebody we had closely worked with.)
The courage that Asuncion demonstrated is greater than this fear that the new generation of activists feel.
"Sobra silang na-inspire na bakit papatayin ang isang taong nagsusulong ng demokratikong karapatan ng mamamayan. Mas lalong nagalit, mas lalong tumindi ang passion ng mga kabataan, ng mga maralita to call for justice," Caristia added.
(They were really inspired seeing why a person fighting for democratic rights was killed. This has angered them more – the youth and the poor are more passionate in their call for justice.)
Too young to die
Pamantik-Kilusang Mayo Uno vice president Dandy Miguel was gunned down by unknown assailants in Calamba, Laguna, on March 28, just weeks after the Bloody Sunday in the region.
He had championed labor rights in Laguna and in the entire Southern Luzon. He organized unions in various corporations and workplaces in the province.
Until the end, he had called for an end to contractualization and for the protection of red-tagged labor leaders and activists.
Pamantik-KMU spokesperson Mia Antonio, who took over Miguel's position, said he was too young to die and had so much left to do as a labor leader.
"Hirap akong tanggapin na brutal 'yung pagkakapaslang nila kay kasamang Dandy, dahil sa murang edad ni kasamang Dandy ay marami pa siyang puwedeng iambag sa kilusang paggawa sa rehiyon ng Timog Katagalugan," Mia said.
(It's hard to accept that comrade Dandy was brutally killed because, at his age, he could still do more and contribute to the fight for labor rights in Southern Luzon.)
Although Miguel had been red-tagged and threatened, he continued calling for justice for activists who were killed.
The colleagues he has left behind intend to continue his fight.
"Siyempre takot. Normal naman 'yung takot. Kahit nga no'ng nabubuhay si kasamang Dandy ay lagi niyang sinasabi, 'May takot din ako at natatakot din ako pero kailangan ko pa ring magpatuloy sa gawain,'" Antonio said.
(We're, of course, scared. It's normal to get scared. Even when Dandy was still alive, he always said, "I also fear for my life, but I need to continue what I'm doing.")
"Pero buong-buo pa rin na pinangingibabawan at iniigpawan 'yung takot na dala-dala namin sa araw-araw," she added. (But we resolve to master and overcome this fear that nags us every day.)
Clinging to hope
Kilusang Mayo Uno secretary general Jerome Adonis says hope is what's left for them after these killings – the hope that, someday, there will be equal opportunities for everyone.
"'Yung pinanghahawakan namin kahit mahirap, 'yung pag-asa na mababago 'yung kalagayan ng manggagawa sooner or later," Adonis said. (What we're holding on to, no matter how difficult to do so, is the hope that sooner or later the condition of laborers will change for the better.)
Despite the dangers of red-tagging and death, Adonis says labor activists like them "have no choice but to continue the fight" – this is for the collective welfare of workers.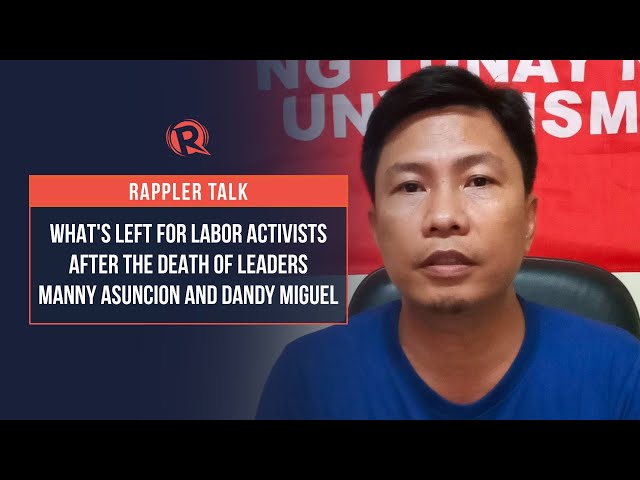 "Sa aming mga lider [manggagawa] ay nakatutok 'yung gatilyo ng baril ng estado at anytime p'wedeng kalabitin at mawawalan kami ng buhay. Yes, mawawalan kami ng buhay, mapapatay nila kami, pero hindi nila mapapatay 'yung pakikibaka ng manggagawa at mamamayan," Adonis said.
(The state is pointing its gun at the heads of us [labor] leaders, and they can pull the trigger anytime and snuff out our lives. Yes, we will lose our lives, they can kill us, but they can't crush the struggle waged by workers and the people.) – Rappler.com