The labor leaders also call on the NBI and social media networks to take down the red-tagging posts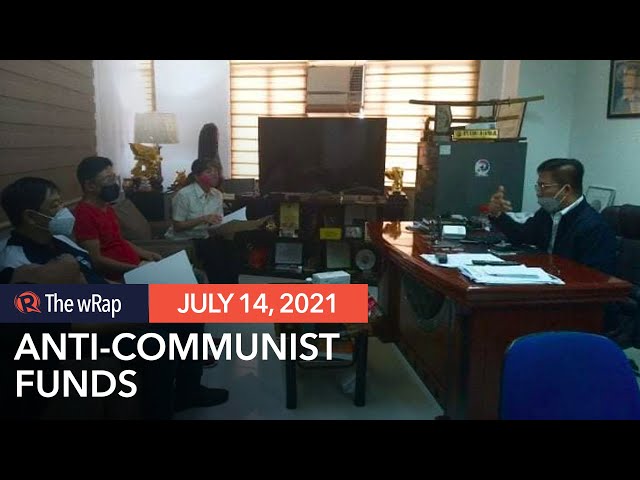 Leaders of labor group Kilusang Mayo Uno (KMU) filed formal complaints before the National Bureau of Investigation (NBI) on Wednesday, July 14, against online red-tagging by state-sponsored social media pages.
KMU chairperson Elmer Labog and secretary general Jerome Adonis, along with Kabataan representative Sarah Elago, led the filing.
According to the group, the Duterte government, particularly its anti-insurgency task force, the National Task Force to End Local Communist Armed Conflict, has been the mastermind behind the red-baiting and vilification of labor leaders.
KMU has filed cybercrime complaints in relation to at least 50 social media posts red-tagging and labeling its leaders as "terrorists." The labor group also called on the NBI and social media networks to take down the posts.
Meanwhile, Adonis hit the government and said that instead of addressing labor concerns, the government has been attacking labor leaders.
"Pangako sa manggagawa, wawakasan ang kontraktwalisasyon. Pero kalayaan at karapatan namin ang tinatarget na wakasan sa pamamagitan ng red-tagging, harassment, aresto at pagpaslang," Adonis said in a statement.
(They promised to end contractualization. But they instead attacked our freedom and rights through red-tagging, harassment, arrests, and executions.)
During his campaign, President Rodrigo Duterte promised to "improve labor conditions for Filipino workers," which supposedly included ending contractualization. But midway in his presidency, in July 2019, Duterte vetoed the anti-endo bill. (READ: TIMELINE: Duterte's promise to abolish endo)
The KMU secretary general added that red-tagging should be taken seriously because it has become a prelude to deaths of some labor leaders like Dandy Miguel, who was shot and killed in Laguna by unknown assailants.
There are no laws in the Philippines that criminalize red-tagging.
The closest move to studying the negative implications of red-tagging was when the Senate committee on national defense and security, peace, unification, and reconciliation, adopted a measure to investigate it. – Rappler.com