This is AI generated summarization, which may have errors. For context, always refer to the full article.
'Para tayong nagpapaloko,' says Senator Panfilo Lacson of small but costly infrastructure projects that keep getting funded in the yearly national budget
Senator Panfilo Lacson on Wednesday, November 11, called for the realignment of P68 billion pesos in the 2021 budget bill currently allotted to "rehashed," unfinished infrastructure projects, which he said reeked of corruption.
At the opening of the Senate's plenary debates on the P4.5-trillion General Appropriations Bill (GAB), Lacson proposed to realign "most" of the P68 billion to programs responsive to the COVID-19 pandemic, at least for 2021.
Calling them "skeleton projects," Lacson presented photos of several multi-purpose buildings (MPB) in different parts of the country that have each received millions of pesos under previous years' budgets, but remain barely constructed, and are yet receiving even more millions of pesos in the proposed budget for the coming year.
The MPBs were among 5,913 "rehashed projects" worth P135 billion under the proposed budget of the Department of Public Works and Highways (DPWH). Lacson already flagged these during committee hearings on the proposed budget over the last two months, and vowed to rectify them when the DPWH budget is taken up in plenary.
Lacson said these illustrate "how acts of corruption are committed by the misuse and abuse of public funds – not anymore by the hundreds of thousands but by the millions of pesos wasted during implementation of the national budget."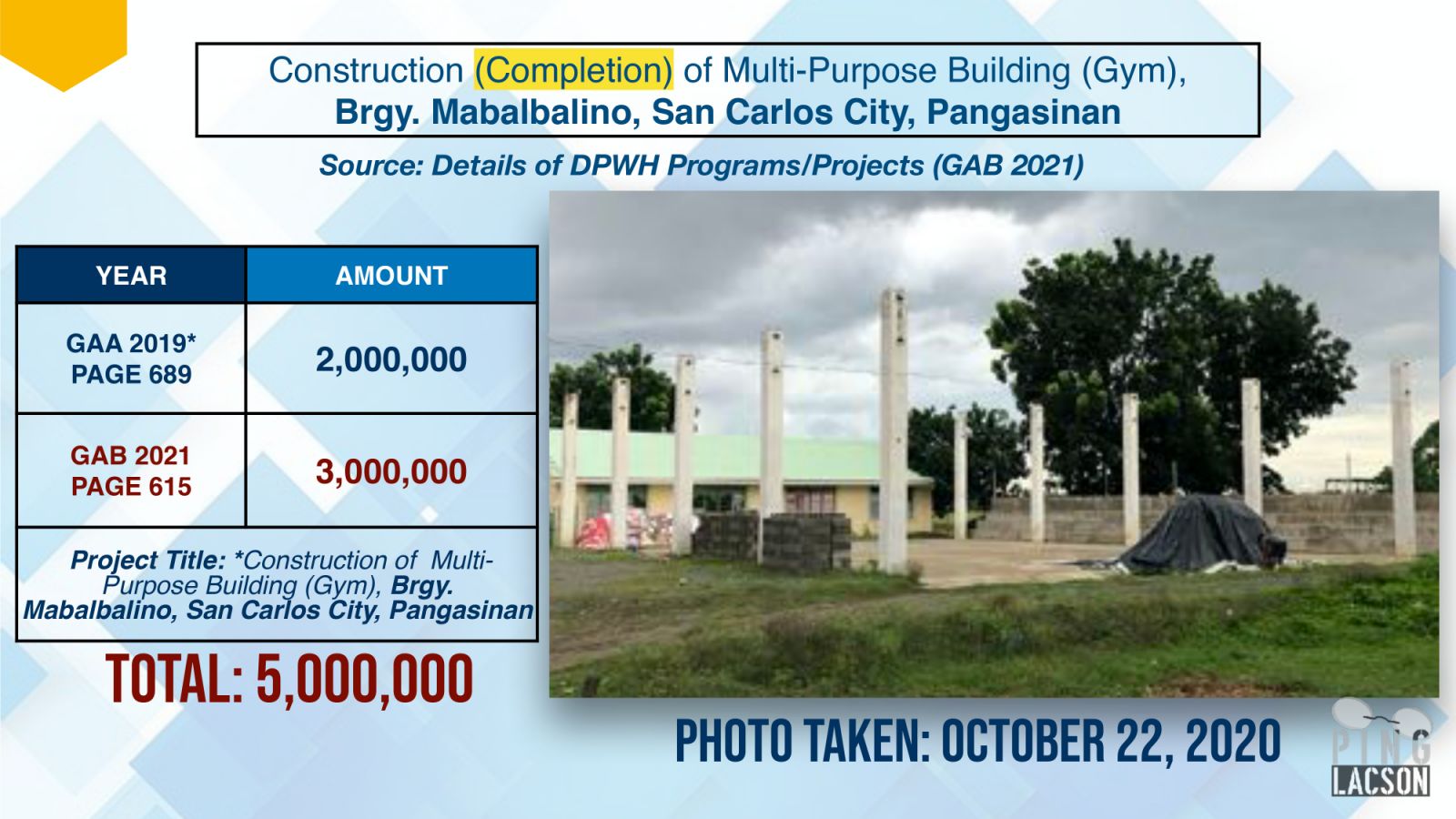 Although he does not propose to totally abandon these projects, Lacson said they are better off put aside in 2021 so their funds can be diverted to projects and programs geared at addressing the pandemic. For instance, they may be added to the P2.7 billion budget for evacuation centers or quarantine facilities, he suggested.
There may be more reason to retain some of the DPWH's projects, Lacson said.
"Pero ang mga local projects, nakita naman natin na skeleton. After appropriating a few million pesos, ganoon ang itsura. Eh para tayong nagpapaloko," the senator added.
(But as for local projects, we've seen how they're mere skeletons. After appropriating a few million pesos, we find they look that way. It's like we're letting ourselves be fooled.)
In a slide presentation, Lacson described several MPBs whose construction appeared to have been stalled for a while. They were researched and photographed by Lacson's office:
MPB or gym in Barangay Sapilang, Bacnotan, La Union: Received a total of P15.6 million in 2017, 2019, and 2020; allotted P5 million in the 2021 GAB;
MPBs or gyms in Barangays Mabalbalino and Balaya in San Carlos City, Pangasinan: Received P2 million each in 2019; each allotted P3 million in the 2021 GAB;
MPB at Linomot Elementary School in Jones, Isabela: Received a total of P21 million in 2017 and 2018; allotted P2 million in the 2021 GAB;
MPB in Barangay Cacapian, San Juan, La Union: Presented as two separate items in the 2021 GAB totaling P8 million;
MPB in Barangay Poblacion, Bacnotan, La Union: Received a total of P15 million in 2019 and 2020; allotted a total of P20 million under two items in the 2021 GAB, and was supposed to be locally funded;
Evacuation center in Barangay Central East 2, Bangar, La Union: Allotted P3 million in the 2021 GAB as a project "for completion," but an old house still stands on the property and no construction appears to have been done.
These projects don't even look like they are worth anywhere near the millions of pesos they are costing the government, Lacson pointed out.
Lacson also presented photos of "road to nowhere" projects – roadwork stalled because of right-of-way, feasibility, and even ownership issues but are still funded millions of pesos under the 2021 GAB.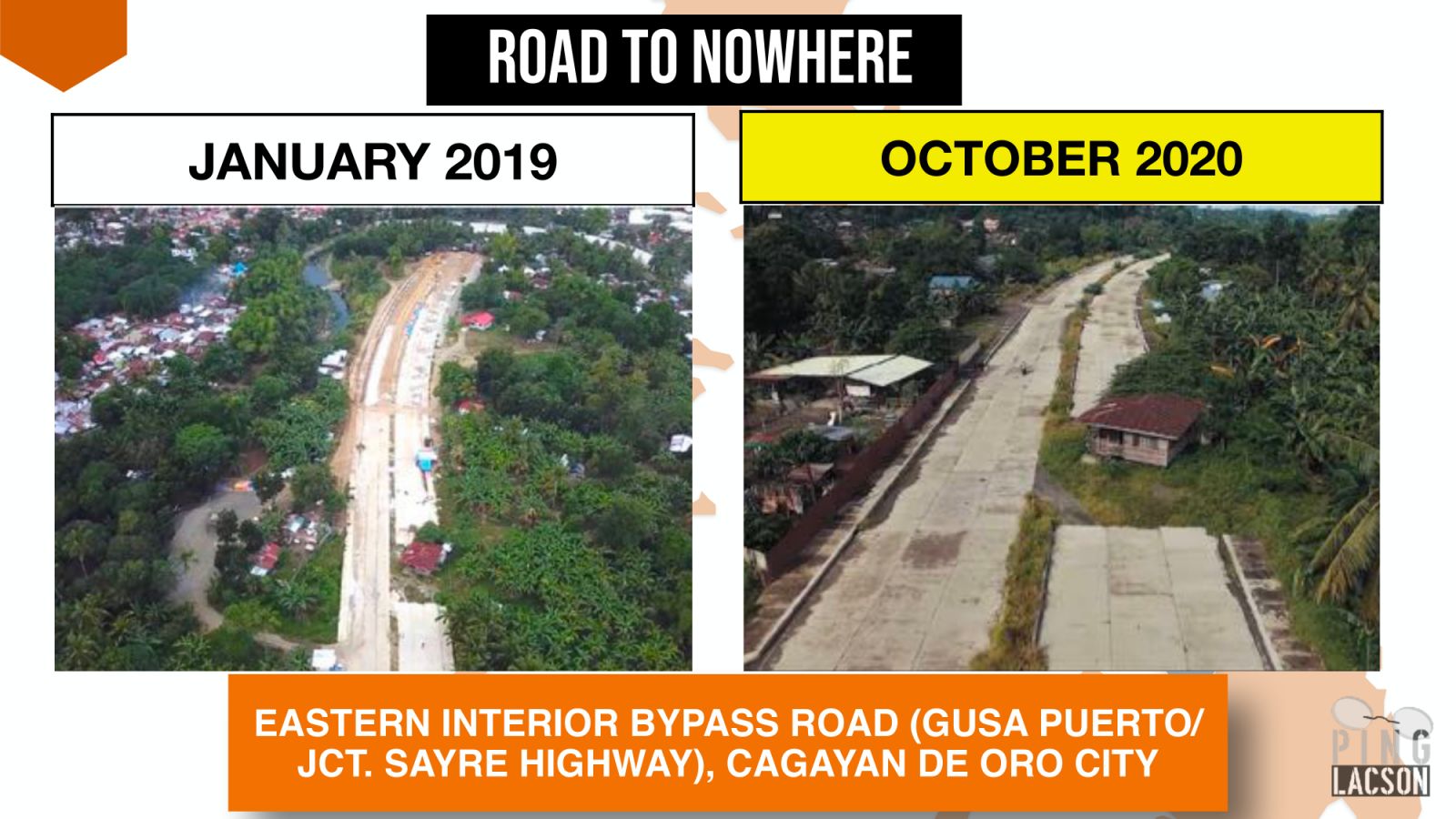 One example is an access road to Lidong Seaport in Sto Domingo, Albay, which was funded with P20 million in the 2020 budget and is allotted P2 million in the 2021 GAB.
"We were told Lidong Seaport is privately owned. So why would government spend tapos ginagamit daw ang seaport sa quarrying ng Chinese? Kayo na bahala humusga (whereas the seaport is said to be used for quarrying by the Chinese? You be the judge)," Lacson said.
The senator suggested realigning some of the P68 billion for the "skeleton projects" to the National Broadband Program of the Department of Information and Communications Technology.
In a web interview with reporters, Senate President Vicente Sotto III said he is open to realigning funds away from the projects Lacson flagged. However, he would wait until the DPWH's budget is taken up in plenary before giving his final word on the matter.
Disparate appropriations
Lacson also flagged disparities in infrastructure budgets of several congressional districts. They include the following:
An urban district in Davao: P15.351 billion;
A district in Albay: P7.5 billion;
A district in Benguet: P7.9 billion;
A district in Abra: P3.75 billion.
Lacson jested that these were the "honor roll." Meanwhile, he spotted districts that were only allotted P82 million, or as low as P42 million.
"Bakit ganoon ang disparity (Why the disparity)?" Lacson asked, adding he could not see how a single engineering district could implement infrastructure projects worth P15.351 billion.
Sotto said he found these disparities "surprising," because he never encountered anything similar in past national budgets. Although he agrees that funds must be equitably distributed, the Senate President said he would wait until the DPWH's budget is debated in plenary before making any realignments. – Rappler.com