(2nd UPDATE) Health Secretary Francisco Duque III says he has ordered an investigation into the senator's allegation
The Department of Health (DOH) will likely take more heat from lawmakers after Senator Panfilo Lacson bared that the agency procured ambulances allegedly overpriced by P1 million per unit in 2021.
In an INQside Look interview aired on Friday, September 3, Lacson cited documents indicating that the DOH had purchased several ambulances with automated external defibrillator (AEB) at P2.5 million under its Health Facilities Enhancement Program (HFEP) in 2021.
But when he checked with local government units that purchased the same kind of ambulance units, it only cost them P1.5 million per ambulance.
Lacson said this means that the DOH-procured ambulances were overpriced by P1 million each.
"Hindi ba nakakagalit 'yun na isang ambulansiya, may overpricing kaagad na P1 million? So in other words, lima na dapat ang nabili doon sa tatlo… Imagine 'yung wastage ng pera dito," Lacson said.
(Isn't that infuriating, that for one ambulance, there's already an overpricing of P1 million? So in other words, five should have been bought for the three they paid for…. Imagine the wastage of money here.)
The senator said he was upset by his discovery, recalling that he was among the legislators who pushed for more budget for HFEP in 2021.
"Ako masama ang loob ko rito because sa 2021, ako 'yung nag-realign ng P8.68 billion papunta sa HFEP. That's on top of the 2020 insertion that I made or realignment that I made na P1 billion. Pagkatapos, malalaman ko from some LGUs na ganyan ka-maanomalya 'yung pag-procure ng mga equipment para sa HFEP?" asked Lacson.
(This upsets me because in 2021, I was the one who realigned P8.68 billion to HFEP. That's on top of the 2020 insertion worth P1 billion that I made or realignment that I made. Then, I would find out from some LGUs that there are anomalies in the procurement under HFEP?)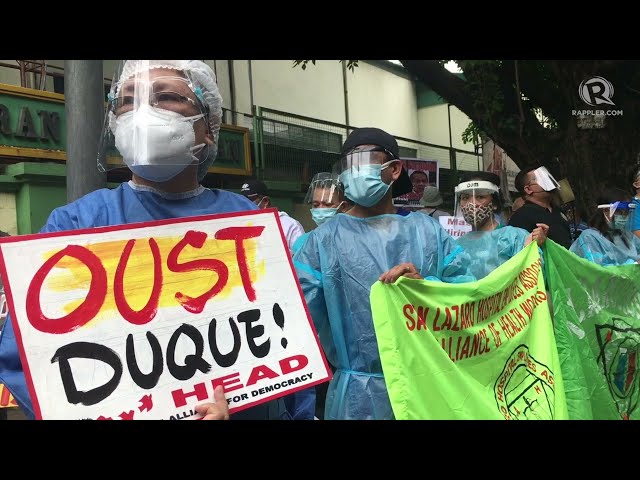 In another message sent to reporters, Lacson said at least 98 of these overpriced ambulance units can be found in Calabarzon.
He said he was still collating all the pertinent documents to get the accurate figures. Lacson plans to bring up the alleged overpriced ambulances when the DOH faces the Senate blue ribbon panel again on Tuesday, September 7.
Asked for comment on Lacson's allegation, Health Secretary Francisco Duque III told Rappler, he has ordered an investigation into the senator's claims.
"I am having it investigated and will revert once I get feedback from the Legal Service," Duque told Rappler.
Supplier: No overpricing
While Lacson did not name the supplier, One Top Medical Systems Resources reached out to Rappler to address the allegation of overpricing. It said it did so after reading the news report that the senator referred to 98 alleged overpriced ambulances that were deployed to Calabarzon.
One Top told Rappler that the contract for the ambulances in question were bid out in the latter half of 2019 and were delivered in 2020.
One Top bagged several contracts for a total of 300 ambulances as it had given the lowest bid. Of this number, 98 went to Calabarzon.
The company said that the ambulances were bought for P2.23 million per unit, and not P2.5 million. It added that the price was not only for the ambulance itself and the AEB, but covered other equipment and supplie for the ambulance.
"With due respect, Mr. Senator, on top of the vehicle and defibrillator you mentioned, more than 30 items of medical equipment and supplies are needed to make up an ambulance," One Top said.
Here is the list of items included in the converted ambulance, according to the supplier:
Ambulance stretcher
Automatic external defibrillator
Nebulizer
Portable suction machine
Examining light
Aneroid sphygmomanometer
Folding stretcher
Scoop stretcher
Adult heavy-duty stethoscope
Pediatric heavy-duty stethoscope
Non-contact thermometer
Blood-glucose meter with strips
Manual resuscitator (adult, pedia & infant)
Oxygen cylinder with oxygen therapy set
Laryngoscope set
Immobilization devices
Delivery set
Fire extinguisher
Heavy-duty LED flashlight
IV bag holder
Digital clock
Air purifier
Garbage container – 3L
Sharps container – 1L
Cellphones (2 units)
Two-way intercom system
Dashcam with 64GB memory
PA system
Siren and blinkers
Aluminum flooring
Customized cabinet and seats
Calls for Duque to resign have since been mounting, with overwhelmed and underpaid health workers leading the charge. Duque said he would be willing to resign, but that he wanted to first resolve the audit findings on the DOH.
The Senate blue ribbon committee has been probing the DOH's pandemic funds following a Commission on Audit report that cited the deficient use of the funds in 2020 – funds that could have bolstered the Duterte government's response to the COVID-19 crisis.
The bombshell hearing on August 27 revealed that the bulk of the pandemic contracts went to Pharmally Pharmaceutical Corporation, a new firm with a small capital and whose incorporators supposedly gave non-existent addresses.
A Rappler investigation traced Pharmally's links to President Rodrigo Duterte's ex-adviser Michael Yang. Pharmally's executives and an associate of Yang are wanted in Taiwan for financial crimes.
Duterte has been defending Yang/ Malacañang denied thatPharmally bagged the contracts because of Yang's closeness to the President. – with a report from Aika Rey/Rappler.com