The bridge, which is still under construction, will light 8 crosses to commemorate 500 years of Christianity
The new Mactan Bridge, the Cebu Cordova Link Expressway, will officially light its crosses on April 15 after a ceremony to commemorate 500 years of Christianity in the Philippines.
A representative of CCLEX said that one cross has already been lit, but a total of 8 crosses will light up after the ceremony.

The Archdiocese of Cebu will do a blessing of the cross, among other activities scheduled that evening.
"The observance harks back to that memorable event when Christianity was first introduced to Cebu by the planting of a cross and the baptism of its people by Spaniards led by Portuguese explorer Ferdinand Magellan," CCLEX said in a statement. "It happened a few weeks after they arrived in the Philippines in March 1521."
The lighting ceremony is one of several commemorating the quincentennial of Christianity in the Philippines.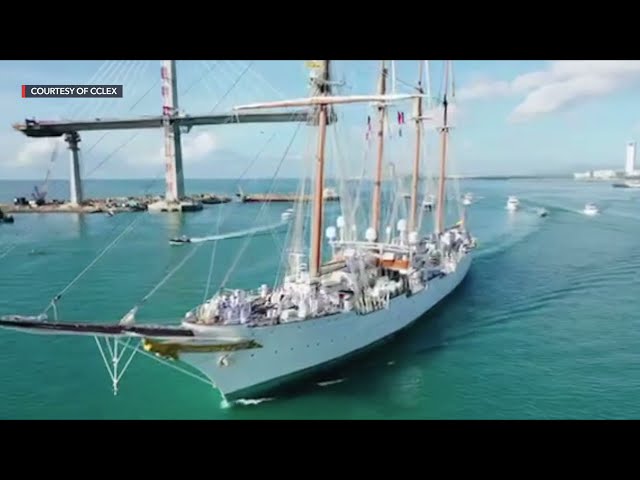 On March 20, the Spanish Navy training ship Juan Sebastian Elcano docked in Cebu to kick off the quincentennial events here. The ship is named after the member of Magellan's Armada de Molucca, who was able to complete the circumnavigation back to Spain after the Portuguese explorer was killed here in April 1521.
The CCLEX will be the newest bridge connecting mainland Cebu with Mactan Island, where the international airports, export processing zones, and dozens of beach resorts and hotels are located.
It's also the first bridge to connect Cebu City with Mactan Island, directly through Cordova town. The other two bridges connect Mandaue and Lapu-Lapu City.
The 8 crosses are 40 meters high and are on each side of the 4 pylons of the bridge.
According to the latest update, CCLEX is already 68.21% complete.
The structural height of bridge's concrete pylons measures 145 meters over the Mactan Channel.

CCLEX is a joint venture project with Metro Pacific Investments Corporation, with the local governments of Cebu City and Municipality of Cordova.
The bridge will have two lanes in each direction that can handle 50,000 vehicles daily and is meant to ease the notoriously heavy traffic on the Marcelo Fernan Bridge and the Mandaue-Mactan Bridge. – Rappler.com