This is AI generated summarization, which may have errors. For context, always refer to the full article.
Negotiators arrive at draft text proposing to flesh out the Santiago network, a platform for catalyzing assistance to climate-vulnerable countries
Exactly eight years ago, delegates at a United Nations climate summit in Poland could only listen in horror to news of a super typhoon wiping out parts of the Philippines as they began talks about addressing global warming.
That storm is now known as Super Typhoon Haiyan (Yolanda) – one of the most powerful cyclones ever recorded that killed at least 6,300 and left over a thousand victim's bodies still missing.
Marinel Ubaldo was 16 years old when Haiyan washed away her house in Leyte and left her and her family wet and cold for days.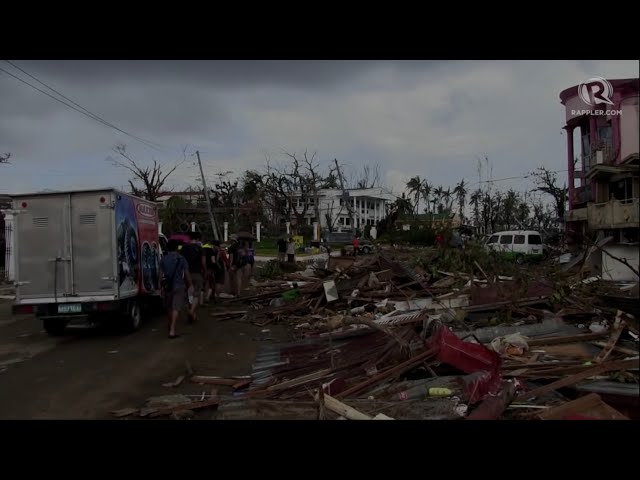 Now 24 years old, she spent Monday, November 8, at the Glasgow UN summit calling attention to how little has been done to help countries facing freak storms like Haiyan all those years ago.
"The Filipino youth are fighting for a future not riddled with anxiety and fear that another Haiyan might come any time to threaten our loved ones, lives, and dreams," she told Rappler.
"It didn't end with Yolanda. A super typhoon happened, and more will happen if we don't address climate justice," she added.
What she wants the Glasgow summit, called COP26, to deliver on is progress on one of the most-watched issues in climate talks: loss and damage.
Loss and damage refers to permanent loss or repairable damage caused by climate-induced hazards like strong typhoons, drought, desertification, and sea level rise.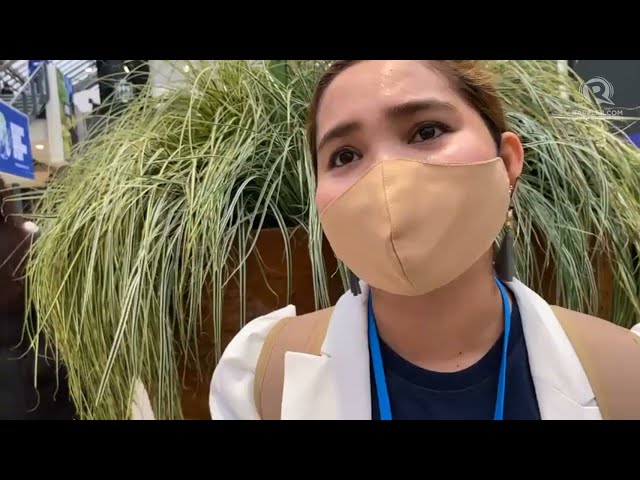 Such hazards could devastate a country's crops, displace entire communities, cause widespread job loss, or destroy ecosystems – setbacks that many developing countries can't afford to sufficiently address on their own.
Many developing countries assert that there should be distinct funding under the UN climate agreement system for these losses and damage, apart from funding for adaptation and mitigation.
Adaptation and mitigation are the two pillars in climate agreements – the first term referring to countries' ability to weather the impacts of climate change, the second term referring to how countries reduce their carbon emissions to cap the planet's warming.
Some developed countries are resisting the creation of a distinct loss and damage financing mechanism, saying it can just fall under adaptation.
But the poorer, vulnerable nations say loss and damage is different because it covers a level of devastation that no amount of adaptation efforts can completely prevent.
With loss and damage assistance, climate-influenced disasters won't have to mean the end of the line or the last penny in the bank for these countries.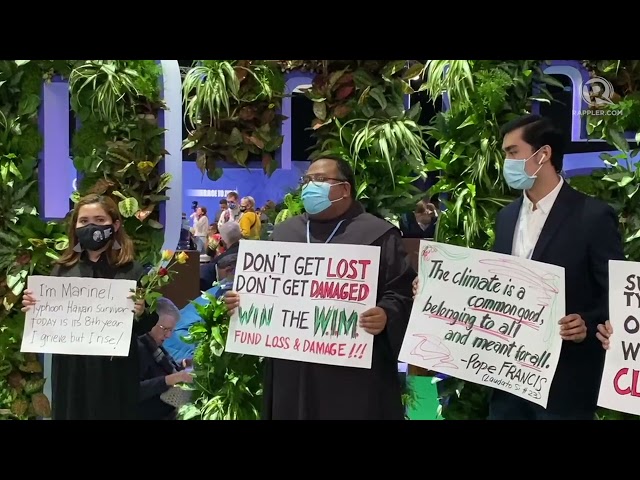 Silenced
There have been instances when developing countries have been "silenced" in negotiations by developed countries who are resistant to a new loss and damage stream, said Sven Harmeling, International Climate Policy Lead for CARE and Climate Action Network Europe.
"Six years after the Paris agreement which has its own article on loss and damage, developing countries still need to fight to have an agenda item on loss and damage," he said in a Monday press conference.
He recalled how Super Typhoon Haiyan cast a shadow on Warsaw climate talks in 2013 and eventually galvanized support for the creation of what's now called the Warsaw International Mechanism on Loss and Damage.
"It had a real effect on negotiations. I really remember how many people in the COP back then were shocked and were really moved by the grief and the devastation that happened there," said Harmeling.
Progress in draft
At COP26, work has been done on next steps addressing loss and damage. A draft decision has been finalized by the group of negotiators and experts in charge of the Warsaw International Mechanism.
The draft shows an effort to flesh out what's called the Santiago network, a platform that catalyzes technical assistance from bodies, organizations, and networks for vulnerable countries dealing with loss and damage from climate hazards.
The G77 plus China bloc, which includes the Philippines, worked heavily on item 9, which proposes the functions of the Santiago network. For instance, the negotiators agreed that the network ought to find sources of support for addressing loss and damage from both inside and outside the UN climate change convention and Paris agreement.
The draft also says the institutional arrangements of the Santiago network should be developed, beyond the online portal set up on the UN climate convention website.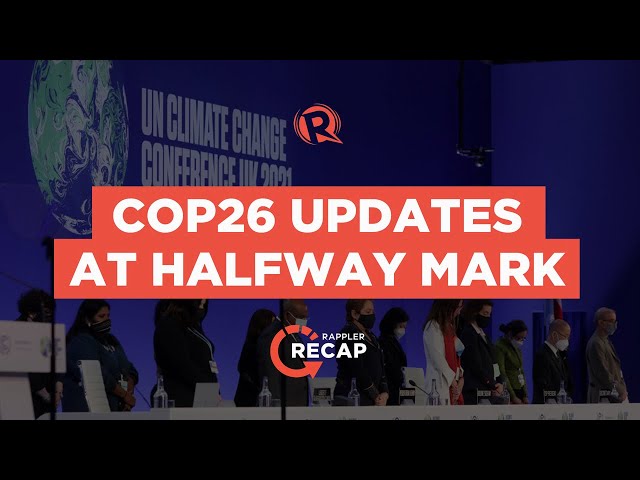 It suggests that the network have its own secretariat. It invites governments and other organizations to submit by March 15, 2022 any views on how to operationalize the network and what structure it should have.
The COP26 presidency, basically the United Kingdom government, acknowledged the loss and damage talks in its summary of what could go into the COP cover decision, the document that lays out everything agreed upon during the two-week summit.
The summary states that parties will likely acknowledge the increasing threat of loss and damage based on scientific evidence, the urgency of action, the need for more financial support, and the operationalization of the Santiago network.
Up to ministers
Yamide Dagnet, director of climate negotiations for the World Resources Institute, said the bullet points on loss and damage are "not very much solution-oriented" in terms of what concrete steps must be taken next.
But she said it's normal to have some vagueness in the text since more in-depth discussions are likely to take place in the coming days, the last week of COP26.
In this last week, negotiators are expected to bring up tricky text to higher-level officials and ministers for their approval. It's the ministers who will make the political decisions that negotiators cannot make.
As for Ubaldo, who became a climate activist after Haiyan and has joined three climate summits, the work of protest goes on.
In front of a giant COP26 sign, in a hall full of summit participants, she wore a black dress of grieving and carried a sign that read, "I grieve but I rise!"
Strangers and supporters took turns handing her roses, a symbol, said fellow activists, of Haiyan victims still missing.
But more than roses, what Ubaldo and all past and future victims of super typhoons want from COP26 is a system that ensures no disaster will bring them to their knees again. – Rappler.com
This story was produced as part of the 2021 Climate Change Media Partnership, a journalism fellowship organized by Internews' Earth Journalism Network and the Stanley Center for Peace and Security.
Rappler is doing live updates and reporting on COP26 in Glasgow. Check this page for our coverage.