This is AI generated summarization, which may have errors. For context, always refer to the full article.
Dating back from the 18th century, this procession of life-sized antiques in Baliwag, Bulacan, breathes life into faith and tourism during Holy Week
BULACAN, Philippines – Every year, thousands flock to Baliwag, Bulacan, to witness one of the grandest and longest Holy Week processions in the Philippines.
Hundreds of life-sized images, each at least six feet tall, are mounted on carriages decorated with brass or wood motifs, flowers, and lights, providing vivid descriptions of the life of Christ.
But beyond the glamorous carriages and life-sized images are stories of generations of families that take care of these religious heirlooms, keeping this 290-year-old Baliwag procession alive.
The cost of maintaining these images can range from P50,000 to P300,000 a year, but their owners – with the help of relatives and neighbors – persist in joining the procession each year.
It is, for devotees, a show of gratitude to God for graces received.
For the local government, it is a way of boosting tourism – and the craftsmanship business – in this rich, historical city of 168,400 people.
The Catholic Church in Baliwag believes it is also a form of preaching – through art.
Family tradition
The Saucos are among the families that keep Baliwag antiques. The Sauco family owns the image of Saint Mary Salome, which is estimated to be around 400 years old – almost as old as the 417-year-old Black Nazarene of Quiapo.
"Ang kuwento kasi noon galing sa Spain 'yung ulo lang, kaya nga tipikal na Mahal na Birhen sa Spain. Pagdating dito ginawang Santa Maria Salome," said Ronald Sauco, among the seventh generation of caretakers of the image. (The story of the image is that its bust came from Spain, which is why it looks like the Holy Virgin from Spain.)
Saint Mary Salome is the mother of Saint John the Apostle and Saint James the Great. She witnessed the crucifixion of Christ and His resurrection.
Another antique image in the procession is the Trinidad family's Saint Veronica. The saint is known for lending her veil to Jesus while the latter was carrying the cross. The veil is said to have captured the image of Christ.
Flordeliza Trinidad-Sarmiento said they do not know specifically how old their image is, but they are sure that it is over 100 years old.
"Sa kanunu-nunuan pa namin galing 'yung poon. Ang alam ko lang sabi ng mga nuno namin 'yung unang labimpitong karo dito sa Baliwag kasama na 'yung Santa Veronica," she said. (The image came from our ancestors. What I know based on their accounts is that Saint Veronica has been part of the first 17 carriages here in Baliwag.)
The image of Saint Veronica was passed on to her by her grandmother before she died.
"'Yung lola ko na si Candelaria Trinidad siya 'yung naghabilin bago siya namatay. Inihanda niya na 'ko unti-unti. Tinatawag niya 'ko, kapag bibihisan na magkatabi kami… Tinuturo niya sa akin so nu'ng namatay siya, sa akin nasalalay 'yung pangangalaga," she said.
(My grandmother Candelaria Trinidad was the one who asked me to look after the image before she died. She prepared me gradually. She called me, when the image was being dressed we sat next to each other. She taught me, so when she died I became the caretaker of the image.)
Flordeliza said the image of Saint Veronica is important to their family as it helps strengthen their bond.
"Siya 'yung nagiging daan sa pagkakaisa ng bawat pamilya. Parang kapag nagkakaroon kami ng ganito, ito 'yung parang reunion ng pamilya kasi pamilya Rosendo, pamilya Trinidad, kaya hindi na namin tinanggal 'yung title na 'yun kung sino 'yung nangangalaga," she said. (The image becomes the bridge that binds the families together. Events like this become a reunion of the families of Rosendo and Trinidad, which is why we no longer changed the title of who takes care of the image.)
'Status symbol'
Maintaining images for the Baliwag procession can be expensive for average Filipino families.
For small carriages and images, the maintenance costs range from P50,000 to P100,000, while larger ones could cost P100,000 to P300,000, said the town's acting tourism head Jesusa Villanueva.
"To own and maintain one such caro is a sort of status symbol; the bigger the size of the graven images and the more splendid their garments the more eloquently the possession speaks of the owner's socioeconomic station," Rolando Villacorte wrote in his book Baliwag Then and Now.
Before, it has been a word of mouth among the townspeople of Baliwag that families who own carriages and images also happen to have farmlands.
Among these families is the Saucos. Ronald said that before, their family owned farmlands.
"Kagaya rin ng ibang pamilya noong araw meroon kaming parang bukid… Kumbaga may bukid kasi 'yun 'yung pinamgpapalabas, 'yun 'yung ginagamit sa gastusin," he said. (Like other families, before we used to own a farm. The income from the farm was used in the procession, in the expenses.)
Ronald, however, said that their ancestral land was gradually divided among the members of the family throughout time.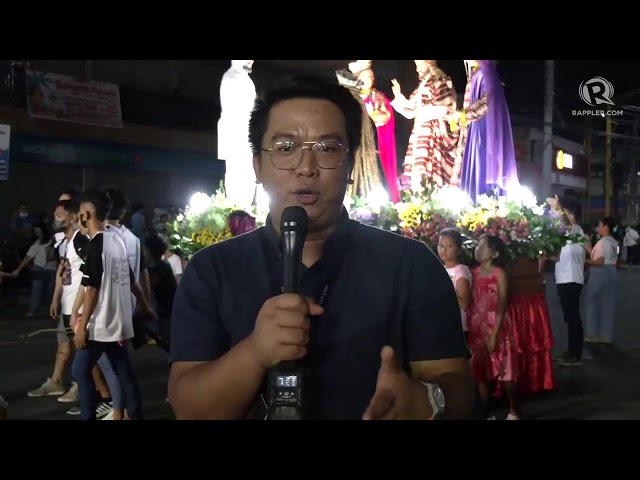 Unlike other wealthy families who own images and carriages, the Trinidad-Sarmiento family said that they are not well-off.
Despite this, they were able to take part in the annual procession because of the kindness of other people – like how Saint Veronica showed compassion towards Christ.
"Awa naman ng Diyos, naitataguyod namin siya sa pagtutulungan ng bawat pamilya Trinidad. At madami ring tumutulong kasi hindi kami mayamang pamilya, pero madaming nagdedebosyon at nagbibigay-tulong na naitataguyod namin kahit nu'ng araw pa," Flordeliza said. (By the mercy of God we are able to support the image through the help of members of the Trinidad family. Also, there are a lot of people who lend their hand because we are not a rich family, but many are devotees of the image and have given help even before.)
"Taun-taon may nagbibigay ng tulong. May nagbigay ng kandila. Nagbigay ng pinansyal… Nagpalit po kami ng gulong ng karosa talagang donasyon po 'yun," she added. (Yearly, people provide assistance. There are people who give candles. Others also provide financial aid…We also changed the tires of the carriage through donations.)
Almost every year, the image of Saint Veronica is also dressed in new clothes sponsored by strangers.
"May nagbibigay ng damit, may nagpapanaginip siya, pati 'yung yari sinasabi kung anong yari o ang gusto niya, kung ano ang uso," she said. (People give clothes for the image, some of them had a dream and tell them what design they had dreamt about or what trends they like.)
"Kanina lang meroong dumating, kinikilabutan ako kapag kinukuwento ko… Kanina may nag-pledge na siya raw ang magpapatahi para sa susunod na taon," Flordeliza told Rappler during the procession. (Just earlier someone came and it gives me goosebumps when I share the story. Earlier someone pledged that he/she will sponsor the image's clothes for next year's procession.)
Started by friars
Baliwag's Lenten procession can be traced back to 1733 when Augustinian missionaries established Saint Augustine Church here.
"Ginawa ng mga prayle ang prusisyon dahil ito ay makulay at masaya. Nagustuhan ito ng mga unang Pilipino dahil isa itong communal activity, isang pagdiriwang," said Mark James Evangelista, who is well versed in the history of Baliwag's Lenten procession. (Friars staged processions because it is colorful and fun. This was enjoyed by many Filipinos before because it is a communal activity, a celebration.)
Originally, there were only 17 images that participated in Baliwag's Lenten procession.
Prior to the use of carriages in the procession, the images were carried by people using an andas or float. The images before were relatively smaller – standing around three to four feet, just ideal to be carried by people.
The images and carriages became larger in 1966 after a family in Baliwag started the trend after owning life-size statues depicting the Last Supper.
Currently, the association of owners of images and carriages in Baliwag has a regulation that requires the images in the procession to be at least six feet in height.
In the 1960s the number of carriages also increased after Bishop Leopoldo Arcaira urged families in the locality to build images and carriages that would depict the life of Christ.
"Nung panunungkulan niya hanggang bago siya umalis noong 1989 ay mayroon na po tayong 59 na carroza (During his administration until before he left in 1989 we have 59 carriages.)
During the Holy Wednesday procession this year, 124 carriages participated. On Good Friday, 126 carriages are expected to join the procession.
Boosting local economy
Baliwag's annual Lenten procession also helped boost the local economy of the city.
"Mapapansin na kapag meroong okasyon na ganito (procession) nagsa-spike 'yung mga pumpunta sa Baliwag. Even 'yung local economy din nagta-thrive kasi kumbaga lumalabas 'yung mga tao," Villanueva said. (It is noticeable that when there's an occasion like this the number of tourists in Baliwag spikes. Even the local economy thrives because people go out)
The local craftsmanship industry also flourishes during the annual Holy Week tradition.
"So dahil sa prusisyon nagkaroon ng sining at kabuhayan ang mga gumagawa at nagre-restore ng mga santo," Villanueva said. (Because of the procession, there's a progression in arts and livelihood of those who create and restore saints)
She also added that aside from the restoration of images, those who are in the business of making clothes for the images and decoration of carriages become more lively.
'Pilgrimage'
While the procession is festive, Father Jess de Silva of Saint Augustine Parish reminded the public that a procession, too, "is somehow a catechism."
In the conventional sense, a catechism is a written summary of beliefs, such as the Catechism of the Catholic Church promulgated by John Paul II in 1992.
Throughout history, however, sacred images and popular devotions, such as processions, have been used as informal catechism especially for the illiterate. The early centuries of Christianity in the Philippines played witness to this, with missionaries using processions to educate locals about the Catholic faith.
"Madaming mga tagpo na nagpapakita sa buhay ni Hesukristo na mahalagang malaman ng isang Kristiyano. Gayon din ang bawat karakter na ipapakita ngayon sa prusisyong ito, mahalaga ang naging gampanin nila para sa kasaysayan ng kaligtasan," De Silva said. (There are many scenes that show the life of Jesus Christ that are important for a Christian to know. The same goes for each character that are shown in this procession. Their roles were important in the history of salvation.)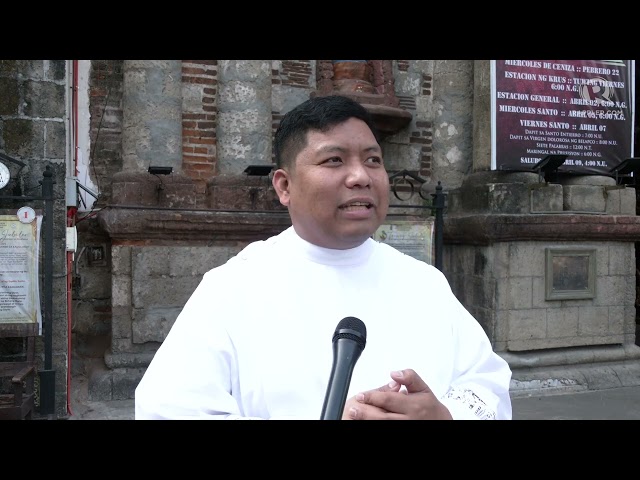 The Baliwag priest said that the procession is a reminder for us that we are all pilgrims.
"We should also reflect upon ourselves that we are pilgrims also of this world. Naglalakbay tayo papunta doon sa tunay nating destinasyon which is heaven and eternal life." (We should also reflect upon ourselves that we are pilgrims also of this world. We are traveling towards our true destination which is heaven and eternal life.) – Rappler.com