This is AI generated summarization, which may have errors. For context, always refer to the full article.
Performers and audience share in the Terdua, reflecting the pain and sorrow of Jesus Christ's passion and death, and joy in his resurrection
CLARK FREEPORT, Philippines – Some residents and visitors from Pampanga province got a chance to participate in a Holy Week "healing performance" on Tuesday, April 4 at the parking area of Clark Museum inside the freeport zone.
"Terdua," a solemn dance prayer is part of Panata at Panalangin (Penitence and Prayer), a live interpretative dance depicting Kapampangan Holy Week cultural practices and traditions.
The cultural dance group Sinukwan Pampanga and the children from Bale Balayan: Museum for the Poor perform the dance.
"Terdua" comes from the Kapampangan words terac (dance) and caladua (soul), meaning a prayer through movements that includes the audience.
The performance moves to the open grounds of the Marquee Mall on April 8.
Tedua begins with dance interpretations of Ash Wednesday and Palm Sunday.
Following these are vignettes on the suffering and crucifixion of Jesus Christ, with some performers in costumes inspired by flagellants.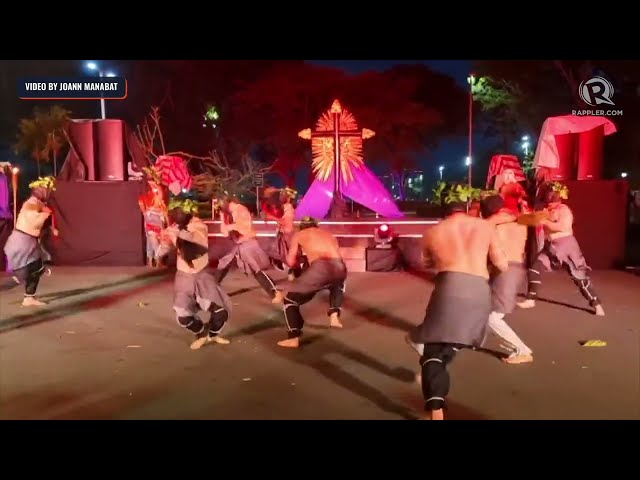 The dance ends with the glory of the resurrection and the Salubong or the meeting of Christ and His mother, Mary.
Performers move in time to a fusion of original musical arrangements by Kapampangan composer Jake Abella.
Shared peace
Greater Clark Visitors Bureau president Krizia Chu-Tranquilino, said art strengthens the spiritual message.
"It gives me more understanding and appreciation for what the Passion and Death of Christ," she said.
The Terdua also reawakened her appreciation for displays of faith, which have been challenged by the demands of work and other activities.
Artistic director Peter De Vera told Rappler he shares the audience's emotions.
The collective dance, he said, connects performers, production staff, and their audience in joy, love, and peace.
"I always hear them saying: 'I feel so blessed'," said De Vera. "There are tears and smiles on their faces; 'I feel healed, light and happy' is what they tell me."
"I feel like there are chemicals in our body that are being released, that's why we all feel joy," De Vera added.
Penitence
The annual event was halted for by the COVID-19 pandemic, forcing De Vera to design a virtual presentation.
For some members of the dance group, the Terdua has become part of their personal penitence.
"It's been a while since they last performed this show live. Now, it has also become their own penitence, like the dancer who had his back sliced for his piece as a flagellant," De Vera said.
Panata at Panalangin was recognized for its outstanding dance production at the Live Entertainment, Arts, and Festivals (LEAF) Awards in 2019.
Now in its 12th year, De Vera hopes the cultural dance productions can continue as an annual reflection on Kapampangan faith and devotion. – Rappler.com