Legazpi City mayor says Comelec 'trampled on the sacred votes' of her constituents when the poll body decided to disqualify her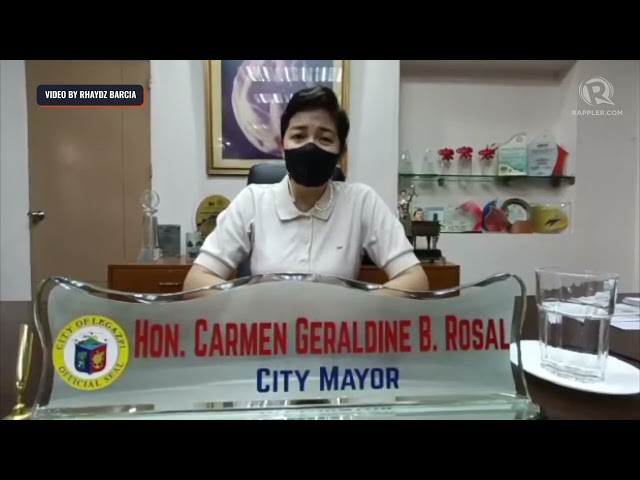 ALBAY, Philippines – An embattled Legazpi City Mayor Geraldine "Gie" Barrameda-Rosal, described the decision of the Commission on Elections to disqualify her as the "trampling of the sacred votes" even as her supporters held a protest in front of city hall Monday, May 8.
Rosal broke her silence four days after the poll body disqualified her from mayoral post which she had won during the May 9, 2022 local polls.
"Our sacred votes were trampled by the Commission on Elections. We will not stop this fight. I am not afraid to fight for your rights. Do not be afraid. God is with us. I believe that the truth will come out and he will not abandon us," said Rosal when she spoke to the protesters despite a hoarse voice due to a bad cough.
Her supporters came from the 70 barangays of Legazpi City. They gathered at the City Hall compound, wearing red t-shirts and bearing placards.
Rosal said that she has filed a motion for reconsideration with the Comelec. She added she has also asked the Supreme Court to to grant a temporary restraining order (TRO) to stop the poll body from implementing her disqualification.
"We will file an appeal to the Supreme Court. We will continue to fight and hold on for the people of Legazpi," she said.
The Comelec en banc unanimously ruled on May 4 to nullify Rosal's election win, on the grounds of election code violation, particularly the provision that prohibits candidates from giving money to influence voters.
The event in question was the controversial cash assistance payout to Legazpi City tricycle drivers and senior citizens in March to April, coinciding with the 45-day ban on the release of public funds.
That Comelec ruling on Rosal turned out to be a double whammy for the Rosal family, after the poll body disqualified Geraldine's husband Noel from the 2022 Albay gubernatorial race back in November.
The mayor has until May 9 to secure a temporary restraining order from the High Court, Comelec spokesman Rex Laudiangco said.
Aside from questioning her disqualification, Rosal also asked the Comelec why it decided to hand over the post to mayoral race second placer Alfredo Garbin Jr..
The Comelec ruled that Garbin will take over, citing Supreme Court decisions that favored second placers instead of the second-in-command in such a scenario.
Rosal defeated the former Ako Bicol representative Garbin by a narrow margin of less than 1,000 votes.
Despite the political turmoil in Legazpi, Rosal said that it was business as usual in the city hall. She met her supporters briefly at the city hall compound premises where she urged the protesters to be calm and avoid possible commotion. – Rappler.com