This is AI generated summarization, which may have errors. For context, always refer to the full article.
Phivolcs says on Sunday, June 4, that there has been 'increased and continuous degassing' from Taal Volcano in Batangas
MANILA, Philippines – Residents of the municipalities of Balete, Laurel, and Agoncillo in Batangas province reported volcanic smog or vog on Sunday morning, June 4, coming from Taal Volcano.
The Philippine Institute of Volcanology and Seismology (Phivolcs) said in a Sunday afternoon advisory that the vog was due to the volcano's "increased and continuous degassing" or emission of gas.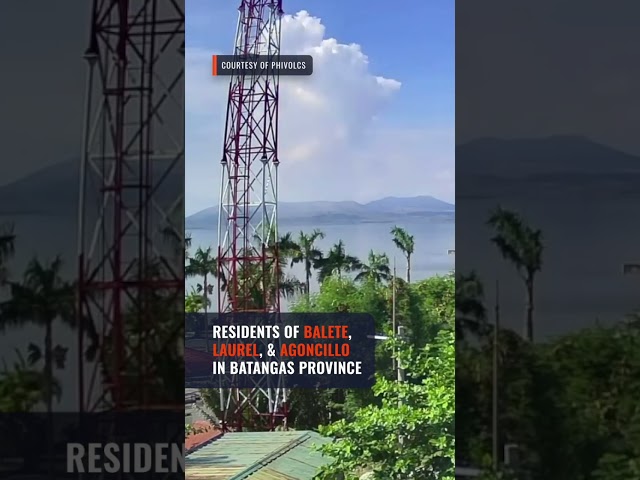 Phivolcs noted that since 10:30 pm of Saturday, June 3, "visible upwelling of volcanic fluids in the Main Crater Lake [has] produced voluminous steam-rich plumes that rose to 3,000 meters above Taal Volcano Island."
"This produced significant volcanic smog or vog over Taal Caldera," added the agency.
Last Thursday, June 1, Taal Volcano emitted 5,831 tons per day of sulfur dioxide (SO2), which Phivolcs said was higher than the May average of 3,556 tons per day.
"As a reminder, vog consists of fine droplets containing volcanic gas such as SO2 which is acidic and can cause irritation of the eyes, throat, and respiratory tract with severities depending on the gas concentrations and durations of exposure," Phivolcs said.
People with respiratory and heart illnesses, the elderly, pregnant women, and children are most vulnerable to vog.
Phivolcs advised those affected by vog to stay indoors, shut doors and windows, use N95 face masks, and seek medical help if needed.
The agency also warned that acid rain "can be generated during periods of rainfall and volcanic gas emission" in the areas reached by plumes. This may damage crops and metal roofs of houses and buildings.
On Friday, June 2, Phivolcs had alerted the public that there was "low-level activity" at Taal Volcano.
The volcano has been under Alert Level 1 or "in abnormal condition" since July 11, 2022.
Under Alert Level 1, these are possible:
sudden steam-driven or phreatic explosions
volcanic earthquakes
minor ashfall
lethal accumulations or expulsions of volcanic gas
The agency stressed on Sunday that entry into Taal Volcano Island, which is a permanent danger zone, "must remain strictly prohibited." – Rappler.com