Separate manifestos by the House majority and minority blocs highlight the need for continued leadership amid the coronavirus pandemic
The majority and minority blocs at the House of Representatives threw their support behind Speaker Alan Peter Cayetano amid yet another House power struggle.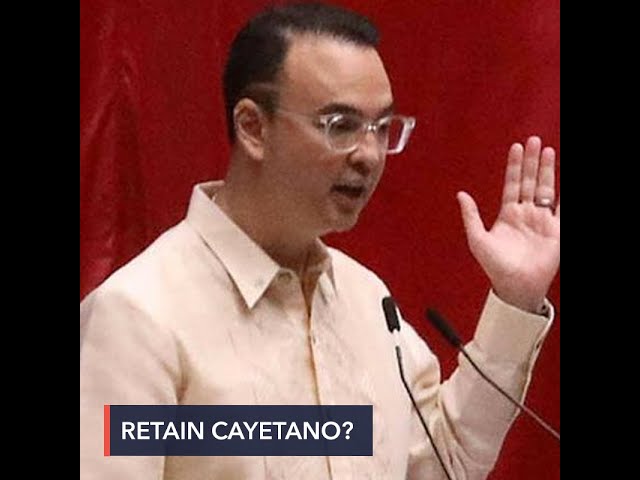 The two blocs released separate manifestos signed by their members on Sunday, September 27.
In its manifesto signed by 16 lawmakers, the minority bloc said it believes that the House would be "best served with the current leadership at the helm – especially now that we are in the middle of budget deliberations that are crucial to the recovery of our nation from the COVID-19 pandemic."
The minority bloc also said that under Cayetano's leadership, their views and ideas were given attention and met with discussion instead of outright dismissal.
"And while we operate in a space that is distinctly ours, we recognize that under the leadership of Speaker Cayetano we are united with the Majority through our shared aspirations to serve the Filipino people, to fight for the oppressed, and to bring progress to the nation," the manifesto read.
Pro-people
The House majority bloc again affirmed its commitment to the leadership of Cayetano as they "strive to always put the best interests of the Filipino ahead at all times."
"We reiterate our continued full and unequivocal support for Speaker Cayetano and the leadership of the House, and join the President in his desire to allow the membership to chart its own course in choosing those who would lead this chamber," the manifesto read.
The majority bloc also called out "political noise" that threatens to derail the budget proceedings.
A House insider told Rappler that at least 202 lawmakers have signed this manifesto as of Sunday.
House power struggle
The manifestos released on Sunday come after a week of controversy over the term-sharing deal between Cayetano and Marinduque Representative Lord Allan Velasco.
If followed, the deal would ensure that Velasco will serve as House Speaker for 21 months after Cayetano served his 15 months, which would end by October 2020.
The deal was put in question when House Deputy Speaker Paolo Duterte, son of President Rodrigo Duterte, threatened to ask the Mindanao bloc to unseat Cayetano following concerns over the 2021 budget. This, however, did not push through.
On September 23, leaders of political parties and major blocs expressed their desire for Cayetano to remain as Speaker.
Malacañang said the President will not intervene in the House power struggle, even if he helped broker the term-sharing deal in the first place.
While the President hopes that Cayetano and Velasco will abide by their deal, he said he "can't do anything" if the latter does not get enough votes from lawmakers.
Former House speaker and PDP-Laban secretary-general Pantaleon Alvarez also advised his party mate Velasco to let Cayetano rule until 2022. – Rappler.com