This is AI generated summarization, which may have errors. For context, always refer to the full article.
(1st UPDATE) Far from siding with Filipino fishermen who report being blocked by Chinese boats, President Rodrigo Duterte's spokesman says they 'must not be reporting the truth'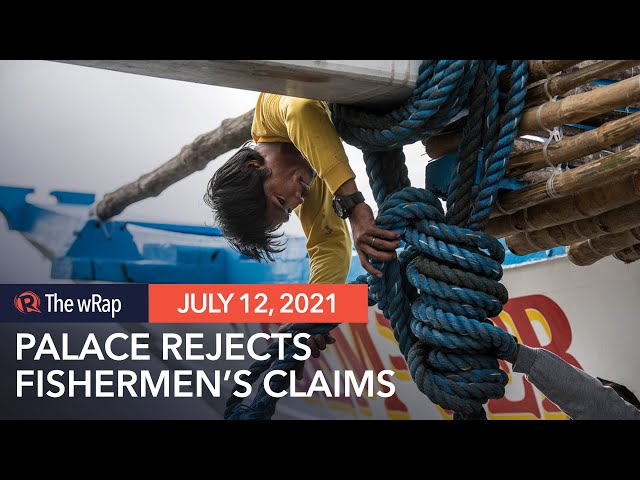 President Rodrigo Duterte's spokesman said Filipino fishermen are lying when they say Chinese boats are hindering them from fishing in some parts of the West Philippine Sea, a body of water which lies within the country's exclusive economic zone.
He rejected the claim of fishermen during a press conference held on Monday, July 12, the fifth anniversary of the landmark Hague ruling which struck down China's nine-dash line claim to the West Philippine Sea.
"I dispute that," said Presidential Spokesperson Harry Roque when told about the assertion of a group of fishermen, Bigkis ng Mangingisda.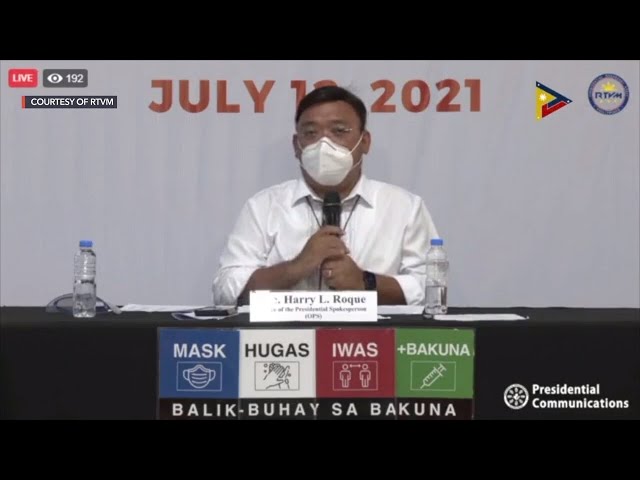 His only basis for denying the fishermen's accounts was his "personal knowledge" of the situation of a group of Filipino fishermen he represented before he was Duterte's spokesman.
"Ako lang naman ang tumayong abogado ng mga mangingisda galing sa Masinloc (in Zambales), galing sa iba't ibang bahagi ng Pangasinan…. At alam ko po, I have personal knowledge, na halos lahat po sila nakabalik na sa kanilang hanapbuhay, lalong lalo na diyan sa Boro (Scarborough Shoal)," he said.
(I was the lawyer of fishermen from Masinloc and parts of Pangasinan. And I have personal knowledge that almost all of them are back at their livelihoods, especially in Boro.)
Yet the experiences of Filipino fishermen being harassed by Chinese ships are well-documented. (READ: Video captures China Coast Guard taking PH fishermen's catch)
Asked by Rappler if he is saying the Bigkis ng Mangingisda group is lying, Roque said, "I'm saying whoever said it must not be reporting the truth and everything but the truth."
Yet he later on said he would look into the group's concerns by asking relevant local government officials.
On Sunday, July 11, hundreds of Filipino fisherfolk, through Bigkis ng Mangingisda, said Chinese boats with armed men would prevent Filipino fishing boats from accessing Luzon waters and waters surrounding the Kalayaan Group of Islands.
They called on the Duterte administration to protect Filipino fishermen and natural resources from foreign aggression and intrusion.
'Set aside' dispute
Five years into the Duterte presidency, the Palace continues to echo the same line about the Hague ruling: that though it is a landmark legal victory, the government wants to "set aside" clashes with China and focus on economic benefits.
Roque's first reaction to the Hague ruling anniversary was to downplay its meaning.
"Lilinawin ko lang po na bagama't dapat ipagdiwang ang panalo nating 'yan, tuloy pa rin ang pag-aagawan ng teritoryo dahil ang naapekto lang ng desisyon ay 'yung isyu na related sa karagatan," said Duterte's spokesman.
(I will just clarify that though we must celebrate our victory, the dispute over territory continues because only issues related to the sea were affected by the decision.)
"While the territorial conflict is unresolved, let's set it aside and pursue what can be pursued in the field of trade and investments," said Roque in Filipino.
He then said the Duterte government has taken "all steps" to "give life" to the Hague ruling. As an example, he cited Duterte's United Nations General Assembly speech, when the President rejected any attempt to undermine the ruling.
However, a year later, Duterte belittled the same ruling, calling it a mere piece of paper he would chuck in the trash bin.
Lashing out at Del Rosario
In the same briefing, Roque echoed Duterte's past diatribes against former foreign secretary Albert del Rosario, this time adding a call for lawyers to file a legal case against the former top diplomat.
He called Del Rosario a "traitor" for supposedly "ceding" territory to China when the Philippines, under his watch, decided to order Filipino forces out of Scarborough Shoal, following a deal brokered with China by the United States during a tense standoff in 2012.
Filipinos left the shoal while Chinese forces did not. But rather than denounce China for violating the agreement, Roque is pinning the blame on Del Rosario.
"I enjoin lawyers and other groups to study the legal liability of Albert del Rosario in ceding Scarborough Shoal to China," said Roque.
Del Rosario has drawn the ire of Duterte for frequently criticizing how the government has refrained from using the Hague ruling to pressure China into respecting Philippine rights in the West Philippine Sea.
The former foreign chief was a key figure in the Aquino administration's move to sue China before the Permanent Court of Arbitration, a move that led to the landmark Hague ruling.
Later in the day, Duterte's defense secretary Delfin Lorenzana said the Hague ruling is a milestone for the country's fight for sovereignty and sovereign rights. 
"Today, we join the Filipino people in celebrating the fifth anniversary of the Arbitral Award. It is a milestone in our country's history as it affirms our claim over the West Philippine Sea. The award is final and executory," the defense chief said. 
Lorenzana added that the 2016 Hague ruling provided the Philippines and the rest of the world a framework for greater cooperation and "understanding of complex maritime conflicts."
– with a report from Jairo Bolledo/Rappler.com