'Huwag na po tayong maabala na hindi alam ng DENR ang kanilang ginagawa,' says Presidential Spokesperson Harry Roque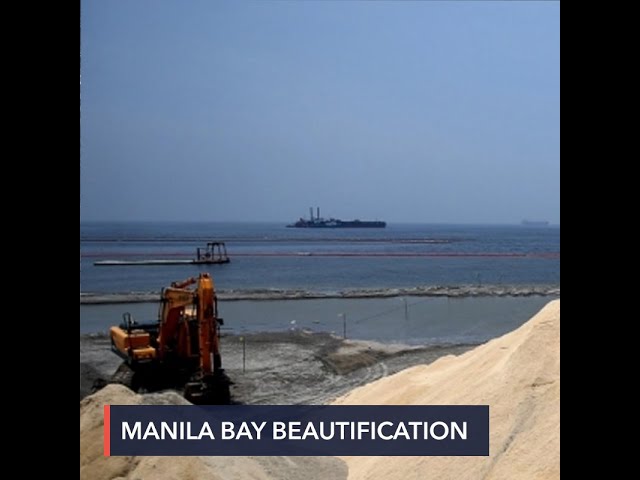 Malacañang defended the recent move by the Department of Environment and Natural Resources (DENR) to start surrounding Manila Bay with artificial sand, saying the project not only focuses on aesthetics but also supposedly protects the environment.
In a press briefing on Monday, September 7, Presidential Spokesperson Harry Roque said the "beach enhancement" project was also done to prevent soil erosion and aid in flood-control in the capital city.
"We're confident the DENR knows its duty to protect the environment and that's why it embarked on this project. It is for purposes of avoiding further soil erosion at it will also help in flood control," Roque told reporters in a mix of English and Filipino.
"The beautification is incidental," he added.
What environmental experts say
Roque's defense of the project is the opposite of what scientists and environmental groups have to say about the DENR's "beach enhancement" initiative, which they warned was unsustainable.
Fishermen's group Pamalakaya earlier denounced the project as they pointed out government could have opted to plant mangroves and seagrass in the Bay Area since these would have more transformational impact on the environment.
University of the Philippines Resilience Institute Executive Director Mahar Lagmay likewise said the artificial placement of white sand in Manila Bay was not sustainable as it could be "washed out from the coastline and brought to the bottom of deep water."
Lagmay said beach nourishment projects were costly as sand would need to be replaced. Such projects were also vulnerable to coastal erosion which could harm coastal ecosystems.
'Trust DENR'
Roque downplayed these claims, saying that like all projects which could potentially impact the environment, the Manila Baywalk beach enhancement project went through rigorous environmental impact assessments.
"Huwag na po tayong maabala na hindi alam ng DENR ang kanilang ginagawa dahil sila nga po nag-approve ng environmental impact assessments at saka environmental impact studies. Alam naman nila kung ano po ang dapat gawin at hindi dapat gawin," he said.
(Let's not worry that DENR does not know what its doing because they're the ones who approve environmental impact assessments and environmental impact studies. They know what should and should not be done.)
The DENR earlier defended the project, saying engineering interventions will be put in place to "preserve and sustain" Manila Bay.
In response to Vice President Leni Robredo's comment it was "insensitive" to embark on the project during the pandemic, Roque claimed the activity was aboveboard as its budget was approved in 2019 before the coronavirus pandemic broke out.
Meanwhile, the Presidential Spokesperson also said that as a resident of Manila, he was "happy" with the beautification of Manila Bay. – Rappler.com