But asked what the Palace would do if NTF-ELCAC officials continue to red-tag community pantry organizers, Harry Roque says it's covered by freedom of speech
Malacañang said on Tuesday, April 20, that the government's anti-communism task force should not impede the work of community pantries.
"I think the President has spoken through my office. The DILG (Department of Interior and Local Government) has spoken, and unless their concern is about health protocols not being observed, they should let these community pantries alone," Presidential Spokesman said during his regular press briefing.
Asked by Rappler if the directive meant the Palace thinks it was wrong of the National Task Force to End Local Communist Armed Conflict (NTF-ELCAC) to share posts red-tagging groups or persons behind community pantries, Roque said, "Let's just say the President welcomes all initiatives helping our countrymen while we are in a pandemic."
But asked if the Palace or Duterte would actually order the NTF-ELCAC to stop sharing such posts or making similar claims, the spokesman was vague and non-committal.
"Desisyon na po nila 'yan, basta nagsalita na po ang ating DILG Secretary at nagsalita na rin ako bilang tagapagsalita ng Pangulo na dapat walang maghahadlang doon sa mga efforts na nagbabayanihan ang ating mga kababayan," said Roque.
(That's their decision. But the DILG Secretary has spoken and I have spoken as the Presidential Spokesperson that there should be no obstacles to efforts of our countrymen to help each other.)
Accountability
The Duterte spokesman was again vague when asked what the Palace would do if NTC-ELCAC would continue to red-tag persons involved in community pantries, saying such speech is protected.
"That's part of free market place of ideas. But I think whatever they say, if the masses benefit from community pantries, they will continue to believe in the community pantries," said Roque.
Earlier on Tuesday, NTC-ELCAC Executive Director Antonio Parlade Jr admitted in a DZBB radio interview that the task force was doing "background checks" on community pantry organizers and accused some of them of spreading "propaganda" about government failures.
Below are NTF-ELCAC's posts red-tagging community pantry organizers: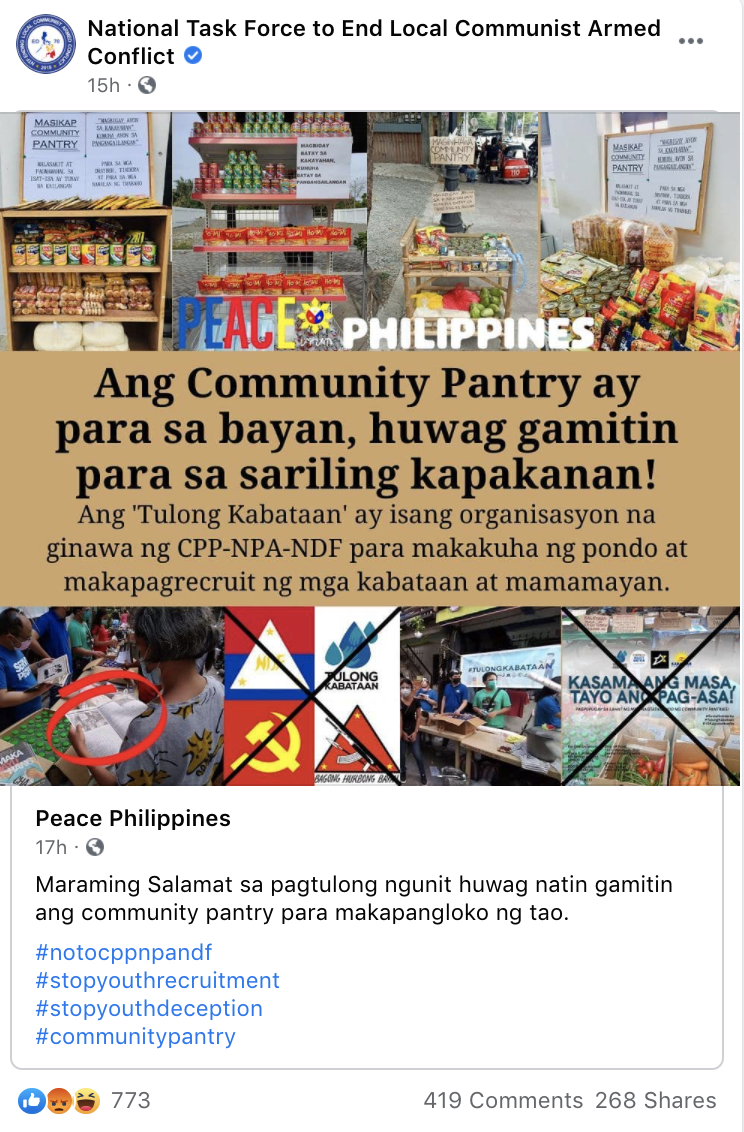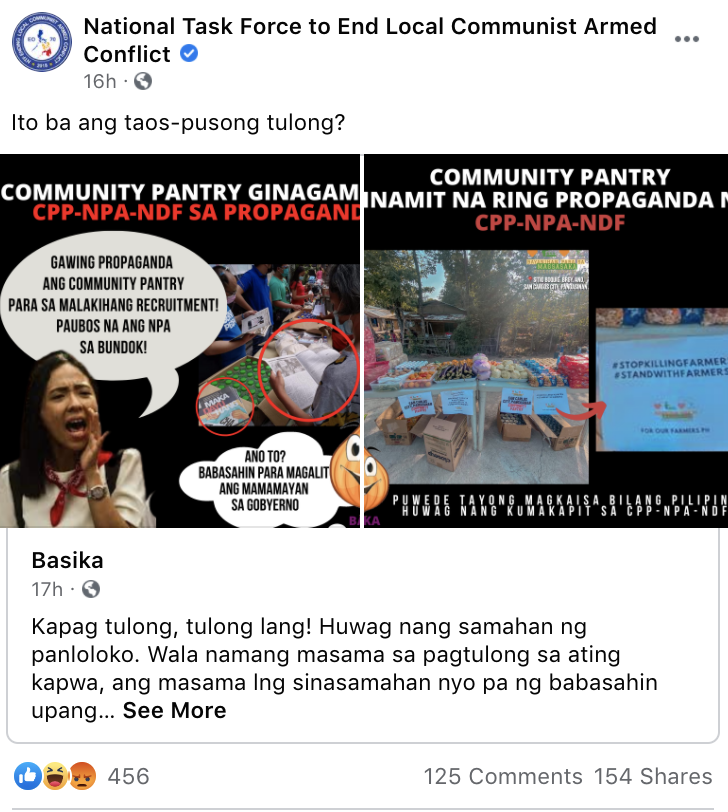 But far from echoing Parlade's line, Roque, on Monday, had said that community pantries began spontaneously and organically. He was effusive in praising the idea.
"I don't think anyone can claim to be a founder of that. I think this is a spontaneous movement amongst Filipinos. It's part of our psyche to help one another during times of need," said the Duterte spokesman.
Patreng Non, the founder of the Maginhawa Community Pantry, had stopped operations temporarily after seeing posts of NTF-ELCAC and Quezon City police making unsubstantiated claims that community pantries were being used to raise funds for communist recruitment and spreading propaganda.
Quezon City Mayor Joy Belmonte had assured Non that the city would ensure the safety of community pantry organizers. She had also requested e Quezon City police chief Brigadier General Antonio Yarra to investigate Non's allegation that cops asked for her affiliation and other personal information. – Rappler.com