The additional doses would raise the vaccination coverage in Metro Manila to 45% and bring the region closer to achieving 'population protection,' says Presidential Spokesman Harry Roque
Malacañang confirmed on Tuesday, August 3, that Metro Manila will get an additional four million COVID-19 vaccine doses to administer during the two-week enhanced community quarantine (ECQ) that starts on Friday, August 6.
If all these doses will be administered, the capital region would near the critical government target of "population protection," said Presidential Spokesman Harry Roque.
"I confirm that during this two-week lockdown, starting the 6th, we will be doing four million vaccinations in Metro Manila alone," he said during a press briefing.
"Now, if we administer those additional four million jabs, that will bring our total vaccinated individuals in Metro Manila to around 45%. Just 5% more and we can already have population protection in Metro Manila," he added.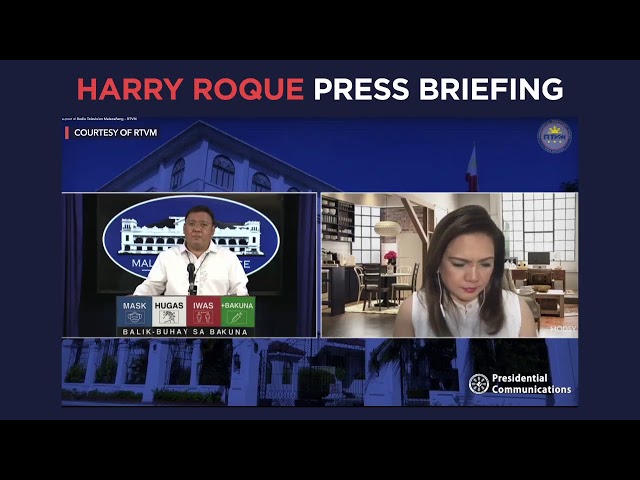 Roque's computation was based on the target of Metro Manila mayors to administer 250,000 jabs a day, especially during ECQ. But Metropolitan Manila Development Authority chairman Benhur Abalos admitted that this is a "tall order."
The capital region has been administering only 110,000 to 200,000 doses a day. Over 30% of Metro Manila's target population have been vaccinated, according to Abalos.
The Duterte spokesman further computed that if Metro Manila succeeds in its target, the four million additional doses would be used up in 16 days. It takes weeks for full vaccinations to take effect and provide protection against COVID-19.
What does population protection mean?
Population protection is when 50% to 60% of an area's population is fully vaccinated. This rate of vaccination is expected to shield the unvaccinated half of the population from the disease by reducing the chance of infection.
Such a rate of vaccination would decrease hospitalizations and deaths caused by COVID-19, according to the Department of Health.
The DOH is aiming to achieve nationwide population protection by the end of the year.
As of Monday, 9.4 million people have received their second dose, equivalent to only 8.6% of the country's population. – Rappler.com