(UPDATED) The release comes a month after the court cleared Salem and Rodrigo Esparago of charges of illegal possession of firearms and explosives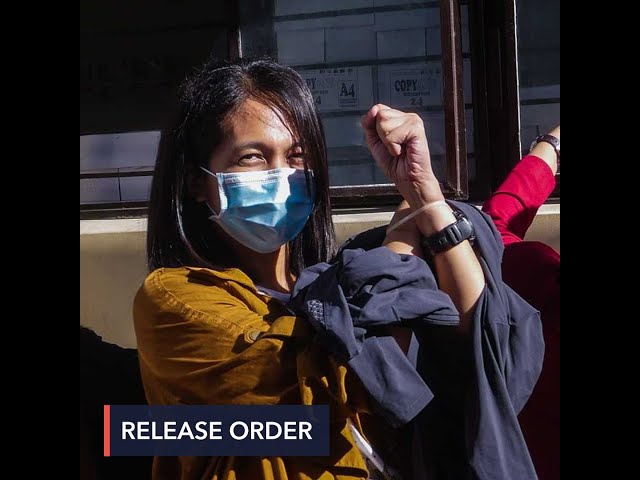 Journalist Lady Ann Salem and trade unionist Rodrigo Esparago were finally released from detention after the Mandaluyong Regional Trial Court Branch 209 issued a release order on Friday, March 5.
Lawyer Kristina Conti of the Public Interest Law Center, the group that handles Salem's case, confirmed in a text message that the court had finally issued the release order.
Salem and Esparago were released before 6 pm Friday.
In a statement, alternative media group Manila Today said that justice prevailed for the accused. Salem is an editor of Manila Today.
"Despite the attempt of the government to back their flawed and inconsistent testimonies, the court finds it with utter lack of merit. Thus, it is only right to say that justice has prevailed," Manila Today said.
The National Union of Journalists of the Philippines (NUJP), meanwhile, called for all journalists and media practitioners to resist the attacks against free press.
"Even as we celebrate Icy's freedom, we continue to denounce those who sought to prolong her detention and call on all members of the Philippine community of independent journalists to strengthen our ranks and resist any and all efforts to stop us from serving the people's right to know," the NUJP said.
Salem and Esparago were released a month after Presiding Judge Monique Quisumbing-Ignacio dismissed the charges of illegal possession of firearms and explosives against Salem and Esparago earlier in February.
Despite the court's decision, the two remained detained because the prosecutors blocked their release, saying that the court's decision needed to be final.
Salem and Esparago, along with 5 other activists, were arrested on December 10, 2020, during the celebration of International Human Rights Day. – Rappler.com