This is AI generated summarization, which may have errors. For context, always refer to the full article.
Two Manila judges issue at least 4 search warrants in the bloody Sunday crackdown, including the search warrants for 3 of the fatalities
In 2019 and 2020, it was Quezon City Executive Judge Cecilyn Burgos Villavert behind the search warrants that yielded arrests of nearly 70 activists. Now, judges in Manila are the ones who issued the search warrants in the Calabarzon crackdown on Sunday, March 7.
Manila Regional Trial Court (RTC) First Vice Executive Judge Jose Lorenzo dela Rosa issued at least 3 search warrants, and Manila RTC Branch 174 Judge Jason Zapanta issued at least 1 search warrant in the Sunday crackdown.
Dela Rosa's 3 search warrants include the one for the Rosario, Cavite, home of Emmanuel "Manny" Asuncion, secretary general of BAYAN in the province, who was among the 9 people killed. Asuncion was being searched for guns.
It was Zapanta, meanwhile, who issued the search warrant for the Nasugbu, Batangas, home of couple Chai Lemita Evangelista and Ariel Evangelista, who were also killed. The Evangelistas are members of progressive group Ugnayan ng Mamamayan Laban sa Pagwawasak ng Kalikasan at Kalupaan.
The Evangelistas were being searched for two hand grenades.
Dela Rosa's other two search warrants were for the homes in Cabuyao City, Laguna, of Elizabeth Camoral and Esteban Mendoza. Camoral and Mendoza were being searched for one hand grenade each.
Camoral is now detained at the Canlubang City Jail, while Mendoza is at Camp Vicente Lim in Laguna, Karapatan secretary general Cristina Palabay told Rappler.
Mendoza is a labor leader with Kilusang Mayo Uno and Camoral is the Laguna spokesperson of the progressive group BAYAN.
According to Rappler's latest tally obtained from the local police, 9 were killed in the operations, 6 were arrested, and 9 were still "at large," in one of the biggest one-day offensives of the police and military against activist groups.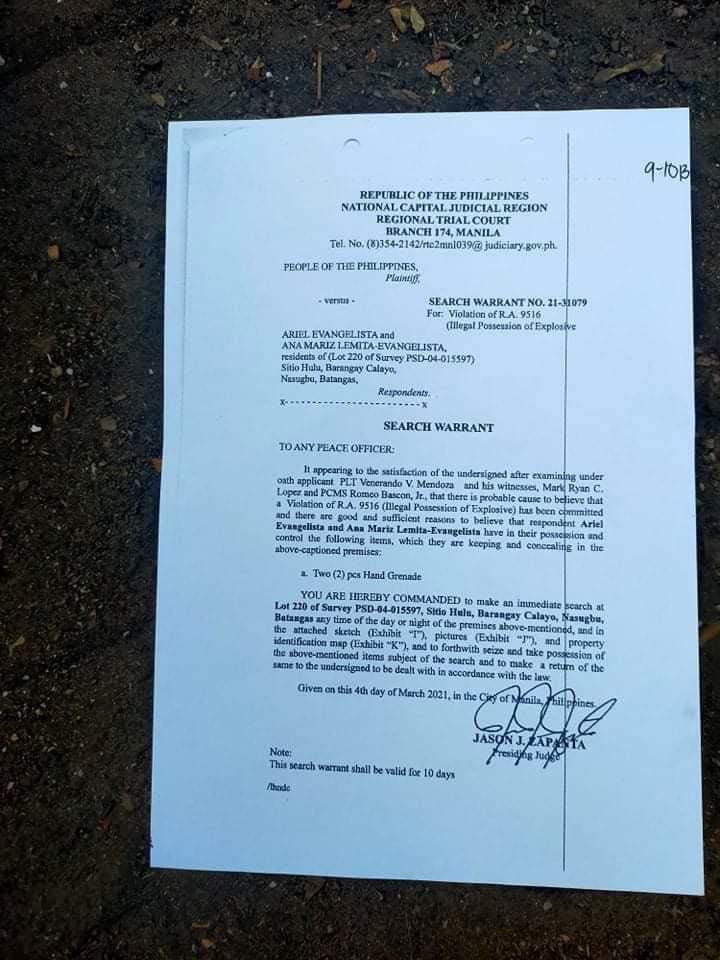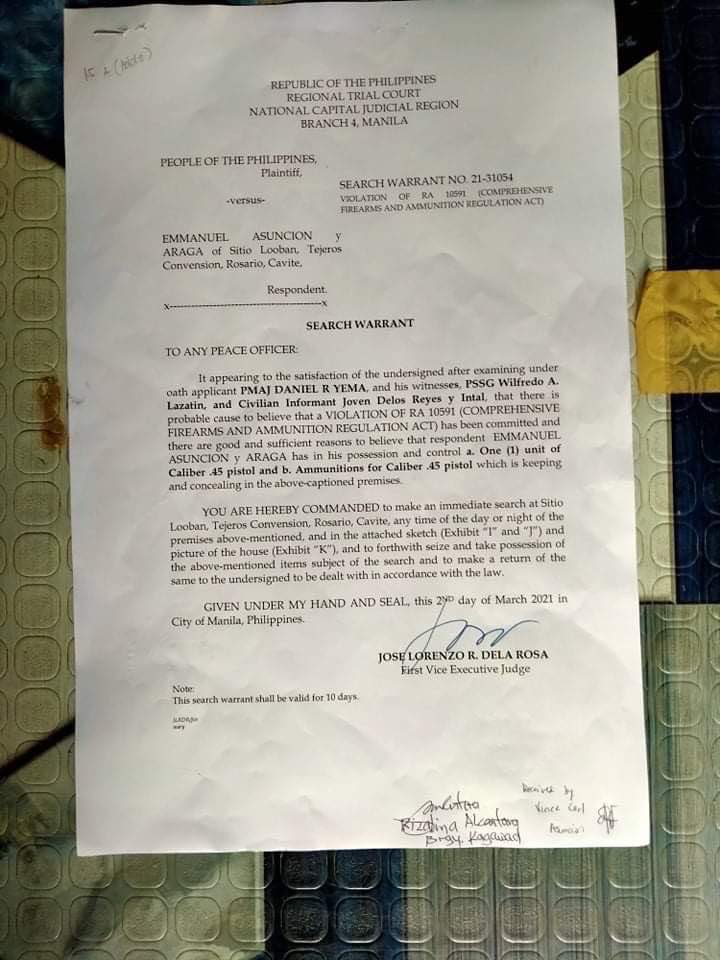 Warrant factories?
Supreme Court (SC) Circular AM No. 03-8-02-SC empowers the executive judges (EJs) of the Manila and Quezon City RTCs to issue search warrants that can be served outside of their jurisdictions. Vice executive judges, like Dela Rosa, can issue the warrants if the EJs are on official leave of absence.
It's unclear whether Zapanta is the EJ or a vice EJ. Rappler has asked the SC for clarification.
The rules, however, say applications for these kinds of search warrants must be personally endorsed by the "heads of agencies," so for the Philippine National Police (PNP), it must be General Debold Sinas.
Dela Rosa's search warrants in Cavite and Laguna named Police Major Daniel Yema as the applicant for the search. Zapanta's search warrant in Batangas named Police Lieutenant Venerando Mendoza as the applicant.
Dela Rosa also issued one of the search warrants in Panay Island in December 2020 that led to deaths of Tumandok indigenous peoples.
The Philippine Bar Association (PBA) came out with a statement in December 2020 "expressing its concern that certain courts are reportedly turning into warrant factories." They urged judges to be more "prudent and circumspect."
The PBA said it was confident the SC will be vigilant in protecting constitutional rights.
The question on whether these search warrants against activists are constitutional has been brought to the SC, through a petition filed in December 2020 by two activists who were among the 7 arrested on Human Rights Day last year on the power of Villavert's search warrants.
Rappler asked the SC if there would be a review into these new search warrants, but Spokesperson Brian Keith Hosaka has yet to reply.
The petition still pending before the SC also asked justices to revisit a Marcos-time doctrine that made it hard for activists to avail of protective remedies, such as the writs of amparo and habeas corpus.
Court Administrator Midas Marquez promised the House of Representatives during a budget hearing in 2020 that Chief Justice Diosdado Peralta will review the rules of those writs, and see how they can be strengthened.
There is also no update yet on how that review is going, or if it started at all. – Rappler.com